Temple student works for peace in Philadelphia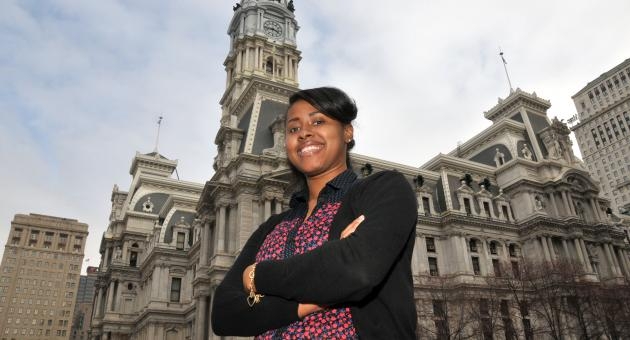 Kelly and Massa Photography
Jamira Burley, a 19-year-old freshman in the Fox School of Business, knows first-hand how violence affects the youth of Philadelphia.
From school hallways to neighborhood corners, Burley witnessed violence while growing up and said that fights and other disruptions were part of the norm at Overbrook High School in West Philadelphia.
"Growing up in Philadelphia, you're liable to witness violence often," she said. "Youth become immune to it; it's almost an everyday occurrence."
During her sophomore year in high school, Burley suffered a loss that would change her life and encourage her to work to stop violence among youth in Philadelphia.
"My brother was shot and died from his gunshot wounds," Burley, an international business and Chinese double major, explained. "That really changed things for me; it made me look at violence in the city a lot differently. After he died I knew that I had to do something."
From that point on Burley, who is one of 17 siblings and the first in her family to attend college, was determined to help put an end to youth violence. She became a student mentor and co-founded the Panther Peace Core, an organization designed to train students in conflict resolution.
She recently received a $50,000 grant from the state to develop the Peace Core model at 10 schools that are ranked among the most dangerous in Philadelphia. She said her program empowers students by giving them an opportunity to solve their problems together.
"In my experience, students in the same age group are more open to helping each other," Burley said. "It really allows students to open up a bit more when their peers, not adults, are helping to resolve a conflict."
In addition to working to further develop the Peace Core, Burley was recently appointed to the Philadelphia Youth Commission.
"The commission will give youth of Philadelphia an opportunity to have some real voice in solving the city's issues with violence," said Burley, who has been appointed to the youth violence subcommittee.
The Youth Commission consists of a panel of 21 young Philadelphians between the ages of 12 and 23. Seventeen members were appointed by the City Council; the four remaining members, including Burley, were appointed by Mayor Michael Nutter.
Members of the commission were selected to represent the diversity of the city and the voices of young Philadelphians, Nutter said.
"The Youth Commission is a way for our city's young leaders to become actively involved in city government, and for city officials to benefit from the ideas and perspectives of young Philadelphians," Nutter said. "I look forward to working with the Youth Commissioners and will create other ways in which to provide opportunities for students to become involved."
The commission, which meets monthly, will be overseen by members of Nutter's administration and the City Council.
"A lot of people need a reality check," she said. "I want to educate youth about violence before it's too late. I don't ever want anyone to experience the loss that I did."