Temple becomes Braemore College for a day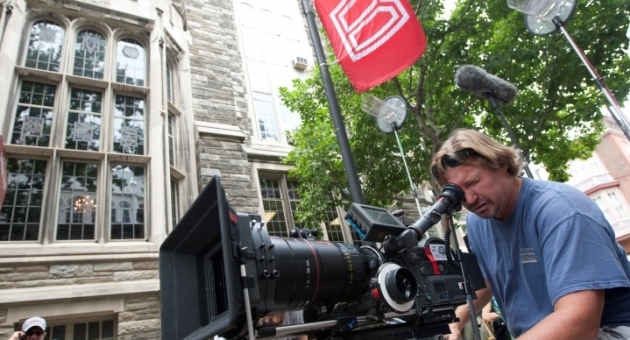 The NBC television show Friday Night Lights filmed scenes for an upcoming episode on Temple University's Main Campus on Tuesday, provoking more than a few double-takes from passersby.
As part of the filming, crews hung a sign for the fictional Braemore College on Temple's hallmark wrought iron gate at Broad Street and Polett Walk. In addition, the ubiquitous Temple "T" flags that line light poles on Polett Walk were taken down and replaced with Braemore "B" flags of the same distinctive cherry color.
"The gate onto Broad Street and the Bell Tower were great architectural centerpieces for a college campus," said show producer Nan Bernstein. "The gate also provided an opportunity to enter the school from Broad Street and show we were in Philadelphia."
By Wednesday, the film crew, the sign and the Braemore "B's" were gone, and the Temple name was fully restored.
The scenes shot at Temple play a critical role in episodes 11 and 13 (the latter being the series finale) in the fifth and final season of Friday Night Lights.
Make the real Braemore College your next stop!
—Hillel Hoffman and Michael Mastroianni