Family ties: Nobel winner has Temple roots
Medical pioneer Katalin Karikó spent three years as a researcher in Temple's Department of Biochemistry.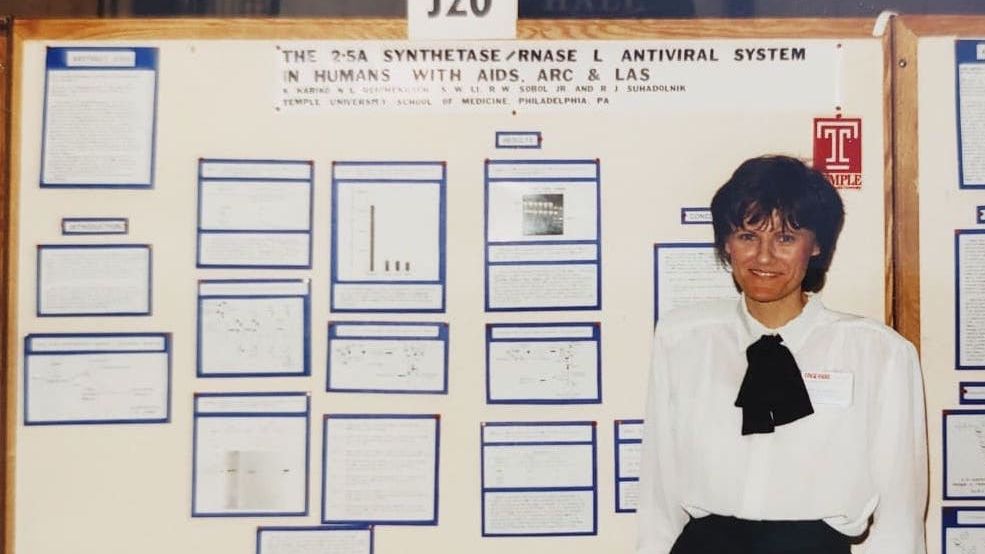 If you've been watching the news recently, you may have heard that two trailblazing researchers who laid the groundwork for the mRNA vaccines—the breakthrough technology that helped reverse the course of the pandemic—have been jointly awarded this year's Nobel Prize in Medicine.
"The laureates contributed to the unprecedented rate of vaccine development during one of the greatest threats to human health in modern times," the Nobel Committee said in a statement. 
One of those pioneers has roots at Temple. 
Katalin Karikó grew up in a small Hungarian town, where her father worked as a butcher and her mother as a bookkeeper. She earned an undergraduate degree in biology and a PhD in biochemistry at Hungary's University of Szeged. 
In 1985, Karikó left Hungary with her husband and 2-year-old daughter after accepting an invitation to work with Professor Robert Suhadolnik in the biochemistry department at Temple University School of Medicine, now the Lewis Katz School of Medicine.
For three years, Karikó served as a postdoctoral fellow in Suhadolnik's lab, where she participated in a clinical trial in which patients with HIV, hematologic diseases and chronic fatigue syndrome were treated with double-stranded RNA. It was considered groundbreaking work at the time. 
"I am thankful for the opportunity Temple provided me," said Karikó. "I learned a lot during my time there, and I made a lot of friends. Even today I am still in contact with many of the researchers and scientists I collaborated with in Temple's lab."
Over the course of her career, she faced hurdles and naysayers. As just the 13th female scientist to win a Nobel Prize in Physiology or Medicine, Karikó hopes she can serve as an inspiration to others.  
"My hope is that my story will motivate and encourage women and immigrants and school children everywhere to persevere and be resilient," she said.
When asked how it feels to be a Nobel Prize winner, Karikó stresses that it is an incredible honor, then jokes, "I still do the laundry. I still go grocery shopping and my husband and I still eat what I cook. He keeps reminding me … 'you know you won a Nobel Prize, right?'"