The Truck Stops Here: Temple Teppanyaki
Listen, Owls, we won't dance—or shiver—around the issue: February is super-cold and the idea of standing in line for a meal you've never had before may sound super-awful. Luckily for you, your diligent and hungry friends at Nutshell braved the wintery mix (fine, it was a few flurries) to find you some perfect tummy-warming Japanese-Korean fusion fare with a wait time to write love songs about. Lol, you don't write love songs about waiting in line for kimbap? Whatever. Just read our review of Temple Teppanyaki before trekking to try the delicious Asian cuisine yourself.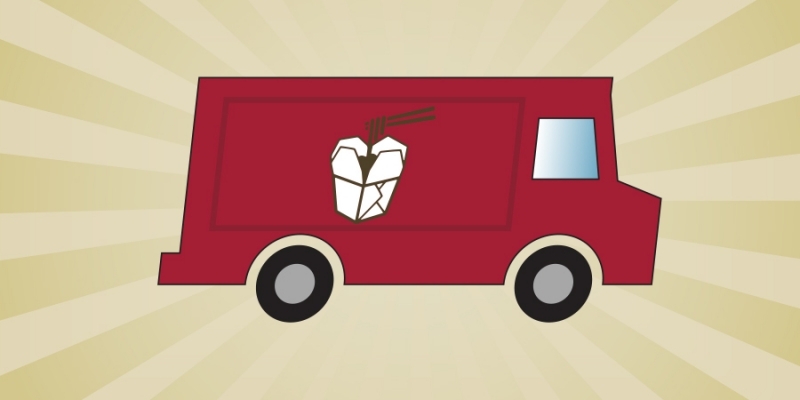 Even in the coldest months, you can't avoid a swarm of pleased-looking Owls crowded around a blue-and-white truck parked between SERC and the Biology-Life Sciences buildings.
No, these people are not smiling widely thinking about science—OK, maybe some of them are—but they are definitely thinking about the magical formula that has resulted in the Japanese-Korean fusion fare at Temple Teppanyaki.
The cuisine at this family run truck is a seriously delectable, cost-effective and filling option when you're in the mood for anything from chicken over noodles to fried shrimp to Korean beef—and if you haven't yet developed an obsession with that sweet barbequed beef known as bulgogi, then head to this truck ASAP.
The name comes from the Japanese "teppanyaki" cooking style of meats, seafood and noodles over an iron griddle that the truck uses when cooking up your made-to-order cuisine.
If you order the namesake meal ($6.00), you'll be treated to a typical Teppanyaki meal of fried noodles or rice with beef, chicken, shrimp or tofu, topped with homemade Hoisin sauce—a light BBQ glaze—and veggies including broccoli, carrots and onions.
The rice bowls ($5.50) offer the same option of proteins and vegetables; other dishes include the fried jumbo shrimp, tonkatsu (fried pork), fried fish and Kalbi (Korean ribs). All entrees are generously portioned and served mild, but you can load up on the homemade chili sauce for no additional charge.
For sushi addicts, we'd suggest the kimbap, which is an equally delicious sushi doppleganger: steamed rice and vegetables rolled in gim (seaweed), along with your choice of bulgogi, tuna or veggie only. All kimbap is $5 for 10 pieces, which is music to the ears of fans of the seaweed-rolled fare.
A favorite of regulars at this truck is the sweet-and-spicy fried chicken wings—for $6.50, you'll get six pieces of crispy Korean chicken doused in a homemade sweet chili sauce over rice. This revered dish takes about 20 minutes to cook, so call ahead to avoid a wait (but trust us, the call is so worth it).
And don't worry about battling with your friends of different tastes: though the menu is fairly meat and seafood heavy, there's a fair share of veggie and tofu options for most platters. Skirmishes over spices are easily avoided, too, 'cause you can control the seasoning when you order.
For your extremely hangry days, pair your protein with an order of fried veggie dumplings ($3.25) or miso soup ($2.00) or get extra rice and veggies for 50 cents and extra noodles for 75 cents. (And please don't take your "hanger" out on the incredibly sweet duo who operate the truck.)
This popular campus staple has a simple, but tried-and-true menu. So unless you're an oddball who dislikes short wait times for cost-efficient and delicious meals—join that science-loving Temple Teppanyaki horde today.

Related stories:
The Truck Stops Here: Mexican Grill Stand
The Truck Stops Here: The Creperie
The Truck Stops Here: Ray's