Posted
September 10, 2021
The Diamond Marching Band dazzles us every fall, and this football season promises more of that with "Butter" on top.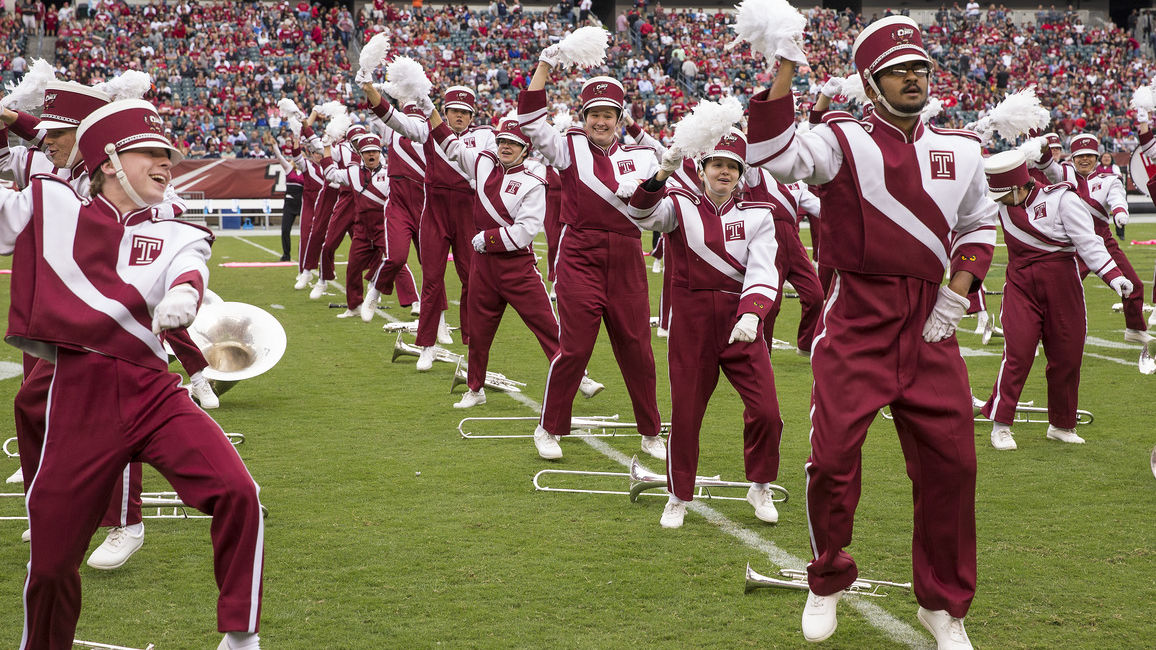 Let's be real for a minute, folks. If you haven't gone to a Temple football game and experienced a performance by the Diamond Marching Band, then we feel a little sorry for you. 
Over the past decade the band has been praised in publications like USA Today and Rolling Stone, they've appeared in the hit feature films The Wolf of Wall Street and Annie, and they performed with Young Thug and Gunna on The Tonight Show with Jimmy Fallon. 
The band is known far and wide for their dynamic renditions of popular songs by Panic and the Disco, Imagine Dragons, The Weeknd, Lizzo and Lady Gaga. YouTube videos of the band covering songs by K-pop band BTS have gone viral, with their performance of "IDOL" reaching more than 4 million views.
This weekend, you can catch them at halftime performing another song by BTS, "Butter," when the Owls play Boston College on Saturday, Sept. 18, at the Linc.
We sat down with Director of Athletic Bands Matthew Brunner to learn the secret to the band's success.
How do you pick your songs?
MB: A lot of college bands pick their music a full year ahead, but I wait, because I want to select what's currently popular. I send out a form to the band members for suggestions, and they send in ideas for full shows and individual songs. I try to listen to current music stations and pay attention to TikTok. And it's always about the audience—picking a song that students and alumni can get into.
How did you select "Butter?"
MB: For "Butter," a student messaged me the day BTS released it. I already liked their music and we had already performed two of their songs, "IDOL" and "Boy with Luv." As soon as I heard it, I was like, oh yeah … we have to do this.
How do you know if a piece of music will work for your band? 
MB: I've been arranging music for bands for 30 years—I started in high school. And I have experience with recording and sound editing. I actually hear the music in layers—the background, the lead vocals, the chord progressions. I listen for layers of activity that can translate into an acoustic performance.
What makes the videos go viral?
MB: Our performances are recorded and posted to @TempleBands, which gets a lot of views. But often the artists we are covering—or their fans—are the ones that are retweeting. It means so much to us when we get a shoutout from a group like Panic at the Disco or when the fans of BTS embrace us like they did.