First gen-etics: Meet bio major Nala Hamilton
The award-winning senior sat down with Nutshell to share tips and wisdom about her first-generation experience.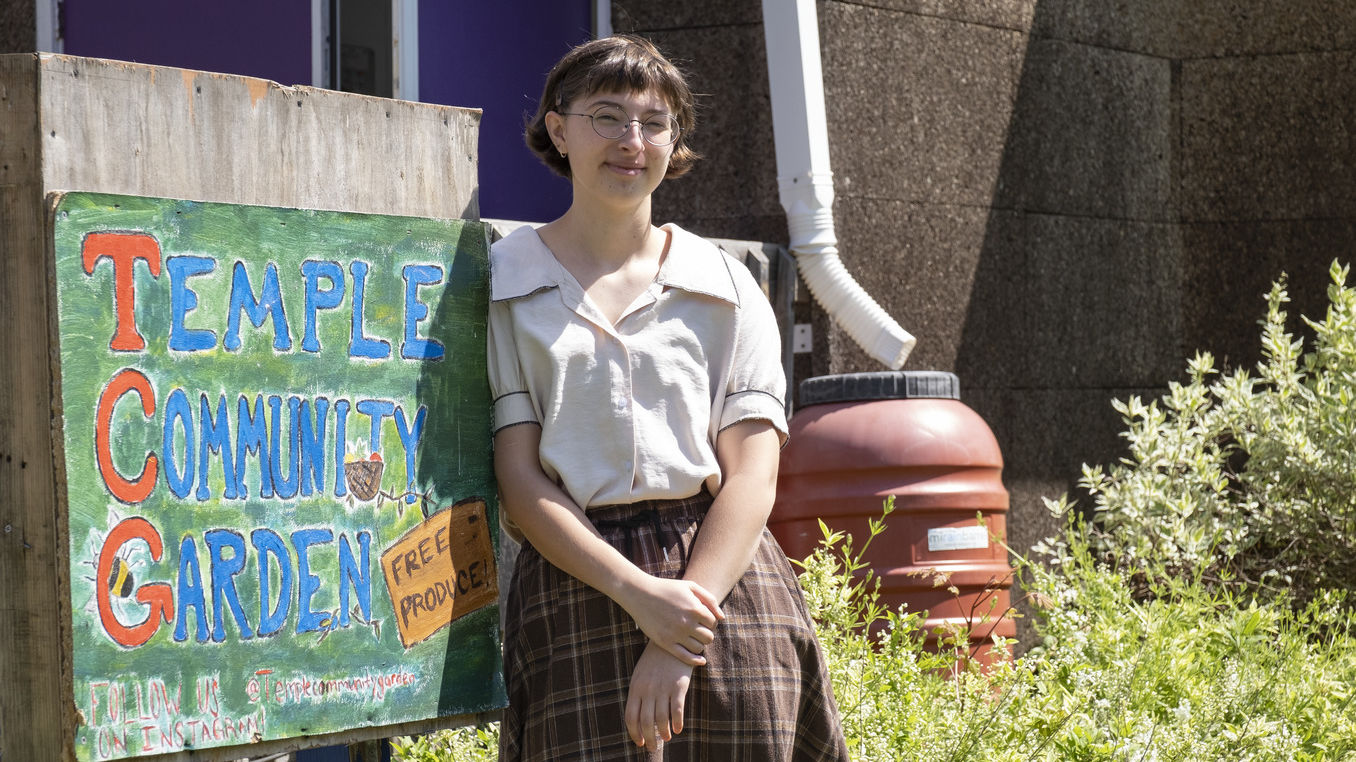 During her time at Temple, biology major Nala Hamilton has delved into a passion for research and science communication. She even founded a student organization, Sci-Design, dedicated to sharing information about important science and sustainability topics in creative ways. Her research into genetics earned her a Goldwater Scholarship, a national award recognizing future leaders in STEM research. Now, she's about to be the first person in her family to graduate from college. 
Nutshell: How does it feel to be the first member of your family to attend college?
Nala Hamilton: It feels really cool. I'm a senior now, so it feels more concrete. People in my family have gone to college but haven't graduated. Usually they go for a semester, and they're like "never mind." So now that I'm going to graduate, it feels way more serious and I am actually fulfilling that goal versus dealing with a situation where I drop out. But it's also a little scary, because you're relying solely on people that you meet in school to help you with things. I can't really go to my parents or siblings and ask "how did you deal with this" or "what should I do?" "What's the best avenue for me?" 
Nutshell: What's the most common challenge first-generation students face?
NH: Being confident and liking what you do. I don't know if it's necessarily specific to first-generation students; it could be with other people too. I think it might be more prominent of a feeling where you really don't know if what you're doing is the right thing or if you're going about it the best way. I knew in high school that I really liked the idea of research, but I never actually did anything. I know other people have high school research experiences, but I didn't. Coming into school I just went for it, tried new things and looked for research opportunities. I am not sure but first-generation students may often come from lower-income backgrounds. I definitely come from a low-income family. That has been a big struggle because you are unsure about what classes to take, but you also need to make sure that you're in a good financial standing to take those classes. 
Nutshell: What kind of resources did you discover here at Temple as a first-generation student? 
NH: The fellowship advising is extremely helpful. I have used this a lot to get grants and scholarships. The College of Science and Technology (CST) has undergraduate research like the CST-Research Scholars Program [formerly the Undergraduate Research Program or URP]. Even if you are not interested in URP, just going to that website and seeing what labs are open and the current research being done can be helpful. I found the lab I work in through the website. I saw an opening in the lab and asked to volunteer. Check your specific school's website for more opportunities. 
Nutshell: What would you say was the most helpful resource for you in your first year in college? 
NH: Check your emails! When I started college everything was mostly online because of COVID-19, so the only real communication I had with the school was through email. Newsletters and the Honors Program were also really informative. 
Nutshell: Are there any clubs or organizations that you are a part of or would recommend? 
NH: I went to a visual arts high school, so when I started studying biology it was really hard to have an avenue in visual arts and STEM. My friend and I both had the same thought about missing visual arts and wanted to do more drawing and painting. We started a club called Sci-Design for science design. I am currently president and co-founder with my friend Caroline George. We painted the inside walls of The Tiny House at the community garden. The paintings show blurbs and visuals about sustainable actions that the community garden does. We also just finished a mural on Pennsylvania native plants. We were able to do this through the Green Grant in Temple's Sustainability Office. We hope to have an event to showcase our work soon. 
Nutshell: What do you wish first-generation students knew before coming to Temple ? 
NH: It gets harder. It might be a deterrent, but it definitely gets harder. Prepare for that in terms of coursework. Burnout is also a serious thing, especially in your junior and senior years; it gets to be a lot. When it comes to your mental health, use the resources at Temple or have a good group of friends who understand what you are going through. 
Nutshell: Do you have a favorite professor?
NH: I love them all for different reasons! I thank Ann Valentine, chemistry chair and professor. I took her my freshman year. She was incredibly helpful and made the learning material fun. I also liked Sergei Pond. Not many undergraduates take him because he is a graduate professor. Not a lot of undergraduate students know that they can take graduate courses. I find them to be easier to understand.