The Young and the Wireless
Today's hyper-connected students experience a very different university than their alumni parents remember.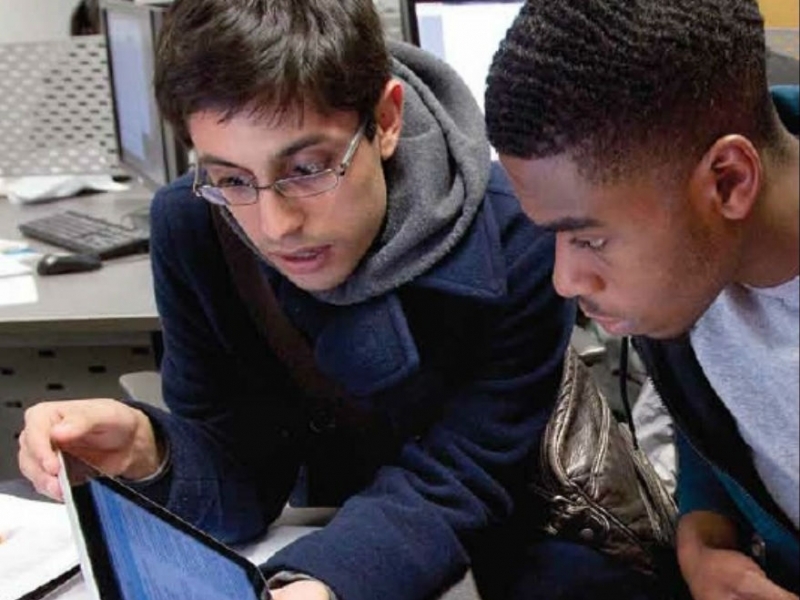 Story by Christopher Wink, CLA '08
Any college student who attended school before Steve Jobs was a household name is well-versed in freshman-year war stories: discovering that an overturned coffee cup drowned a final paper or a typewriter ribbon dried out overnight; camping out on the cold marble floor of an administrative building to ensure enrollment in courses required for graduation.
The stories most often swapped usually include a reviled roommate, such as the time he left for a three-hour seminar, never turned off the hot pot and got the entire dorm evacuated when the fire alarm inevitably sounded. Some survivors bemoan a roommate's penchant for black velvet posters and lava lamps, or her refusal to do a load of laundry anytime sooner than when entering the room was akin to stepping directly into a hamper.
Of course, those kinds of tales were once considered rites of passage for students living on campus. But with today's constant access to technology, current college students have fewer—or, perhaps, differently themed—stories to tell.
ODD COUPLE NO MORE
The 1970s sitcom The Odd Couple is all but obsolete—and the concept of two roommates as poorly matched as Oscar and Felix is fading fast, too.
Before moving into the 1940 Residence Hall in 2010, Linsey Tomasi, a biology and pre-pharmacy student in the Class of 2014, turned to an app called RoomBug. Through Facebook, RoomBug connects like-minded students with housing options. That is how Tomasi met her suitemate Heba Nasr, a fellow student in the College of Science and Technology.
Before the semester began, Tomasi signed in to her Facebook account and answered a series of questions, identifying her sleeping, studying and social preferences. She and Nasr had a lot of similarities and decided to share a suite with two others who also had used RoomBug.
The pair lived separately this past year as sophomores—Tomasi in University Village and Nasr in an off-campus house—but have remained friends.
"All my roommates have been good, but finding Heba online was a great way to start college, "Tomasi says. "My father, who went to college in the 1970s, was even more impressed by it than I was."
Of course, the internet has been transforming every corner of our lives for nearly 20 years, and hyper-connected college campuses have kept up with the revolution. Temple alumni see their children experiencing a very different university than they remember.
Before a Temple student ever sets foot in a residence hall, she can take a 360-degree online tour of what her room will look like, and then get a sample of campus life by visiting student media online, such as The Temple News and Templar yearbooks.
Every single thing I do as a student starts with the internet.
-- Britt Miller, Class of 2012
And when Owls come to campus to roost, their residence halls are fully equipped with wireless internet. They also might find themselves on the cutting edge of consumer electronics changing the classroom. For example, in fall 2011, 24 iPad 2s were handed out to Honors Information Systems in Organizations students in a pilot project to teach course material in a new way.
HOW LONG IS THE WAIT?
For alumni of institutions nationwide, one of the most prevalent memories of 20th-century campus life is the waiting: waiting in line for class registration, anticipating that long-awaited check from home and standing in line at the bank to cash it or blocking off a whole afternoon with the hope of snagging a washing machine.
Now, rather than racing to the laundry room after catching a glance of someone balancing a precarious tower of clean clothes, students simply sign up for text alerts that announce when a washing machine becomes available. And if someone wants to know if the university gym facilities are crowded, he can view one of the webcams installed by the Recreation Department.
A generation ago, Owls hand-picked courses from cards in boxes and waited in line to sign up, says William Bech, EDU '79, '81. By the time his daughter, Rachel Bech, SCT '08, arrived at Temple, it was a comparative breeze to register online. Though in-person course advising is still an important aspect of academic life, Temple students now select and edit their course loads on the web. Even the use of Blackboard software, a longtime online staple of faculty-student interaction at college campuses across the country, has continued to evolve. Through Blackboard, classmates who are not yet friends can contact each other for assignment help or study advice, or easily reference reading recommendations and course assignments from professors.
Paley Library might have gone through the most pronounced technological evolution of any campus building. "When I was in school, simple library research consisted of looking up books and references via the card catalog," says George Miller, CLA '73, SBM '83.
"By the time I found the item in the card catalog and walked to the back of the second floor, the book wouldn't be there. Better yet, nearly every article I ever researched was cut out of the journal by some other student before I got to it. I swear, it happened all the time."
Those are not problems most current students encounter, considering how much research can be done without ever even entering the building. Students can look up books online and view whether or not a book is currently on loan. They have access to a seemingly endless stream of academic journals, digital collections and databases, and can mine many of Temple's archival collections electronically. The library's use of social media, QR codes and other forms of outreach also have expanded research capabilities.
Therefore, they do not necessarily have to drive to campus, ride the Broad Street subway or even trudge from their dorm to the library to do research—they can conduct much of it in their pajamas.When they do visit the library, they are welcomed by a cafe and a sea of computers and collaborative study spaces abuzz with energy—the polar opposite of the hushed silence found among the stacks upstairs.
Or, as George's daughter Britt Miller, Class of 2012, puts it, "That library is extremely hooked up."
THE SOCIAL NETWORK
Though much of the foundation of those kinds of innovation has been around for years, the scale of it is still very new.
It wasn't until 2005 that most Temple students could sign up for Facebook, making the Class of 2009 the first to always have a dependable resource for finding a new roommate or an old classmate online. Text messaging and smartphones, video conferencing and online research tools are now essentials of the college experience.
"I literally have no idea how I would have gotten through school in the past," says Britt, who was in London at the time this article was written, and communicated via instant messaging, another web tool that has changed college life. "Every single thing I do as a student starts with the internet."
Britt is a consummate social butterfly, and a natural connector. She sees the impact the web has had on campus life almost exclusively through the social lens: creating Facebook groups to learn about her fellow students earning international master of business administration degrees, using Google Docs for collaborative projects and following Twitter lists to track business trends for class.
After spending the fall semester studying in Paris, Britt is continuing the IMBA program on Main Campus this spring, before her coursework bounces her between India, China and Japan during the summer. Whenever she's gone and wants to visit Main Campus, she can hop on the popular video conference service Skype and talk to her brother, also named George, who aims to finish his bachelor's degree in marketing this summer.
Where Britt sees friends and followers, her somewhat more reserved brother sees a chance to increase the value of his classroom experience. For example, when a professor shares practice tests online, George says he can better prepare for the style and focus of the real test questions, allowing him to study more efficiently and effectively, and ultimately retain more of what he's learned.
A POSTAGE STAMP AND LOTS OF HOPE
Owls also have better access to faraway, firsthand research sources—just ask Vivienne Angeles, CLA '78, '87, associate professor in the religion department of La Salle University in Philadelphia. Angeles came to Main Campus from the Philippines to study with the late, celebrated Professor of Religion Isma'il Raji al-Faruqi.
Her doctoral thesis was on the then-nascent Muslim movement in the Philippines, and she tried for the better part of a year to locate a leader of the Moro National Liberation Front (MNLF), the movement's leading political faction. She decided to send a letter addressed to the group in Tripoli, Libya, where MNLF members were rumored to be based.
"I sent it with no street address—just the group name, the city, a postage stamp and lots of hope," Angeles says. After months of silence, a response arrived in her mailbox. It was a triumph for her thesis. "Now, you could probably get a response the same day," she says, smiling.
And for Angeles, the extra legwork on the academic side of things was more than equaled by what it took to maintain a social life. To see what was going on around campus during her time at Temple in the '70s and '80s, Angeles relied on two indispensable tools: the college newspaper and department bulletin boards.
"You had to check those to stay up to date, and that took some effort," says Angeles, while her daughter Jamie Nguyen, CHPSW '08, listens. "I thought bulletin boards were only used for decoration," Nguyen chimes in.
Britt, who completed her undergraduate degree at Penn State in 2008, notes that in the few short years since her time in Happy Valley, Pa., to her brother's time at Temple, the impact of technology on college life is palpable. When she started college, she says that smartphones and social media were around, but the groundswell of change had not yet happened because students were still adapting to the technology.
"If you haven't [adapted] by now, you're strange."
Her father puts that in perspective.
"It's easy to take it all for granted," George says. "It's important for Temple graduates of my era to remind our kids how far we've come. Still, I think we all try to imagine what we would have been able to accomplish if we had these tools when we were their age."
Christopher Wink, CLA '08, is co-founder of the consulting firm Technically Media and its technology news site, Technically Philly.