Tarasai Karega
Degree: MS, sport business
School of Tourism and Hospitality Management, Class of 2015
Hometown: Detroit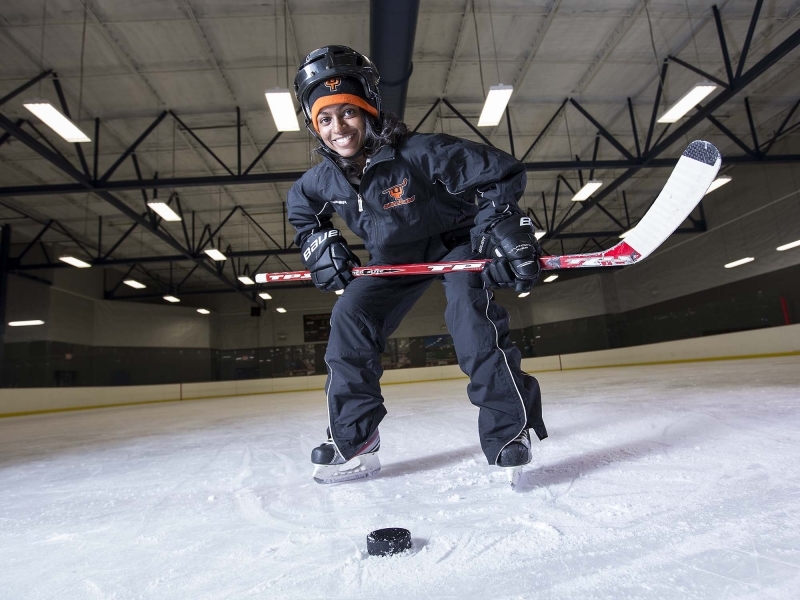 Photography by Joseph V. Labolito
A child emulating what she sees in movies is not always a negative thing. Tarasai Karega, Class of 2015, developed a lifelong love of hockey that stemmed from the 1992 film The Mighty Ducks. Not only was she intrigued by watching the team compete on ice, but one of the main characters also was African American, which encouraged Karega to take up a sport dominated largely by white males.
Karega joined the National Hockey League (NHL) Hockey is for Everyone program, which encourages inner-city children to embrace the sport. She went on to play as an undergraduate at Amherst College in Massachusetts—where she led her team to win an NCAA championship. Now, she helps a new generation of children discover a similar passion as coordinator of hockey operations with the Ed Snider Youth Hockey Foundation, created by the owner of the Philadelphia Flyers. 
WHAT DO YOU LOVE ABOUT HOCKEY?
Playing hockey isn't only about being on the ice, or scoring goals, or winning games. It helped me develop as a person. It made me believe in myself more. I took those lessons and used them in all aspects of my life.
DID YOU FACE MANY OBSTACLES TRYING TO PLAY HOCKEY?
There were people who said that black people don't play hockey, or that girls can't play hockey. But I don't do stereotypes. I like to be different; I like to step out of my comfort zone. It was tough, but I think it fueled me more than it discouraged me. I wanted to challenge those stereotypes.
YOU MET WILLIE O'REE, THE FIRST AFRICAN-AMERICAN NHL PLAYER. HOW DID THAT HAPPEN?
Willie is an ambassador for the NHL, and he hosted an all-star game in Detroit that I participated in. It was inspirational to meet him. To think about what society was like [when he began competing professionally] in 1958, what he did was a huge accomplishment. He made me want to succeed, and to inspire others the way he inspired me.
IS THAT WHAT DRIVES YOUR WORK WITH SNIDER HOCKEY?
Yes. We encourage the kids to build up skills that translate into other aspects of their lives. We want them to succeed—to graduate from high school and go on to college—so we offer tutoring and homework help. There are kids who have come through the program and are now back here working part time. Through them and through me, kids meet adults who want to help them and give back.