Mentored by Temple alumni, students head west for an insider's view of the entertainment industry.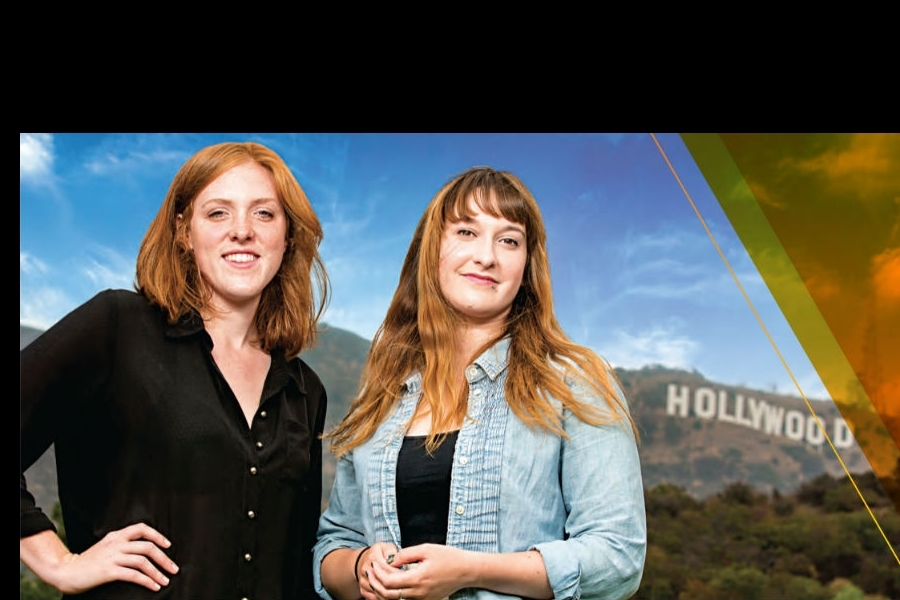 Story by Renee Cree, SMC '12
Photography by Kim Burgaard
"Hey Sarah, how is it being a big‐time dialogue editor in Hollywood?"
"It's riveting," replies Sarah Roethke, Class of 2014, as she stretches and laughs.
She's been staring at a computer screen for the past few hours, cutting the dialogue of a previously aired episode of a popular cable show. The screen is full of colored blocks and lines, and Roethke, wearing thick noise‐canceling headphones, deftly moves the blocks around with a mouse to perfect the sound.
Roethke hones her sound‐editing skills as an intern with Smart Post Sound in Hollywood, Calif., which works on television shows such as Sons of Anarchy and Modern Family. It is an opportunity that only presents itself in the entertainment capital of the world, and Roethke and several of her classmates are there as part of the Division of Theater, Film and Media Arts' Los Angeles Study Away Program.
Through it, Temple students are able to learn the business behind show business. While some students have interned at places such as Nickelodeon, NBCUniversal and Disney‐ABC Television Group, others have pursued journalism at Variety and Backstage West, public relations at Jennifer Lopez Enterprises and social‐media management for MTV's LOGO television network.
"I love this internship so much; I'm learning a lot," says Roethke, who through her placement at Smart Post, also was given access to normally restricted areas like a Foley stage (a room filled with everything from high‐heeled shoes to revolvers to old film reels, all used to create the sounds we hear on television and in film). "This is much more than just doing office work," she says. "I'm learning things every sound editor needs to know."
Roethke sits in a small room across from Steve Krolikowski, SMC  '10, who edits sound for a future episode of another series. Krolikowski participated in the L.A. program and was hired at Smart Post—owned by alumnus Joe Melody, SMC '75—immediately after graduation. Allan Barber, SMC '82, the program's co‐director, says that of the average cohort of 40 students per semester, between five and 10 will garner entry‐level jobs after graduation.
Sans headphones, Krolikowski edits together dialogue. He listens to the same lines over and over again, looking for a good transition—a way to mix the sound so it flows flawlessly. "These internships are what you make of them," he says with his eyes fixed on the screen. "When I worked out here, I did everything; I was all over the place. The whole industry is out here, and it gives you the chance to work on bigger, better‐known projects."
CONTRACT PLAYERS
At FremantleMedia North America—which produces shows such as American Idol and The Price is Right—Chris Schramm, Class of 2015, and his roommate Hunter Siede, Class of 2014, crowd around the desk of Ross Milstein, SMC '90, vice president of digital media services. Milstein's office is adorned with Temple memorabilia: a crew jacket hangs from the door, and his Temple diploma and varsity coxswain certificate decorate an adjacent wall.
As part of Schramm's and Siede's duties, Milstein has assigned the two to work on an internal video that will be distributed to Fremantle employees around the world. The video swells with music, sounds and special effects, and gives the film and media arts majors the chance to sharpen their editing skills. They have been working on the video since starting at Fremantle six weeks earlier, and will present the latest cut to Milstein today. "Hunter's worried Ross is going to hate it," Schramm says.
The video is a parody of reality television game shows. The opening shot—a hard hat that swoops into the frame, followed a second later by animated text—elicits an enthusiastic "Nice!" from Milstein. After viewing the rest of the video, he shares some initial thoughts. "It's coming along, isn't it? It looks great, guys. It's 1,000 times more polished than when we started."
Milstein has been hiring Temple interns since the 1990s. In 1997, the university partnered with Emerson College to send students to Los Angeles to gain industry experience. In 2003, Temple began its own program. In addition to assisting students with internship placements, the program offers classes on screenwriting and Los Angeles culture, and a course titled Entertainment Industry Perspectives, through which students learn about working in show business directly from alumni like Milstein.
"I want to go above and beyond to get these kids where they need to go," Milstein explains. "I ask them to give me a list of 10 things they want to accomplish during their internships, and I try to help in any way I can. I'm conscious that I am connected to a good network of people, so I try to use it to help interns meet their goals."
PEOPLE´S CHOICE
The L.A. Study Away Program's popularity has been steadily growing over the past 10 years; this summer alone, 79 students participated—the program's largest summer cohort to date. That comes at a time when a national debate continues over whether unpaid interns are being exploited at the companies at which they are placed.
During the summer, two interns from other institutions filed suit against Fox Searchlight Pictures, claiming that rather than gaining relevant experience, they worked as office support staff, filing papers and fetching coffee. A federal district judge in New York ruled in favor of the interns, noting that it was Fox Searchlight that benefited from their work, which would have otherwise been performed by paid employees. Similar lawsuits followed.
Amy Olk, TFM  '05, internship coordinator for the L.A. program, says that safeguards are put in place to ensure that Temple students gain relevant industry experience.
"This program offers a safe context and built‐in support for students," Olk explains.
All students must submit weekly internship journals that detail the activities in which they are involved. Olk and Selise Eiseman, SMC '75, an internship administrator with the program, review the journals to track interns' progress at their placements. In addition, employers at internships are required to sign a learning agreement, which explains how many hours a student can work per week and what types of activities he or she should be involved in.
SUPPORTING CAST
There is an adage about the business: It is not what you know, but who you know. In addition to learning all they can through their internships, students are encouraged—by both faculty and the alumni with whom they work—to meet as many people as they can while in Los Angeles.
Through their internships, students have the chance to work with alumni who have been through the L.A. program themselves, such as Tim Heidecker, TFM  '98, and Eric Wareheim, TFM  '98, the duo behind the cult comedy series Tim and Eric, Awesome Show, Great Job! and Tim and Eric's Billion Dollar Movie.
Volunteering at major industry events—such as the Los Angeles Film Festival and the Produced By Conference—also offers students a way to network. "All the people they want and need to connect with are there," says Barber, who also is assistant professor of film and media arts.
Jamia Pugh, Class of 2015, a postproduction intern for a talent competition called The X Factor, had only been on the West Coast for a few weeks when she jumped at the opportunity to volunteer at the film festival.
"At one of the screenings, I spoke to [Academy Award‐winning actress] Octavia Spencer from The Help about what it's like in show business," says Pugh, a junior studying broadcasting, telecommunications and mass media. "She was very positive and gave me some good advice. She told me to keep going and not give up."
CLASS ACTS
In addition to internships and volunteer opportunities, the Entertainment Industry Perspectives course—taught by Barber—allows students to meet alumni who are industry veterans, such as Academy Award–winning film editor William Goldenberg, TFM  '82, who spoke to the spring 2013 class. It also is what Barber calls "a reality check. We want students to see the connections between the business and creative aspects of the industry," he says.
In one class, students heard from Chad Cohen, TFM '01, production manager of the The X Factor (and Pugh's boss). He is candid about being successful—and failing—in show business. "This is a city of unreasonable expectations," he says. "You can't be rigid with your goals. I never expected to go into postproduction; I thought I'd be a writer. But you can make a decent living out here doing things you weren't expecting [to do]."
In another class, Joe Melody—the owner of Smart Post Sound, where Roethke and her roommate Emily Hooven, SMC  '13, work—spoke about the need for students to become excellent at self‐promotion. "Keep yourself as open as you can to new experiences and see what you can learn," he says. "Go to your boss and say, 'I have this unique set of skills I can use while I'm here.'"
GO WEST
Temple students stay at the Oakwood Toluca Hills apartment complex—a sprawling compound carved into the side of the Hollywood Hills, overlooking the Warner Bros. production studio. Several actors, including Kirsten Dunst and Michelle Williams, have stayed here at the beginnings of their careers. The apartments serve as the backdrop of a documentary called The Hollywood Complex, which focuses on the lives of the many aspiring child stars who have called the Oakwood home.
Each Temple student has a story about his or her celebrity sightings. Hooven and Roethke saw actor Elijah Wood deejay at a screening of the movie Clueless in the Hollywood Forever cemetery; Siede bumped into Breaking Bad  lead actor Bryan Cranston having lunch; Pugh saw basketball player Metta World Peace (né Ron Artest) while visiting Hollywood Boulevard with her roommates.
"You want to freak out, but it's just normal to see famous people," Pugh says with a laugh.
"I want to go above and beyond to get these kids where they need to go."
-- Ross Milstein, SMC '90, vice president, digital media services, FreemantleMedia North America
Siede notes that access to famous personalities is one of the great things about being in Los Angeles. "I'm a big fan of skateboarder Richie Jackson," he explains. "On a whim, I emailed him and said I was out here and asked if he needed any filming done. I never expected to hear back from him, but he wrote back and told me to come out."
Siede shot video several times for Jackson before leaving Los Angeles. "He really liked my shooting, so he would invite me out whenever some event was going on." The footage will be included in Jackson's latest skateboarding video, which will be released this fall on the sports‐centered YouTube channel, Network_A.
"Basically, if you want to work in finance, you move to New York," Cohen says. "If you want to work in fashion, you move to Paris. But if you want to work in entertainment, you have to come to Los Angeles."
Cohen's intern, Pugh, knows it is exactly where she wants to be. In addition to interning at The X–Factor, watching the story editors whittle seven hours of tape down to 30 minutes or gathering footage for a producer, she works two days per week on the set of Let's Make a Deal. There, 12‐ to 13‐hour workdays are commonplace. Within one day, she handles a variety of tasks, whether shadowing the production assistant or writing cue cards for host Wayne Brady.
"It's a long day, but it's so much fun," she says. "You don't realize the time—you stay until the job is done."
When The X Factor judges visit Los Angeles for the show's final round of auditions, Pugh hopes her connection to Cohen will expose her to the judges. "I want to be in front of the camera," she says. "But postproduction is a good backup plan."
Such big dreams are the kinds Cohen encourages in his interns. "Aim high," he says. "Go to Miramax or the Weinstein Co. and try to land an internship, and then try to roll that into a job. Use the time to make the mistakes you need to so that you can become great."
SECOND CITY
Another adage of Hollywood is that ultimately, it is a small town. And no matter where one goes in Los Angeles, he or she might bump into someone from Temple or Philadelphia.
"All the people I know in L.A. are people I met in the internship program," says Chloe Acerra, TFM  '10, who also was hired at Smart Post shortly after graduation. "My boyfriend works at a production company. He got that job through a former Temple intern who's now a page at NBC. And she got that job through another intern."
Schramm says he is surprised at how strong the Temple community is nearly 3,000 miles from Philadelphia. "Ross tries to hire Temple students," he says of his boss. "Allan brings Temple people to class to talk to us, and they say they're more likely to hire a Temple student."
Cohen, who got his first job in Los Angeles through a Philadelphia connection, echoes that sentiment. "If I have two people in front of me who are equally talented and one is from Philadelphia, he or she is the one I'm hiring," he says. "We were all there once. We recognize that hunger, that drive, and we want to help."
To learn more about the L.A. Study Away Program, contact Associate Director Alison Crouse or Director Nora Alter.