Sean Blanda, SMC '09, Brian James Kirk, SMC '09, and Christopher Wink, CLA '08, resuscitate Philadelphia's technology scene.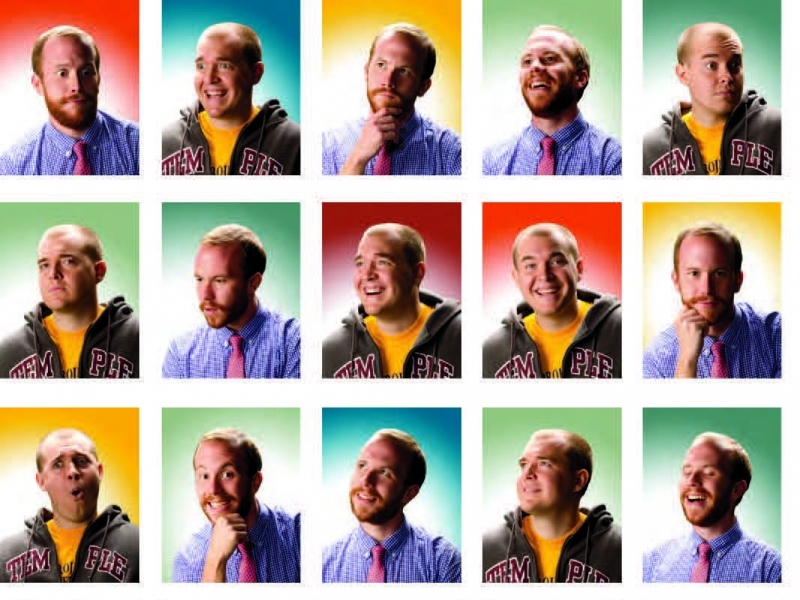 The sea of bicycles parked outside Johnny Brenda's, a pub and music venue in Philadelphia's Fishtown neighborhood, puzzled Sean Blanda, SMC '08. It was a Wednesday night in June 2008 and the place was packed. There was not even a well-known band playing. Instead, the venue was hosting the first-ever IgnitePhilly event—a sort of round-robin idea-fest for the city's creative class. This was supposed to be an event for nerds, he thought. He had not bought a ticket, and now, thanks to a great influx of said nerds, he was stuck outside of a sold-out venue.
The night was not a total loss for Blanda. In the following months, he would start talking with two people who had the foresight to get tickets to the event—his friends and former Temple News colleagues.
Brian James Kirk, SMC '09, and Christopher Wink, CLA '08—about what exactly a bar full of tech geeks on a weeknight represented: a market—a whole community of potential media consumers going underserved.
Over the next weeks and months, they plotted how to take advantage of the yawning gap that the slow shrink of traditional media had left them. They were young, the job market was proving less than bountiful and they were mostly broke. Why not give it a shot?
"I want to look back and say we built this business; it was real, it was possible, it worked in a time of great uncertainty."
-- Brian James Kirk, SMC '09, co-founder, Technically Philly
By February 2009, the discussions were becoming serious. There was a meeting at Wink's apartment in Frankford. Over pizza and Yuengling lager, a business plan was sketched out: They would launch a city-specific technology news operation called Technically Philly, which would focus not only on building an audience, but also on building community. They would be reporters and ringleaders. And they would make journalism—a business in the midst of an existential and economic crisis—a profitable enterprise again.
JOURNALISM REDEFINED
Wink notes that there has always been a tech scene in Philadelphia—it just has not always been this vibrant. Hampered by brain drain, the dotcom bust and the allure of West Coast technology meccas, Philadelphia had become an afterthought by the mid-2000s. The lot of the city and its tech culture has improved since then, Wink says. Philadelphia is keeping more of its young graduates; Silicon Valley's monopoly on talent and money has loosened.
Alex Hillman, entrepreneur and co-founder of Independents Hall, a coworking space in Philadelphia, says that while previous shifts in the fortunes of Philadelphia's technology community have been cyclical, this one seems much more stable. Past booms, he notes, were driven by government or nonprofit money—outside attempts to prop up a burgeoning scene. "It would die as soon as they ran out of dollars," Hillman says. "Now, it has bubbled up from the community. This time, it is self-organizing."
Though the night at Johnny Brenda's underscored it, the Technically Philly trio had long been aware of the city's growing scene. Kirk had written tech columns for Philadelphia City Paper and the blog Philebrity after graduation. Blanda, who was working as a web editor at City Paper, played the role of motivator, pushing Kirk to make it happen and offering IT support. Wink, fresh from a reporting fellowship in Harrisburg, Pa., joined the team with business reporting skills and a head full of steam.
On February 9, 2009, Technically Philly launched with a post featuring this introduction: "This nonsense was first the idea of Brian James Kirk who wouldn't have done anything without the prodding and design work of Sean Blanda who might not accomplish anything without the obnoxious persistence of me, Christopher Wink."
Those roles were not rigidly defined, but as they started building the business, something much like that happened. "Sean was tech guy, I was the operations guy. Chris was the guy who could make us press the hell out of each other," Kirk says.
Writing was a common responsibility. They covered all things related to technology in Philadelphia—product launches, venture-capital moves, the dearth of internet access in some parts of the city. As their audience grew, they started ditching their other gigs and coming on full time: first Blanda in summer 2010, then Wink in January 2011 and finally, Kirk in June 2011. "One by one, every six months or so," Kirk says.
Technically Philly was just one part of the plan. Going out, covering the news and hoping someone reads it might be the typical reporter's view of his or her role, but Wink argues that that model is rigid and outdated. "We've evolved that a bit: it's reporting and writing, then engagement."
By far, their biggest engagement initiative is Philly Tech Week, a series of events at locations across the city, featuring everything from robotics expos and gamer parties to entrepreneur meetups and programming boot camps. They held the first Tech Week in April 2011, attracting more than 4,000 attendees to 65 events; in 2012, more than 10,000 people attended 88 events.
"Tech Week is one of the most important events of the year," Independents Hall's Hillman says. "There are opportunities to get involved [in tech events] year round. But this is the big un-missable button to hit." It also subsidizes Technically Philly's journalism, with revenue from the event paying for a full-time reporter.
But as journalists, getting sponsorships, and becoming event planners and promoters, sometimes proved both unfamiliar and uncomfortable. "When I started cold-calling bars to find sponsors, I was terrified," Wink says. "I mean, [as a journalist] I didn't hesitate to call someone up and say, 'Hey, I want to talk about this malfeasance that you're involved in.' But to call up a bar and ask for $150 was nerve-wracking." It did not help that they would get swiped at by their media peers. Wink notes that Philadelphia Weekly awarded them a "Best Self-Promoters on the New Media Scene" award in its 2010 "Best of" issue, saying that "it sometimes seems that [Technically Philly's] contributors are trying to bring about the future of media by loudly declaring themselves to be the future of media."
Handling the dual roles of evangelists and journalists has also led to a few ethical workarounds. If one employee sells, say, a sponsor package, and the sponsor starts inquiring about news coverage on Technically Philly (in journalism, a no-no), the call gets passed off to one of the other guys. "You can say 'I can't make that call, but I can pass you off to so-and-so,'" says Wink, noting that it is a work in progress. "We are still carving out a model."
In addition to events, the group also is funded by project-based grants and consulting work. Two major clients are the National Constitution Center, which the company is helping launch a daily site tied to constitutional issues in the news, and PlanPhilly, which is looking to explore revenue-generating and sustainability models. "We are bootstrapping," Kirk says. "We aren't seeking outside investment, so we look to consulting as a way to make the numbers work." It is the math of modern journalism.
A successful modern-media model needs a variety of revenue streams, says Temple Professor of Journalism Christopher Harper. He also is co-managing editor of Philadelphia Neighborhoods—a hyperlocal student-staffed news site that has a cooperative reporting agreement with Technically Philly. "I think what Technically Philly did was quite intelligent," he says. "They saw that the business model of relying on advertising wasn't going to work for them—and it wasn't working for most of the mainstream media."
CRASH COURSE
Covering entrepreneurship has had a collateral benefit for the Technically Philly founders—a business education. "I remember when I was interviewing the CEO at XYZ company, how often I was thinking, 'How could we implement something like that?'" Kirk says. "It was a lot of stealing ideas."
Kirk says he has also taken a few lessons from Steve Jobs. "I think we get distracted and excited very easily," he says. Over the past few years, the company has prodcuced everything from Ph.ly News Weekly, an email of three of the city's most important stories, to Connect Philly, an internet-access finding tool. (Technically Philly and all these secondary projects are organized under an umbrella organization, Technically Media, founded in January 2011.) He cites a passage from Jobs' recently published biography that described the late Apple CEO choosing only four products—among two dozen possibilities—on which to focus the company's energy. "We really have to focus," Kirk says. "We have to know what we are."
Any future refocusing will now happen without one of the founders. "I just knew that I love those guys and that I love that company so much, and if I wasn't 110 percent in on something, that I should get out of the way," says Blanda, who left in June 2012. "It was tough admitting that to myself." The breakup was amicable, say all involved. Blanda still retains a small ownership stake.
Kirk and Wink are pushing on. There is a long-overdue web redesign slated for later this year. They are making stable profits. Technically Philly site traffic continues to climb. They even expanded by launching Technically Baltimore, with its own dedicated writer, in late July. "We want to get into a handful of markets and scale up," Wink says. Scaling—its one of those things that a business could do to interest a potential buyer. And Kirk and Wink have talked about what would happen if someone approached them with a bag of money and asked for the keys. "We said from the beginning that we really want this to last," Kirk says. And right now, the work feels unfinished.
"I want to look back and say we built this business; it was real, it was possible, it worked in a time of great uncertainty. And I can be proud of that."
Dan Morrell, SMC '04, is a Boston-based writer and editor. His work for The New York Times, Fast Company, Slate and more can be found at danielmorrell.com.