When the struggle for civil rights landed in North Philadelphia, Cecil B. Moore, LAW '53, was on its front lines.
Photography By:
Temple University Libraries, Urban Archives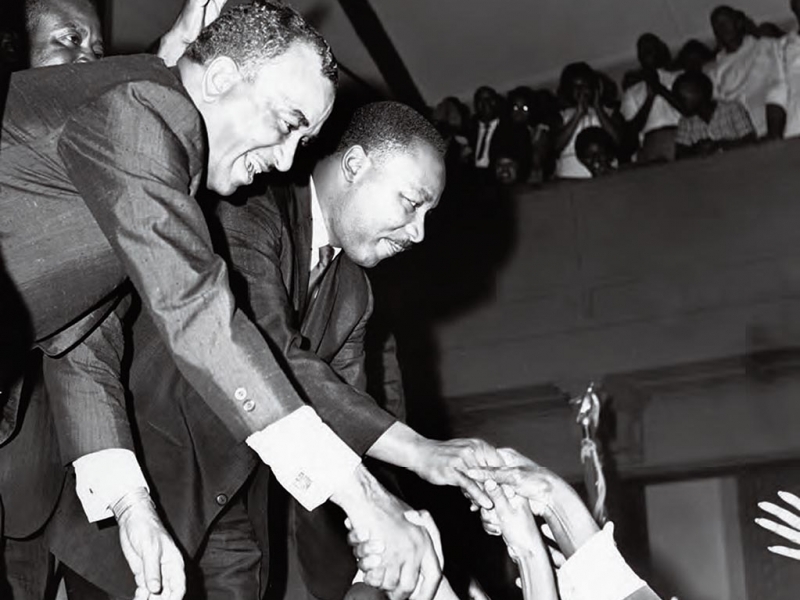 A mural of Cecil Bassett Moore, LAW '53, is emblazoned on a building just west of Broad Street and Cecil B. Moore Avenue. The portrait, complete with his ever-present, signature cigar, is faded, but still visible. However, when passers-by consult the web to find out more about the avenue´s namesake, they find few mentions of Moore´s role and his past, and even fewer records of when and how the fight for civil rights landed squarely in North Philadelphia.
Now, Civil Rights in a Northern City: Philadelphia—Temple University Libraries´ primary-source collection of photos, clippings, oral histories, videos and more—documents the civil-rights movement in North Philadelphia through the lens of its landmark struggles: the Columbia Avenue riots and the desegregation of Girard College, a North Philadelphia school for students in need.
Though the fight for civil rights was vastly more violent and intense in the South, Philadelphia struggled, too. By the 1950s and 1960s, the city was fraught with racial discrimination in fields including transportation, government and construction. According to Maxwell Stanford Jr., assistant professor of African-American studies at Temple and author of African American History Since 1900, the largest march in a northern city—comprising between 30,000 and 50,000 demonstrators—happened in 1963, during Moore´s push to equalize trade unions. And though Pennsylvania had banned public segregation in 1935, and the neighborhood in which Girard College stands was 69-percent black by 1960, that school did not accept black students until 1968. Moore was at the heart, and on the front lines, of those and many other struggles—most notably, the seven-and-a-half-month picket outside Girard.
THE LAW
Moore was born in West Virginia in 1915. After serving in the Marine Corps during World War II, he moved to Philadelphia in 1947 to attend the Beasley School of Law at Temple, working for a liquor distributor by day, and attending school at night. Moore lived on Jefferson Street between 17th and 18th streets—just two blocks south of the avenue that would eventually be his namesake.
"Cecil was amazing," says Stephen Sheller, founding partner of Sheller PC and a social-justice trial and litigation attorney who worked with Moore, the National Association for the Advancement of Colored People (NAACP) and the Congress of Racial Equality (CORE) in the 1960s and 1970s. "He had an aura of respectability and control. Everyone respected him. I can still see him in his sharkskin suit, holding a giant cigar."
With the support of Sheller, CORE and the NAACP, Moore—who had previously led the charge to end discrimination in Philadelphia's trade unions to create jobs for African-American workers—worked tirelessly to integrate Girard College throughout the 1960s.
The lawyers repeatedly protected the rights of protesters and workers. In 1967, following a protest urging the Board of Education to infuse public-school curricula with black history, Sheller and lawyer Oscar Gaskins represented the protesters, and Moore represented demonstration organizers—until he was thrown out of court for an outburst. (Sheller stepped in.) Moore and Sheller also represented the young men arrested in a nationally controversial, aggressive raid on the Black Panther Party's North Philadelphia office, just prior to the organization's national convention at Temple in August 1970. (The charges against the men were eventually dropped.)
"I don't think there was a lawyer in the region who could beat him,"  Sheller says of Moore. "He was probably one of the best trial lawyers I've ever seen."
Moore's persona was gritty and gruff. The unapologetic way he delivered radical views about race often alienated him from mainstream movement leaders. "In a lot of circles, I'm ... unwanted," Moore told The Philadelphia Inquirer in 1974. "I said to hell with the club, let's fight the damn system. I don't want no more than the white man got, but I won't take no less." But it was exactly that brashness that inspired his North Philadelphia neighbors to protest.
In the mid-1960s, Maxwell Stanford worked with Moore, organizing and publicizing various rallies and actions, and leading "rap sessions" in neighborhood bars and pool halls. He says that in the wake of the Columbia Avenue riots—which lasted three days in August 1964 after a dispute between police and North Philadelphia residents—Moore was determined to utilize the energy that filled the neighborhood to effect local social change.
"Cecil got everybody agitated. Without him, we wouldn't have gotten as far as we did."
-- Stephen Sheller, founding partner, Sheller PC
THE WALL
Opened in 1848, Girard College was a bequest of the will of Stephen Girard, a merchant in Philadelphia whose will stipulated that the school serve "white, male orphans." Surrounded by a 10-foot stone wall, the school was a source of mystery to the neighborhood children, who would watch balls sail over to their side of the wall, and toss them back into an abyss. It was the only contact the largely black community had with the imposing, 43-acre compound, surrounded by Ridge and College avenues and extending from 20th Street to 25th Street.
"I thought, 'This cannot be happening in Philadelphia, Pennsylvania!'" says Bernyce Mills-DeVaughn, a Virginia-born picketer. With seven other area residents, Mills-DeVaughn was interviewed for Temple's website by Diane Turner, CLA '83, '91, '93, curator of the Charles L. Blockson Afro-American Collection at Temple.
"Not too long ago down in Birmingham and Selma, they're spraying water on people," she continues. "So, I can imagine what the people in that neighborhood felt like, with a school of that magnitude sitting right in their neighborhood, and they could not participate in anything that was going on there. And so I can imagine the tension that was created between the students from Girard College and the young people in that neighborhood on that other side of the wall."
Pressure to desegregate Girard College had been building since 1953, when Raymond Pace Alexander, a lawyer and a judge, brought the idea to support the school´s integration to Philadelphia City Council. After numerous legal bouts that upheld Girard´s will over the next few years, the college appointed a board of trustees—making the school private and no longer beholden to Brown vs. the Board of Education, the 1954 U.S. Supreme Court decision that declared public-school segregation unconstitutional.
By 1965, Moore was president of the Philadelphia chapter of the NAACP, the organization that sparked the pickets outside Girard College. They began May 1, 1965.
"I went up to Girard College, for that one day, just to do it one day," Mel Dorn recalls with a laugh during his interview for Civil Rights in a Northern City. "One day lasted, well, seven months and 17 days, 24/7."
Dorn was not the only marcher who showed up and stayed. Summer nights drew 150 to 200 people. Demonstrators wound their way through rickety police barricades and marched around the wall that dwarfed them and kept them out. Sometimes, they faced counter-demonstrators. More often, they faced the police.
"We've been out here for 73 days," Moore was quoted as saying in the July 13, 1965, edition of the Philadelphia Evening Bulletin, "and instead of reaping American citizenship, all we've reaped is brutality." 
Like many protesters, Eugene Dawkins was subjected to repeated violence and numerous arrests. He says that Moore bailed out those who were detained, sometimes hungry. "Cecil took me under his wing," acting as a father figure. "When I got real," Dawkins recalls in his oral history, "I told him I had no father; he said, 'You got one now.'"
City officials complained about the protests loudly and frequently. They told the press how much the police presence was costing the city ($1 million in overtime). They also did not hide how much Moore frustrated them. Paul D'Ortona, then city council president, asked for 1,000 additional police for the city, and wanted to call in the National Guard. According to the Philadelphia Evening Bulletin, D'Ortona also called for Moore's arrest for "violat[ing] laws against rioting" and accused him of "hoodlumism and irresponsibility." Former Philadelphia Mayor James H. J. Tate noted the strain the pickets put on the police department and accused Moore of "carrying on a tirade against all responsible government." In October 1965, a lawsuit was filed against the city, demanding the removal of police and demonstrators from outside the school. (The city upheld the protesters' right to assemble.)
After months of marches, arrests, clashes with police and local officials, and a morale-boosting visit to the site by Martin Luther King Jr. in August, a lawsuit was filed against Girard by the city, Pennsylvania and the mothers of seven boys whose applications to Girard had just been denied. (During that same trip, King spoke at the Baptist Temple, now known as the Temple Performing Arts Center.)
Once the suit was filed, Moore called off the protest; it ended Dec. 17, 1965. The Philadelphia Evening Bulletin reported that a small Christmas tree was placed on the wall during the protesters' last night at Girard. The note found with it read, "Merry Christmas to the Pickets from the Philadelphia Police Department."
"It was the best experience I've ever had!" Karen Jordan says in her oral history. "It made me face my failings; it made me face my successes. It made me want to do better."
Moore organized a brief picket in 1966, when the decision to integrate the school bounced between the courts and Girard´s board. "The courts have had enough time to weigh the issues and the law involved," Moore said in August 1966. "We´re prepared to cost the city another million dollars in overtime for the police and keep the issue alive if we don't get a prompt decision in the case." In October, 100 Temple students and faculty rallied on campus in support of Girard's integration. After the assembly, 25 Temple demonstrators joined the march.
Girard College finally accepted its first African-American students in 1968, after the U.S. Supreme Court overrode Girard's will in light of Brown vs. the Board of Education. Six hundred people assembled outside the school to celebrate. Moore also organized a group of African-American teachers to guide 30 boys who would be able to apply for school for the first time.
A few months later, the NAACP offered to help 620 African-American boys apply to Girard College.
"Cecil B. Moore's biggest contribution was [the desegregation of] Girard College," Stanford says. "It was a huge victory." He also notes that Moore motivated the residents of North Philadelphia, inspiring them to join actions and protests. Further, Stanford says that Moore's active political life affected Philadelphia at large. "Black politics became typical Democratic [Party] politics," he says. "What's normal today was considered absurd 40 years ago."
THE LEGACY
In 2011, Temple alumnus and Trustee William H. Cosby Jr. addressed the graduates of Girard, recalling how the compound once stood as a neighborhood symbol of racism. "You are walking on the bridges that they built," he said of the 1965 picketers. "And they walked around this wall until that mindset, because of laws, had to change. So others came before you—building bridges, stairways, steps—and here you sit."
Today, the Girard population comprises 400 co-ed students, mostly African American. It is not unusual for graduating classes to be nearly 100-percent college-bound.
Eventually, Moore´s blunt style alienated him from the NAACP, which cited a dramatic decline in membership over the course of his presidency. He was suspended from office in 1967, and died of a heart attack in 1979. Eight years after his death, Columbia Avenue—the site of riots in 1964—was renamed Cecil B. Moore Avenue.
"Cecil got everybody agitated," Sheller says. "Without him, we wouldn't have gotten as far as we did."
Information for this article was provided by Civil Rights in a Northern City: Philadelphia. For more, visit northerncity.library.temple.edu.