Degree: MFA, radio, television and film, School of Media and Communications, 1985
Occupation: Distinguished director
Location: Los Angeles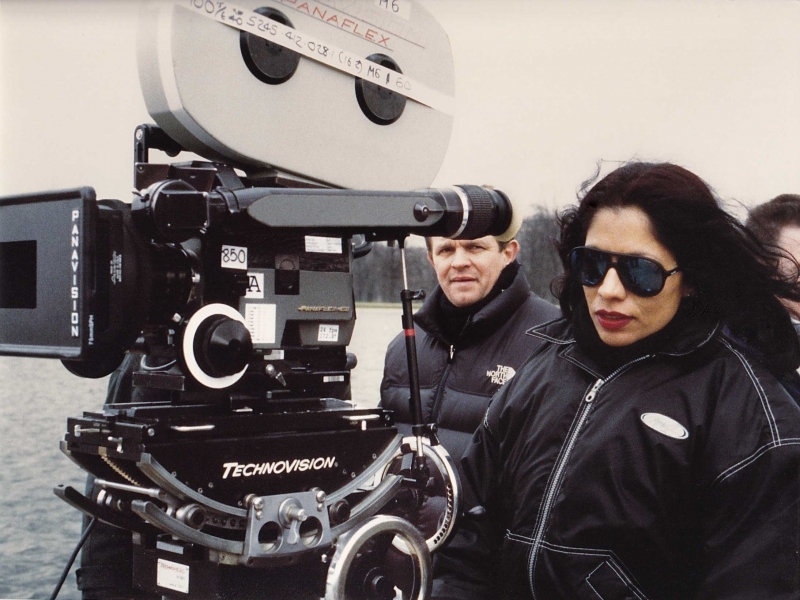 Story by Nikki Roszko, CLA '07
Photo courtesy of Radha Bharadwaj, SMC '85
"Mind over matter" is a concept familiar to filmmaker Radha Bharadwaj, SMC '85: Her work often focuses on protagonists who mount imaginative and creative defenses to overcome gross abuses of power.
In her first film, Closet Land, a woman lives in a police-run state and is tortured for a crime she did not commit. She escapes horror through her imagination, launching into a dreamlike sequence of images from the books she read as a child.
When the film was released by Universal Pictures in 1991, Bharadwaj became the first filmmaker of Indian descent to release a feature film through a major Hollywood studio. For her script, she earned the 1989 Nicholl Fellowship in Screenwriting from the Academy of Motion Picture Arts and Sciences. She considers it one of her greatest achievements.
"My childhood was flooded with stories from Hindu myths, with classical music and dance."
Her second feature, Basil (1998), follows the title character's strained relationship with a cruel and powerful father. After Basil's father casts him out of the upper class, Basil escapes the pain of solitude and exile by becoming a novelist. Similar to what Closet Land expresses, Basil communicates that the imagination can free a person from suffering.
Radha Bharadwaj's Closet Land earned her a 1989 Nicholl Fellowship.
Bharadwaj's interest in experimental, psychologically oriented filmmaking took root as she earned her master of fine arts degree at Temple. While there, she immersed herself in films by iconic filmmakers such as Alfred Hitchcock, Federico Fellini and Akira Kurosawa, all of whom she notes as important influences on her artistic style.
Bharadwaj also incorporates elements of her Indian heritage into her films. For example, the tense, rigid score of Closet Land mimics what she refers to as "the very precise, almost mathematical ragas of southern Indian classical music." Additionally, her films often feature the color red, a powerful hue in numerous Hindu rituals. She uses it as a visual motif to "celebrate strength and the life force," which mirrors what it signifies in Hindi culture: passion, strength, fertility.
"My childhood was flooded with stories from Hindu myths, with classical music and dance," she recalls. "It was an enormously invigorating sensory and aesthetic whirlwind."
Currently, Bharadwaj is concentrating on her writing. Her latest story, "Lord of Our Destinies," is a satirical short story inspired by a politician in India. She also is working on several novels, hoping one might provide source material for a new film.
To read more alumni profiles, check out the latest issue of Temple.