Degree: MEd, education, College of Education, 1972
Occupation: Loquacious legend
Location: Philadelphia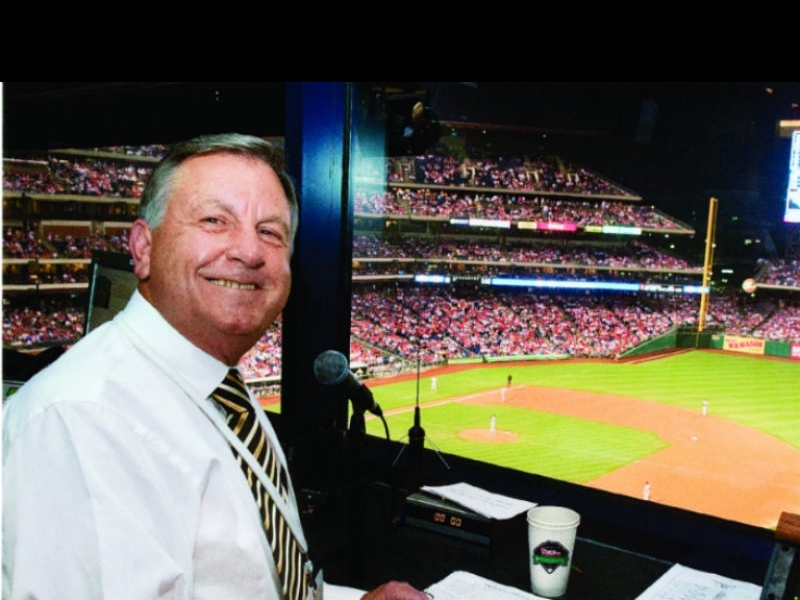 Story by Alix Gerz, SMC '03, CLA '07
Photograph by Rosemary Rahn 
The evening of March 31 after the Phillies' 2014 season opener in Texas, Dan Baker's energy level is high. Though the team is away, Baker, EDU '72, the Phillies' beloved public-address announcer— the one who keeps the crowd at Citizens Bank Park apprised of the on-field action—does not have the night off. After appearing at a game-viewing party at the sports bar XFINITY Live, he heads out to co-host The Bull Session, an AM-radio sports-talk show.
"This is my 43rd season with the Phillies, and I still have as much enthusiasm for the game today as I did when my father took me to a game at Connie Mack Stadium in 1954," he says with a mixture of pride and gratitude. Baker has announced for Phillies games for 43 years, including five World Series—two of those being Phillies wins, in 1980 and 2008—and two Major League Baseball All-Star games. Baker, who was born in Philadelphia's East Falls neighborhood, did not land his dream job by accident; he attributes his success to hard work, networking and the fact that his parents were "sticklers for elocution." While studying education at Glassboro State College (now Rowan University) in New Jersey, Baker began keeping statistics for the visiting announcers when their teams visited.
Philadelphia. Through those games, he befriended Veterans Stadium's director of operations, who in 1971 told Baker about an announcing position there. He applied for the job and was hired shortly after. At that point, Baker was a teacher in the School District of Philadelphia and feared he would have to choose between teaching and announcing. But while pursuing his graduate degree at Temple, Roger Gordon, then a professor in the College of Education, advised him to do both until Baker could decide which was right for him. "I can't think of an educator who had a greater impact on me in my entire life than Roger Gordon," says Baker, who eventually decided to pursue announcing full time in 1980.
Baker continues to approach games just as he did when he first started announcing: He arrives at the stadium early, reviews his script and practices the pronunciation of each visiting player's name. He says he aims to reach 50 seasons with the Phillies and adds humbly, "If they'll have me."
After more than four decades working with the Phillies, Baker says Philadelphia's sports teams "still hold my interest and excite and entertain me. I feel very fortunate to have this job."