<div>Society's views on sexuality have evolved—<span style="font-size: 12.8000001907349px; line-height: 1.538em;">and so have Temple's.</span></div>
When Edie Windsor, CLA '50, was a student on Temple's campus, she could not even talk about the idea of having romantic feelings for another woman. But when she arrived at the Temple Performing Arts Center in April to discuss her victory in the United States v. Windsor Supreme Court case—which found it unconstitutional for the U.S. government to define "marriage" and "spouse" only in a heterosexual context—she was greeted with cheers and a standing ovation. A hero's welcome home for the hero of the LGBTQIA (lesbian, gay, bisexual, transgender, queer, intersex and asexual) community.
"There was very little gay activity in Philadelphia when I was realizing I was gay," Windsor told moderator Angela Giampolo, LAW '07, at the event. "I came back a few years ago for the Philadelphia gay film festival and was overjoyed at what I saw."
Temple President Neil D. Theobald also remarked on the cultural shift across the city, and across campus. "Our campus has changed significantly," he said at the event. "And so has our society."
Indeed, from student organizations such as Purple Circle, the Queer Student Union (QSU) and Queer People of Color; to course offerings such as a minor in lesbian, gay, bisexual and transgender studies and a Medical School elective that focuses on that community's distinct health needs; to campuswide events such as National Coming Out Week, Temple is more diverse and accepting than it ever has been before
When Louise Fishman, EDU, TYL '63, was 19 years old, she had her first serious relationship with a woman, while a student at the Pennsylvania Academy of the Fine Arts in Center City. When her parents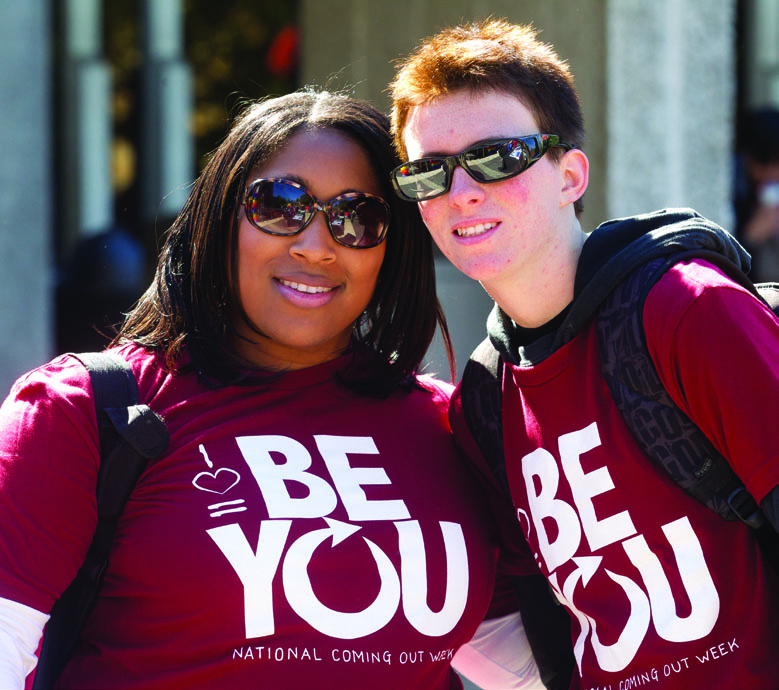 found out, they made her leave school. "They thought it was full of lesbians," she says with a laugh. Her father had attended Temple and suggested she study art there.
"In the five years I was at Tyler, I don't think I met another gay person," she says. "We were hidden. We didn't have a strong identity in those days, and I never really felt terrific about myself until much later, when I got involved in the feminist movement and with gay rights."
Fishman says she doubts anyone on campus knew or suspected she was gay. "I even tried to be straight for a while, but that didn't work," she says. Her social and romantic life—such that it was—was more active off campus in Philadelphia, where she would meet the city's gay community in a few bars located in the area within Walnut and Locust streets between about 11th and 13th streets (now known colloquially as "the Gayborhood"). But she recalls one time her affiliation with Temple saved her when a night out turned sour.
"I was sitting at the bar in one of those places, and the police came in—it was a raid," she recalls. "The police were asking everyone there for ID, and I showed them my Temple ID. The policeman looked at it and said, 'Oh! My daughter goes to Temple. It's a very good school!'" Fishman was let off.
MOVING FORWARD
According to Nu'Rodney Prad, adviser to the Queer Student Union and assistant director of residential life, Main Campus has changed considerably since the days of students and faculty having to hide who they were or "pass" as straight. "I've seen a lot of improvement," says Prad, who came to Temple in 2008. "A hell of a lot of improvement."
The same year Prad arrived at Temple, the university celebrated its first National Coming Out Week, commemorated with a series of events including a drag show, a panel discussion about equality and an outdoor festival at the Bell Tower in the heart of Main Campus. Prad estimates that since its first year, participation in National Coming Out Week has tripled, and he expects that number to grow. The week's events are sponsored by several offices around Temple, including Housing and Residence Life, the Wellness Resource Center, the Residence Hall Association and 
In addition to that week's highly visible events, there are myriad LGBTQIA social groups, such as the newly created Queer People of Color and the Purple Circle. In addition, the Lavender Graduation—held a week before the university's main Commencement ceremony—recognizes the achievements of students who identify as lesbian, gay, bisexual, transgender, queer (or questioning), intersex or asexual.
Even though Temple has come far in terms of visibility and acceptance of those who identify as LGBTQIA, many feel that more still needs to be done. "Temple does have a pretty active community, but there is still room for improvement," says Michael Kovich, CLA '14, the immediate past president of QSU. "[The union] will keep reaching out across campus, to create an atmosphere that's freer than it has been."
Antonio Rodriguez, Class of 2015, and vice president of external affairs for Temple's Residence Hall Association, notes the struggle students may face when coming to terms with their sexual identity. "Coming out is hard—some students live [on campus], and when they go home, they suddenly don't have a family to go back to. Having a place to go to get information, to talk to someone— that could be very helpful."
SAFE SPACES
To address that need, in 2012 the Wellness Resource Center established the Safe Zone program, which identifies supportive allies of the LGBTQIA community campuswide. Open to staff members, resident assistants, and other students and mentors, training focuses on basic language, issues and concerns facing LGBTQIA students, faculty and staff. After that training, a placard is placed outside participants' offices indicating that these are safe spaces to talk about those issues.
"I consider myself an ally of the community, and I'm proud of it," says Nicole McKenna, director of graduate studies and research in the School of Media and Communication. "That's why I chose to participate." McKenna was in the first cohort of trainees and says what she learned was helpful even outside the designated Safe Zone of her office on the third floor of Annenberg Hall.
"It's made me more aware of how to handle certain situations, particularly when I overhear discriminatory conversations and I know what people are saying is wrong but was unsure of what my role should be,"
McKenna says. "In those situations, where I was once more passive, I've become braver in speaking up."
This fall, Temple also launched a new, central website, diversity.temple.edu, where all the university's populations can find information and resources about getting involved in their communities on campus and finding support if they need it.
I can't be happy if I'm not living authentically.
-- Angela Giampolo, LAW '07
LIVING AUTHENTICALLY
As a law student, Angela Giampolo saw a strong support system from faculty in the Beasley School of Law long before the Safe Zone program was in place.
"When I was a student and my partner's mom died, I emailed the dean of students and she was very supportive," Giampolo recalls. "I never got the sense that they felt my relationship wasn't legitimate because it wasn't between a man and a woman." The self-described "Philly Gay Lawyer,"
Giampolo is founder of the Giampolo Law Group, which specializes in cases pertaining to LGBTQIA issues. She also writes frequently for Philadelphia Gay News and Philadelphia Business Journal.
Since graduating from Temple in 2007, Giampolo has taken that support to heart, staying active with the Temple Law Alumni Association, moderating the Windsor event in April and even paying for her intern's last semester at Temple out of her own pocket.
"The truth is, 90 percent of law firms are still [populated by] straight, white males, so the legal community hasn't always been the most accepting environment," she says. "Temple gave me the foundation of knowing that I could practice law as an out lesbian, and still be accepted. And I can't be happy if I'm not living authentically." 
No matter your identity, you may join Temple's LGBTQ Society! Learn more about that and other alumni groups.