A dance scholar examines subcultural dance and its messages.
Story by:
Samantha Krotzer, SMC '11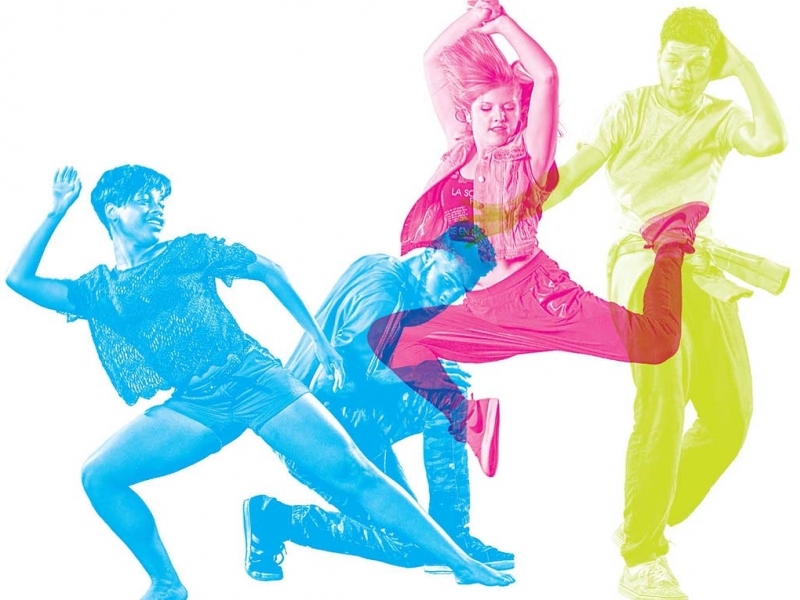 In Philadelphia, the hip-hop dance scene is generally composed of a young, African- American crowd. So when Sherril Dodds, chair of the Department of Dance at Temple, walks into a North Philadelphia hip-hop club, she might seem out of place. But as a group of young African American men greet the British woman with hugs and lead her to the floor, it is clear she is no stranger there. And though Dodds can definitely hold her own on the dance floor, she is there to do more than bust a move. Dodds is a dance scholar with a particular interest in popular dance: how people dance, why they dance and why it is significant. She is at the club tonight to study how facial expressions are used in dance.
Dodds says when battles break out on the dance floor, the face can be used as a weapon, meant to intimidate and even ridicule one's opponent.
Dodds, who describes herself as a cultural theorist, also explores other popular forms of dance—such as punk, metal, and ska and neo-burlesque striptease—to find the cultural value in those forms of expression. "I'm concerned with dance as a cultural practice, and how it is both shaped by the society in which it exists and how it can shape that society itself," she explains.
For example, in her previous research, Dodds found that fans of punk, metal or ska often identify as outsiders, or loners, and dancing at shows provides a sense of community they are hard-pressed to find elsewhere. Meanwhile, neo-burlesque striptease performers feel a sense of empowerment, freedom and inclusion that does not always exist beyond a club's walls.
"Dancing at a punk show could look like chaos, but it actually is very thoughtful and particular."
-- Sherril Dodds, chair, Department of Dance
A FORM OF FEMINISM
Dodds focused on neo-burlesque striptease for one of her first academic studies. Burlesque performances began in Victorian England and were originally comedies or parodies. But by the 1890s, the form was flourishing in the U.S. with a focus on female nudity. The performances fell out of favor during the 1960s with the onset of the women's rights movement but had made a comeback in London and New York City by the 1990s.
Dodds explains that today's burlesque performers remove their costumes to either partial or full nudity with an element of a tease, which she describes as a concoction of wit and seduction that is vital to the performance.
Between 2005 and 2008, Dodds documented 25 burlesque shows in London and New York. She interviewed several dancer and found that their participation in those performances imbued them with confidence. In Dodds' observations, a range of body types were represented onstage including dancers who were full-figured, curvy and voluptuous—which defied conventional notions of beauty or attractiveness. The performers' confidence extends to the audience to promote body acceptance and positivity. Audience members could connect with the performers on stage and relate to their appearances, and the dancers sparked feelings of acceptance and confidence. Dancers also design their performances and are therefore empowered by creative autonomy.
One performer told Dodds, "Nobody told me that I'm not quite the right height, not quite the right look or not the right sound. I can sing any song I like, I wear any costume I like, and I'm perfect for the role."
"I went into the research with a clear feminist perspective around what I felt to be a form of dance that didn't support feminist values," explains Dodds. "Talking to the dancers really changed my feelings around that. It was so great to interview and engage with people about their passion, and I became hooked on talking with participants."
Dodds also found that though neo-burlesque represents a diverse range of body types, there is a real lack of diversity in terms of race—the performers she studied were mostly white American and British women. She explains that as artists with racial and economic privilege, the dancers held positions of power—they are stripping autonomously. One might not consider neo burlesque striptease a form of popular dance in the same way that hip-hop is, but Dodds attributes that to preconceived notions about the word "popular." She defines it as dance that is done for social, recreational or leisure purposes.
"Historically, there is a divide between high art, which is concert dance, and low art, which is popular dance," Dodds says.
"These categories are helpful in how people value and understand dance, but they are not very concrete. For example, ballet started as a low-art dance in the U.K. and the U.S. and then became high art."
Dodds adds that with the advent of TV shows such as Dancing with the Stars or So You Think You Can Dance, different types of dance are being popularized through mass media. "I'm becoming increasingly aware of how much dance influences other dance," she says. "The relationship between dance on screen influences social dance practice and the concert stage. All these things shape each other."
THE MOVEMENT OF MOVEMENTS
When Dodds dissects a particular popular dance, she starts with the movement itself. She studies it to determine what is being communicated, how it is organized, how it projects identities onto the dancers.
"It's important to let the dance speak, to let the movements speak," she says. "Sociologists, musicologists and those in cultural studies look at dance and will talk about all those things except the movement,"
Dodds says. "I will always start with the movement." When Dodds was researching notions of gender and sexuality relating to neo-burlesque striptease, she used the steps themselves to guide her work. For example, there are many planned movements that can subtly illustrate sexuality—such as a performer removing a glove with her teeth rather than her hands. While studying the dance patterns at punk shows, Dodds found that the success of a performance was measured through the audiences' motions, such as pogoing—a high-energy jumping motion with arms held at the sides—and headbanging. Dodds says that the audience of a more popular band shows its enthusiasm by dancing without encouragement from the stage, whereas a lesser known band might need to prompt its audience to dance. "To the untrained eye, dancing at a punk show could look like chaos, but it actually is very thoughtful and particular," Dodds says.
She notes the example of fans playing air guitar—they "strum" the same chords as the musicians, and their headbanging is perfectly coordinated to the rhythm of the music.
CULTURAL IMMERSION
Dance is deeply embedded in who Dodds is; she attended ballet classes as a child, learned traditional folk dances in grade school and headbanged at punk shows as a teenager. But she had no idea dance could be studied beyond technique and choreography until she was working toward her undergraduate degree in creative arts at Manchester Metropolitan University in North West England.
"I had no idea about the other ways to look at dance," she says. "To look at it historically, as a social practice, or analyze it to find aesthetic meaning. I began to really enjoy doing all other reading about dance from what would be described as a dance-studies perspective." Through that lens, Dodds looks beyond technique and choreography to search for the value dance provides to its participants and how dance reflects its society.
The academic study of dance is still a relatively new field. It was pioneered in the 1970s by Joann Kealiinohomoku, an anthropologist who studied ballet as a form of ethnic dance. Dodds was exposed to that way of exploring dance while studying for her master's degree in dance studies at the University of Surrey in South East England.
Dodds took a course on popular dance culture, or dance from an anthropological standpoint. In that course, she learned to conduct research on a specific group using the ethnographic method, which focuses on fieldwork, interviewing members of a particular group and immersing oneself in the activity being studied. It is how Dodds has conducted her research ever since.
"I became hooked on talking to the participants about their experience," she says. Dodds notes that one of the biggest hurdles in the academic study of dance is that it is often still seen as just one form of art, rather than a cultural artifact.
"It's a fight I've had to make in academia, that this is a legitimate field of study," she says. "When I first started [studying dance], we looked at ballet and modern and postmodern dance, all focused around the concert stage. It wasn't until my master's degree that I was able to look at [the notions of gender and sexuality related to] striptease.
People are always hugely surprised that I have a master's and PhD in dance, and that it can be scholarly."
Though the field of academic dance research is small, Dodds is encouraged by its growth. Institutions such as the University of California, Los Angeles, and the University of Surrey have adopted degree programs pertaining to the cultural, academic study of dance.
Dodds plans to continue immersing herself in the cultures of those she studies, and taking another cue from the field of anthropology, she notes that her research simply would not be possible without the openness and acceptance of her subjects. "The thing that has always struck me is how generous people are in [those] communities," she says. "I'm very different from the people that typically do the dances that I've researched, and it's an honor that they welcome me."
Samantha Krotzer, SMC '11, is a freelance writer and teaches English as a foreign language. She is currently living and teaching in Busan, South Korea.