Degree: BS, civil engineering, College of Engineering, Class of 2015 
Hometown: Huntingdon Valley, Pa.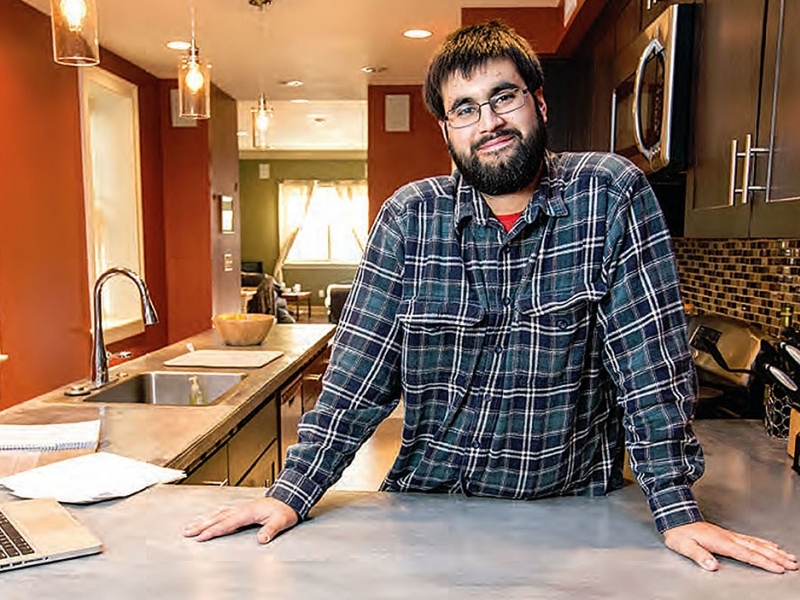 When it comes to housing, most college students worry about who their dorm mates might be or whether or not their landlords will allow pets. Rick Getts, Class of 2015, worried about things such as building a new foundation and repairing a destroyed roof.
For two years, Getts spent his holidays, nights, weekends and even his free time between classes rebuilding a house in the Fishtown section of Philadelphia. He purchased it with his father and his uncle and finished construction in 2013. His handiwork includes features such as concrete countertops and a multiple‐spray shower.
The only parts of the original property that remain are the first floor and some exterior brickwork—Getts, his father and his uncle rebuilt the rest.
WHAT MADE YOU DECIDE TO TAKE ON SUCH A LARGE PROJECT?
My father and my uncle own rental properties, and they discussed purchasing and rebuilding a house and having me rent it from them. When I was working on a construction project in Fishtown with my dad, we saw a house for sale that was really destroyed. Since we liked the area, my dad, my uncle and I bought it together.
HAD YOU BUILT ANYTHING ON THIS SCALE BEFORE?
When I was in fourth grade, a car ran into the side of our house. That led my father (who owns a construction company) to change the layout of the house to include an addition that I helped build. We also rebuilt my uncle´s house, so I´ve been around construction my whole life.
HOW DOES THAT BACKGROUND HELP WITH YOUR CIVIL ENGINEERING MAJOR?
Civil engineering includes things like roadway design, building bridges and structural issues—how long a beam should be and how much force and weight it can take. Having a background in construction helped me understand those concepts firsthand.
"Whatever you're thinking of doing, go for it."
WHAT WAS THE MOST CHALLENGING PART OF CONSTRUCTION?
Rebuilding the foundation in the kitchen. We had to pour concrete, but there was nowhere to park a truck. So we had to come in the front door and go through the entire house with wheelbarrows of concrete.
WHAT IS YOUR FAVORITE PART OF THE HOUSE?
I like my kitchen. We were toying with the idea of putting in an island, and it wound up being an L‐shaped bar with concrete countertops. And the fireplace is back there, so it´s nice to sit by the fire and relax after class.
DO YOU HAVE ANY ADVICE FOR THOSE INTERESTED IN BUILDING THEIR OWN HOME?
It´s a lot easier to try things out when you're in the middle of home improvement rather than finish and say, "I want to change this," or "I want to fix that." Whatever you're thinking of doing, go for it.