Degree: Dental Hygiene Education, College Health Professions and Social Work, 1968
Occupation: High flyer
Location: Granby, Colo.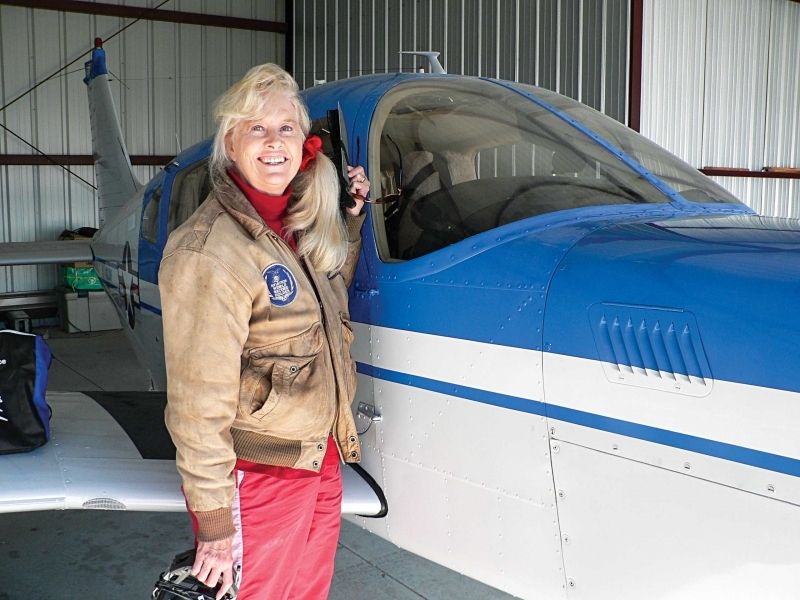 Story by Theresa Medoff
As Penny the Pilot finished her talk at a daycare center, she was approached by a little girl. "Penny, can women fly airplanes?" the girl asked 
Penny the Pilot—a persona created by Penny Rafferty Hamilton, CHPSW '68, to teach children about aviation—smiled. "Well, what do you think? Are girls as smart as boys?" The girl nodded.
"Do you know of any women pilots?" The girl shook her head. Rafferty Hamilton handed her a book filled with stories about female pilots, and the girl scurried off to pore over the facts.
According to Women in Aviation International, only 6 percent of licensed pilots are women, and aviation is among the fields in which women have the lowest representation. Rafferty Hamilton has made it her mission to change that. "Isn't it amazing that so few women are pilots?" she wonders. "The airplane doesn't know the sex of the pilot."
After graduating from Temple, Rafferty Hamilton worked in various fields. But it was when she began serving as navigation and radio controller for her husband, Bill, that she discovered her true passion was flying. She earned her own pilot's license at age 40.
Soon after she was certified, the couple set the still‐standing international speed record for their weight class, flying from Lincoln, Neb., to New Orleans at 179.92 miles per hour.
Rafferty Hamilton retired from flying in 2007, but her passion for it has not waned. She speaks about flight to audiences from schoolchildren to professional aviators. In 2008, she founded the Teaching Women to Fly research project, which identified barriers to women's success in aviation—including cost, lack of confidence, incompatibility with instructors, gender bias and the dearth of female mentors—and compiled a list of 101 strategies for overcoming those challenges.
The airplane doesn't know the sex of the pilot.
In addition, Rafferty Hamilton earned the National Association of State Aviation Officials 2012 National Aviation Journalist Award for her many articles about flight. She has three books in progress and is writing a chapter in The Absent Aviators, which will be released by Ashgate Publishing in 2014.
While the number of women pilots remains low, Rafferty Hamilton is encouraged by the prospect of growth. "The research and advocacy that I and others have done has encouraged more aviation organizations to reach out to women," she says. "More scholarships have been started for female college students interested in aviation and women who want private pilot training. There's also more of a focus on mentoring now. I feel like I'm making a difference."