Ads featuring career-ready Temple students only scratch the surface of how accomplished the campaign's subjects are.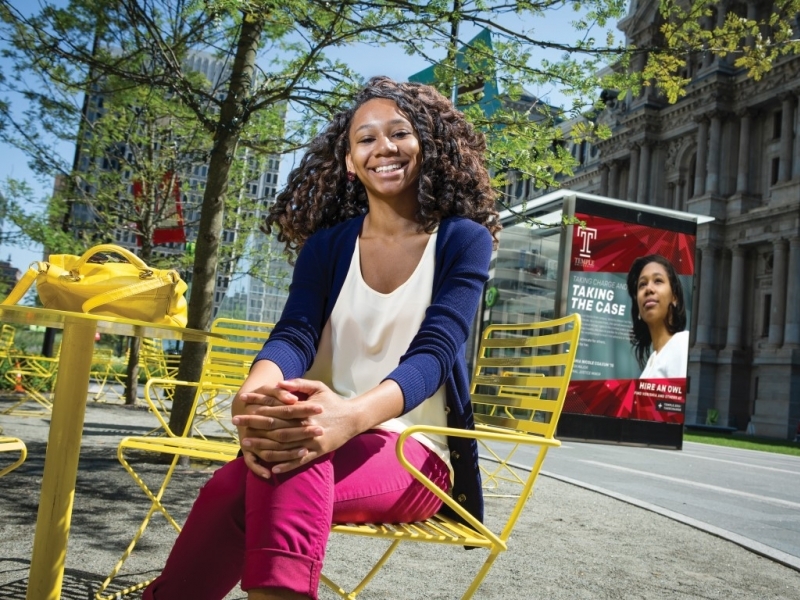 The images of determined, accomplished young people appear on billboards, at train stations and bus stops, along highways, and in airports across the Philadelphia, Harrisburg,
New York and Washington, D.C., metropolitan areas, as well as in Forbes, Fortune and other publications. The faces belong to current and graduating students, and they're a part of Temple's new campaign: Hire an Owl.
Touting students as the university's greatest asset, Hire an Owl appeals directly to potential employers by highlighting Temple students' ambitions through radio, transit, digital and outdoor advertising. Each ad briefly recounts an individual student's accomplishments—founding an arts organization, advocating for an important social cause, coming up with creative ways to gain on-the-job experience. Collectively, the ads demonstrate that employers looking for someone with the skills and know-how to make an immediate impact should turn to Temple.
"I'D LOVE TO WORK FOR THE U.S. DEPARTMENT OF EDUCATION SO I CAN MAKE IMPORTANT CHANGES IN SCIENCE EDUCATION AND CURRICULA."
-- — LYDIA LAWSON, CST '15
Hire an Owl ads distill each student's story into a few sentences. Here, Temple goes behind the billboards to get to better know the students—and learn what it's like to see your face staring back at you when you're waiting for a train.
WHAT IS YOUR DREAM JOB?
Connor Rattey, Class of 2017, Fox School of Business: My dream job is to work as an environmental consultant so companies can call on me to help them develop sustainable 
business solutions.
Lydia Lawson, CST '15: Being a science major, I originally thought I wanted to go into a medical field, but I realized that my calling was in education. I'd love to work for the U.S. Department of Education so I can make important changes in science education and curricula. I want to be sure students are taught in a way that is conducive to learning.
WHAT IS YOUR PROUDEST ACCOMPLISHMENT TO DATE?
Matt Cahill, EDU '15: I co-founded a Temple chapter of Eye to Eye, a national mentoring organization that pairs young students who have attention deficit hyperactivity disorder and other learning disabilities with college students who have the same disability.
I was in second grade when I first noticed I learned differently than my peers. When my classmates could read chapter books, I was still on basic sentences. It wasn't until high school that I understood that I required more time to digest information because of learning disabilities.
At Temple, I wanted to strengthen the bonds among students with learning disabilities and help out in the surrounding community. Today, Temple's chapter is the largest in the U.S.
Verishia Coaxum, CLA '15: Completing coursework for my minor in criminal justice instilled in me a desire to fight for victims' rights and offender rehabilitation. For one of my class projects, I conducted research for the Defender Association of Philadelphia, a nonprofit dedicated to providing highquality legal services for indigent criminal defendants who can't afford a lawyer.
Alex Monsell, Class of 2016, Division of Theater, Film and Media Arts: I helped create a student theater organization called Temple Theater's Sidestage Season. Last year, we staged nine productions and were able to donate the proceeds from one production per semester to charity. In the fall, the organization raised $700 for the Philadelphia Firefighters' and Paramedics' Widow's Fund. In the spring, we raised $1,400 for the LGBTQ Advocacy scholarship offered by Temple's Center for the Arts.
HOW HAVE YOU TAKEN CHARGE OF YOUR FUTURE THUS FAR?
Rattey: Last spring, I competed with students from across the country for a chance to intern at Goldman Sachs. I took the initiative to conduct my own research on the company even though they don't recruit at Temple. After several interviews and two flights to their Salt Lake City office, I secured an internship position as a global compliance analyst.
Lindsey Murray, SMC '15: I knew I wanted to intern at a national magazine during the spring of my senior year, but moving to New York City during my final semester wasn't an option. Nonetheless, I found a way to make it work. Every Monday, Wednesday and Friday, I woke up at 5 a.m. to take a bus to Manhattan so I could participate in an internship at
Seventeen. I didn't get back to Philly until 10 p.m., but I always made it to my Tuesday and Thursday classes.
HOW HAS TEMPLE PREPARED YOU TO ACHIEVE YOUR DREAM?
Lawson: At Temple, I had the opportunity to be a Diamond Peer Teacher and a Peer Mentor. Those experiences showed me how transformational the role of a teacher can be and inspired me to pursue a career in education.
Chris Fricker, Class of 2016, Fox School of Business: As an 18-year-old freshman with no connections, I landed an internship with a U.S. senator. After that, I landed another internship at a local office of a top Wall Street investment bank. And later, I held a six-month, paid position and two subsequent internships at a Fortune 50 pharmaceutical company.
Many of those I worked with had gotten their foot in the door through the help of family and friends, whereas I had proven myself with the merit and qualifications I had gotten from Temple. Temple was my connection.
HAVE YOU SEEN THE ADS THAT FEATURE YOU?
Rattey: When my picture was first put up on the Temple home page, I got several emails and text messages from friends and peers who were shocked to see my face representing Temple. The jealousy that they playfully expressed was coupled with compliments; it bolstered my confidence to hear friends tell me that I'm a good representative of the school.
Cahill: I was about to get on the Norristown High Speed Line by my house, and I saw the ad there! It was so wild, and all my neighbors saw it, too. I started playing with a Frisbee team with the Philadelphia Area Disc Alliance summer league, and people I'd just met said, "Hey, I've seen you on an ad in University City." It started becoming a Where's Waldo? scenario.
At first it was just cool to see the ad. Later, people said it was nice to know the person behind the ad. It strengthened the reason I love Temple: It is made up of people who are working to make Philadelphia and the world a better place.