<div>Every day, Temple is part of the national news when Tamron Hall, SMC '92, and Kevin&nbsp;Negandhi, SMC '98, HON '15, face the cameras.</div>
Photography By:
Ryan S. Brandenberg, CLA '14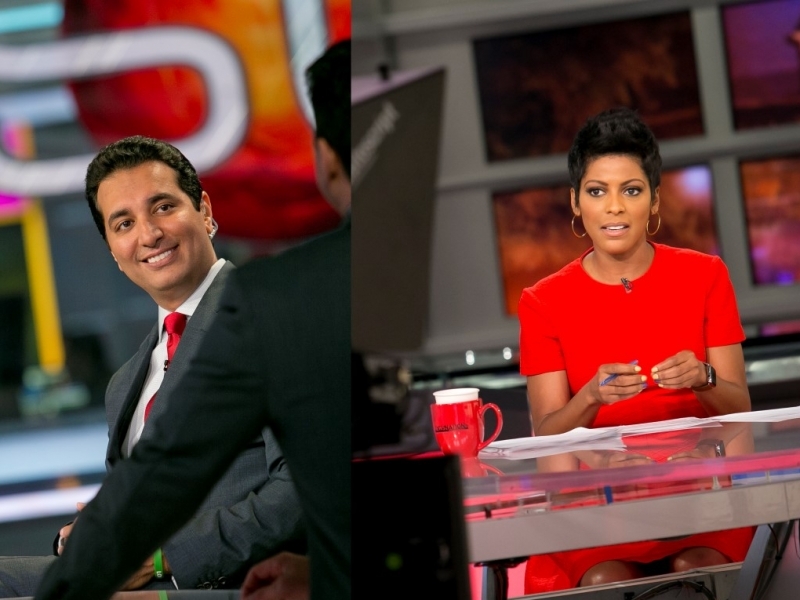 Tamron Hall, SMC '92, rises at 4:30 each morning. By 7:30 a.m., the co-host of NBC News' Today show and anchor of MSNBC's NewsNation with Tamron Hall has already fielded two conference calls to prepare for the day's broadcasts. After taking care of her own hair, makeup and wardrobe, Hall begins anchoring "Today's Take," an hourlong segment of Today.
Every minute of that hour is packed. One morning this past summer, for example, Hall spends commercial breaks patiently taking and retaking selfies with Today's guide-dog-in-training, Wrangler, for a Q&A on BuzzFeed. When Wrangler finally gives Hall a kiss as she snaps a photo, she races back to her place in front of the camera before the "On Air" light outside the studio brightens again. And at 9:30 each day, she uses news anchor Natalie Morales' segment within "Today's Take" to fit in a meeting with the executive producer of NewsNation. In addition, she sometimes co-anchors Today from 7 to 9.
The atmosphere on the Today set is casual and jovial. Hall interviews actors Jason Schwartzman and Adam Scott and taste tests picnic fare. As the hour progresses, Hall begins to quietly, intently check her phone during commercials and other segments. She's preparing for her second daily show, NewsNation with Tamron Hall, which airs every weekday at 11. Hall is about to report on the aftermath of a tragic and shocking event in Charleston. The previous night, a young white man had attended a prayer meeting in the city's Emanuel African Methodist Episcopal Church and killed nine African Americans.
When "Today's Take" wraps at 10, Hall walks from Studio A through 30 Rockefeller Plaza—a crowded labyrinth that resembles a complex subway station at rush hour—toward the NewsNation studio.
"I'M THE GIRL WHO CAME TO TEMPLE NEVER HAVING SEEN PHILADELPHIA. THIS CITY GAVE ME MY SOUL. THIS UNIVERSITY GAVE ME MY CONFIDENCE."
-- TAMRON HALL, SMC '92, CO-HOST, "TODAY'S TAKE," AND ANCHOR, NEWSNATION WITH TAMRON HALL SCHOOL OF MEDIA AND COMMUNICATION COMMENCEMENT ADDRESS, DEC. 18, 2014
From 10 to 10:50, Hall prepares for her next broadcast and touches up her hair and makeup. At a different desk, in a different studio, she settles in to host NewsNation.
"My team at NewsNation sends me scripts to approve during commercial breaks or when I'm not doing a segment on the 'Take,'" she explains. "They are in sync with my schedule, and they know what we need to do to transition from that show to our show without compromising my reporting or the information we're providing to the viewers."
In the NewsNation studio, the production staff sits elbow to elbow among a maze of desks about 50 feet from where Hall anchors. They might not be on camera, but it's clear they're poised to pounce on any unexpected turn the show might take.
About halfway through the broadcast, the energy in the room intensifies and the phone at the anchor desk begins ringing repeatedly. A staff member answers the calls in hushed, rushed tones and delivers updates to Hall during commercials. Charleston shooter Dylann Roof has just been caught in Shelby, North Carolina.
Through it all, Hall remains squarely in the present. She's no less engaged as a sunny host on Today than she is as the serious journalist who anchors NewsNation. She's responsive, flexible and calm. "We are like that as human beings, I hope," she says. "We can truly be engaged in the substantive things that affect our lives on a daily basis or have long-range and long-term impact, and we can transition to something like a recipe we saw somewhere."
We might all have that capacity, but we're not expected to exhibit such depth of dimension before a live, national audience. Additionally, while on the air, Hall has been asked to head to Charleston. Once she signs off of NewsNation, she attends a quick postproduction meeting and heads home to get ready to travel.
"I keep a bag packed because that's one of the rules of the game, and by the time I made it to the airport, I was stunned to learn the flight was delayed," she says a week later. "I ended up waiting at the airport for five or six hours, and never got out for the show. The reporter in me wanted desperately to be on the ground for that story. I got home around midnight and I was on the air the next day, but on the ground in New York."
PREP TIME
Kevin Negandhi, SMC '98, HON '15, thrives on a similar energy. Each weekday while Hall holds court on Today, Negandhi welcomes viewers to the 9 a.m. telecast of ESPN's 
SportsCenter.
ESPN's sprawling campus in Bristol, Connecticut, is the polar opposite of the bustling, iconic 30 Rock. While the latter is a skyscraping monument to art deco, ESPN is a gleaming contemporary marvel. Eighteen buildings, a fleet of satellites, and a quad that has served as a mini–football field, a tennis court, a soccer field and more are nestled in 123 acres in a small and quiet town. But the difference in atmosphere doesn't mean Negandhi's mornings are slow.
"I'm here at 6 a.m.," he says. "We write the show from 6 to 8. Around 8:15, I get ready for the newsroom. And then at around 8:35, I'm in makeup; at 8:45, we may do a pretaped segment, and then we're on the air." His daily episode is followed by a postmortem meeting, during which the staff discusses what worked and what didn't. After a quick lunch, Negandhi picks up his two children from daycare and heads home.
"For most [other ESPN] shows, you have four or five to six hours of prep time," he says. "But on the 9-A, you're in and you have to get going, because if you don't, you're going to be behind, writing two-hour shows in two hours."
The morning Temple visits ESPN, the U.S. women's soccer team is basking in its Women's World Cup victory. Negandhi interviews Abby Wambach and Kelley O'Hara, two of the team's star players, and talks to NASCAR's Dale Earnhardt Jr.
"Every single day is different," Negandhi enthuses, "from the Women's World Cup to the NBA starting free agency to Wimbledon matches. It's never dull for me, and I don't think it's dull for anybody who does this."
The broadcast itself isn't dull, either. In a studio that's likely able to fit three Today show sets in it, modular elements like desks and podiums are wheeled in front of backdrops
and display screens in different corners of the room, transforming the environment for different segments. The anchors' desk sits in the middle, and the cast and guests work around camera cranes that produce the show's signature swooping effects. Negandhi smoothly, coolly negotiates the space, the timing, the segues and the detail-oriented statistic-soaked nature of sports reporting.
"I always say that when you work at a normal job, if you have a bad day, three to maybe 10 people notice," he says. "If I have a bad day, hundreds of thousands of people notice. I have to be on and ready. Every time I'm on the air, I'm a fan: I have the same spirit, the same emotion, and I can convey that in a professional manner. There's a standard I like to set that I bring it every single day."
BORN READY
Hall, who even as a child watched TV with a critical eye, says she was a broadcast journalist from "day one": "It's my career, it's my path, it's my destiny—it's what I believe I was
meant to do," she says. "I believe I was meant to be a journalist. And I'm just thankful that I happen to be on one of the greatest morning shows ever, as well as being able to
walk into a network that has a storied legacy for breaking news and reporting on the stories that impact this country."
Negandhi had his professional revelation in 1989, when he was 14. "I was watching a college basketball game, and they were profiling a player at the free-throw line," Negandhi 
recalls. "They said, 'He wants to be a sports broadcaster.' I thought, 'Wait a second, I can get paid to follow sports and travel with teams?'"
While at Temple, Negandhi worked on campus and for local media outlets in both print and broadcast journalism. And after graduation, he began reporting professionally in Kirksville, Missouri, where his first day broadcasting live was akin to baptism by fire. "The studio wasn't air-conditioned, and it was HOT," he recalls. "We had to run our own teleprompter with a pedal, and next to the pedal there was a small button. If you hit it, the teleprompter ran backward. I pressed the pedal, and my foot was so big it hit the button. So that was my debut: I was sweating like it was Niagara Falls on my face, and I did three minutes of ad-libbing. The anchor next to me was under the desk, trying to set everything right. It was my welcome-to-TV moment."
In 2006, an agent helped him get an audition for ESPN, where he beat out six candidates for a job at ESPNews.
After she earned her degree from Temple, Hall returned to her home state of Texas and worked as a general assignment reporter at KTVT in Dallas. She then moved to WFLD in
Chicago, where she spent 10 years before joining MSNBC in 2007. A rigorous, daily onair schedule is not new to her: In Chicago, she hosted a daily three-hour news program,
Fox News in the Morning.
Hall doesn't need extra motivation to face such demands. The chance to do her job, she says, is motivation enough. "I don't take it lightly when people agree to give me an
interview or allow me to tell their story," Hall notes. "That's why I got in this business. I love hearing about someone else's journey. When I've been given the opportunity to report their side of the story, their view of the story, it's why I do this, it's why I want to do this and it's why I will do this for the rest of my career."