<div>Temple alumnae honor a professor who used choral&nbsp;music to fight social injustice.</div>
Photography By:
Ryan S. Brandenberg, CLA '14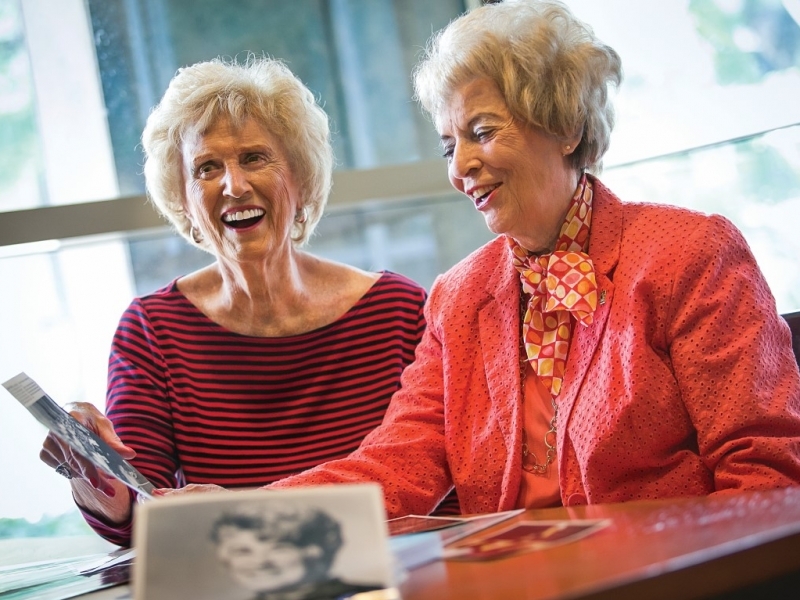 Professor Emerita Elaine Brown, BYR '45, once said, "Music is a great glue. It holds us all together." For the legendary choral conductor, that idea wasn't only a nice sentiment; it was
a call to action. By founding a racially integrated choir group in 1948, Brown ignored social prejudices and fought for equality and integration in an era when society insisted on barriers.
Standing nearly 6 feet tall with a warm smile, the energetic and expressive Brown captivated those she encountered. In fact, she inspired so many people over the years that two Temple alumnae who were her students and colleagues have worked since her passing in 1997 to celebrate her memory. This year, Janet Yamron, BYR '54, '57, professor emerita of music and music education at Temple, and Sonya Garfinkle, BYR '48, '51, former music instructor at Temple, established the Elaine Brown Chair in Choral Music, the university's first-ever endowed chair in the arts.
"Elaine Brown was a great influence on our lives and on many others' in the community," Yamron says. "We felt this was a way to honor her."
CAREFULLY COMPOSED
Elaine Brown was raised on music. Born Elaine Isaacson in 1910 in Ridgway, Pennsylvania, her mother was a choir director and organist who brought her to rehearsals as an infant and later taught her piano. Like other little girls, Brown played make-believe: She used her comb to conduct imaginary orchestras in front of her bedroom mirror.
Brown taught music education in Jamestown, New York, after earning a degree from the Bush Conservatory. She became intrigued by the art form of choral music and enrolled at Westminster Choir College—now a part of Rider University—in Princeton, New Jersey, where she acquired another degree and met her husband. She earned yet another degree from Temple, a master's, and in 1944, Brown began teaching there.
As conductor of the university chorus, Brown placed as much emphasis on where students sat as on how they sang. By being placed next to different people at each rehearsal, they were able to make strong connections with each other.
"Elaine created a kind of blueprint for a rehearsal that's both musical and human," says one of Brown's protégés, James Jordan, BYR '77, '83, who uses her approach in the rehearsals he conducts at Westminster Choir College, where he is a professor and senior conductor. "If a choir is a community of people, then it follows that, for her, where people sat had much to do with the synergy of the rehearsal."
Brown channeled her passion for creating harmony in 1948, when she founded Singing City—a racially integrated, Philadelphiabased choir group—and discovered her ultimate calling.
"She worked to bring people together at a time when society wanted to keep them apart."
-- TARA WEBB DUEY, BYR '80, '83, DIRECTOR OF DEVELOPMENT, CENTER FOR THE ARTS AT TEMPLE
"Racial integration wasn't common at the time," Yamron recalls. "Elaine Brown truly changed people's lives by connecting them and changing their worldviews."
Brown left Temple in 1956 to devote all her time to Singing City, which performed around the world for diverse, integrated audiences—including concerts in Israel and Jordan in 1974 and in Israel and Egypt in 1982. "Elaine felt that if we sang for Israelis, we should perform for Arabs, as well," says Garfinkle, who served as Singing City's associate conductor and its executive director for more than 40 years. "She saw past race, ethnicity and religion."
Just one year after the Supreme Court's 1954 ruling to desegregate public schools, the choir toured the American South. Brown arranged for training sessions to help choir members better understand the atmosphere they'd be encountering. "She was trailblazing and wasn't one to be constrained by social conventions," says Tara Webb Duey, BYR '80, '83, director of development for the Center for the Arts at Temple. "She worked to bring people together at a time when society wanted to keep them apart."
Under Brown's leadership, the choir ranked as one of the top choral groups in the U.S. and performed regularly with the Philadelphia Orchestra. In December 1972, Brown became the first woman in the U.S. to conduct the Philadelphia Orchestra in concert.
A DETERMINED DUO
Yamron and Garfinkle—two lifelong musicians, educators, close friends and onetime college roommates—were introduced by Brown in 1951, when they were students. They first discussed the idea of an endowed chair shortly after Brown's death in 1997, but it was not until 2001 that they were given the green light to begin fundraising by former Temple
President Peter J. Liacouras.
The pair worked on raising the funds themselves, identifying alumni and others affected by Brown. So far, 362 people have contributed to the fund.
"Elaine Brown always created opportunities for others, even when coping with her own personal tragedy," explains Garfinkle, referring to Brown's losses of her husband, a victim of crime, and her only child, who succumbed to cancer. "It was never only about her. That is why we received so much support."
Despite those early years spent conducting an imaginary orchestra, Brown's service to the community often eclipsed her professional accomplishments. When asked to look back on her career for a 1987 Philadelphia Inquirer article published shortly after she announced her retirement, a community singing project for children in North Philadelphia that she started in the early 1970s was the first thing she mentioned.
In January 2014, Yamron, Garfinkle and Jordan published a book about Brown's legacy. They titled it Lighting a Candle because when students asked Brown in 1956 how they would succeed after she left Temple, she replied, "You must light a candle for someone else"—meaning it was their turn to teach others the lessons Brown had instilled in them.
A year after the book was published, Yamron and Garfinkle reached their fundraising goal. This past March, they were honored with the Boyer College of Music and Dance Tribute Award for their dedication to establishing and building the endowed chair and for their contributions to education and the arts.
PASSING THE TORCH 
Nearly 60 years after Elaine Brown told her students to light a candle, her vision is being shared with the next generation of music students at Temple.
Associate Professor Paul Rardin has been named the inaugural Elaine Brown Chair in Choral Music. He aims to provide opportunities for students that, as he puts it, "align with Elaine Brown's vision for choral music as an ambassador to human understanding."
He'll emphasize programs that expose students to music from non-Western cultures, foster collaboration between students and the local community, and teach young conductors the importance of making musical and emotional connections with their singers. Projects currently in the works include partnerships with North Philadelphia youth choirs, guest artist residencies, and financial support for students and community performances.
"As the Elaine Brown Chair, I plan to help current and future generations of choral students get to know this remarkable woman and her vision," Rardin says. "I strive to honor Elaine Brown's legacy and match her energy and joy."