Photography By:
Photo courtesy of the New York Jets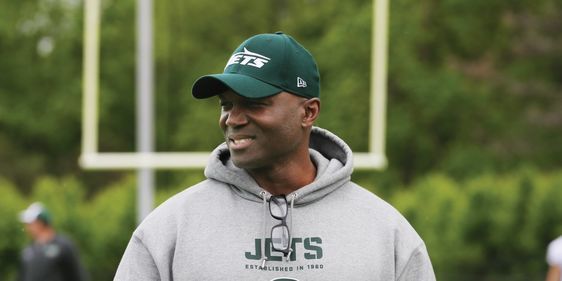 DEGREE: College of Liberal Arts, 1986
OCCUPATION: Gridiron guru
LOCATION: East Rutherford, New Jersey
When Todd Bowles, CLA '86, was a teenager growing up in Elizabeth, New Jersey, he knew exactly what he wanted to do with the rest of his life. Athletic and smart with a strong arm,
Bowles dreamed of competing in Major League Baseball someday. But his talents steered him toward a different course.
"I was good at baseball but better at football," says Bowles, now head coach of the New York Jets.
A four-year starter and defensive back under former Temple Head Coach Bruce Arians, Bowles went on to play in the NFL for eight years, rising from an undrafted free agent with the
Washington Redskins to a starter on the team's 1987 Super Bowl championship roster. After retiring from the field, he became a coach at the college level and an assistant coach in the pro ranks for nearly 20 years, including a stint as defensive coordinator for the Arizona Cardinals. While there, he worked for a head coach he knew well: Bruce Arians.
Brought on to lead the Jets in January 2015, he's also making history as the second African-American coach in franchise history. "I was hired because I am a good football coach—that comes first," Bowles says when asked about the distinction. But he adds with a smile, "I am always going to be an African American. I don't think I'm changing that anytime soon."
"In class or on the football field, you're expected to carry your own weight."
As a coach, he applies a lesson he learned at Temple: "You knew from the beginning that when you're in class or on the football field, you're expected to carry your own weight and never give up." Bowles was inducted into the Temple Athletics Hall of Fame in 2001 for his accomplishments as an Owl and in his professional career.