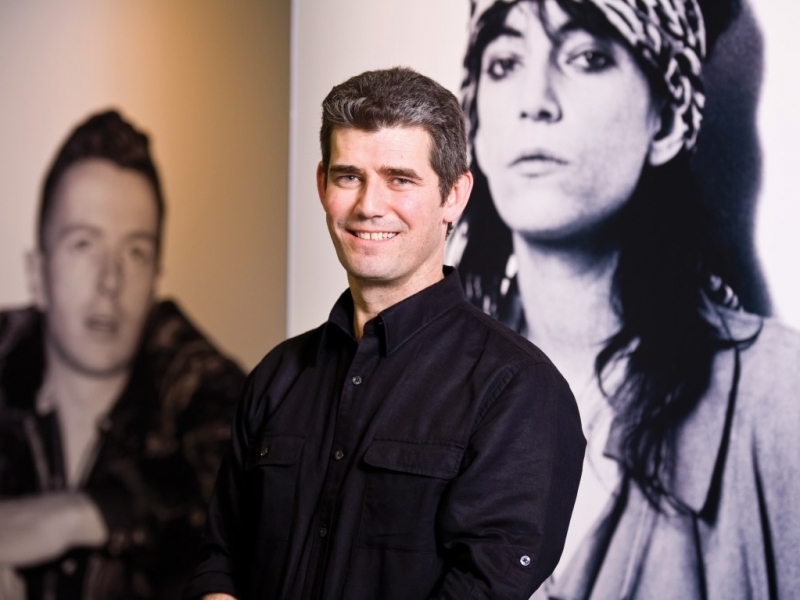 DEGREE: BA, history, 1989
OCCUPATION: Culture curator
LOCATION: Cleveland
Whenever Greg Harris, CLA '89, meets someone new, the same thing happens: The president and chief executive officer of the Rock and Roll Hall of Fame and Museum hears about a musician who isn't inducted, but should be.
"Everybody is passionate about that one band they listened to in high school," Harris says.
For Harris, that band might be the Replacements, one of his favorites in the 1980s when he attended Temple. At his freshman work-study job in the audio room in Paley Library, he would listen to records for hours—his favorite was the influential Anthology of American Folk Music. He also spent hours playing guitar with his dorm mates and listening to live music at local nightclubs.
"Temple was a vibrant academic environment with people I could relate to—both fellow students and the whole city," Harris says. "It was great not being sequestered somewhere."
In Harris' junior year, he left school to open the Philadelphia Record Exchange (a music store that's still around 30 years later). He also toured as road manager for college-radio star Ben Vaughn.
Eventually, Harris resumed his studies at Temple, when he took advantage not just of the city's live-music scene but also its museums. After graduating from Temple he earned a master's in history and museum studies from the Cooperstown Graduate Program in New York.
Cooperstown was also where Harris landed his first museum job, in the National Baseball Hall of Fame. And though Harris likes baseball, he loves rock and roll. So when he was offered a position in development and special events at Cleveland's Rock and Roll Hall of Fame in 2008, he took it. He had risen to its top post by 2012.
This year, the rock museum marks its 20th year and greets its 10 millionth visitor. And, of course, another class of musicians will be inducted in April.
Harris has favorites he'd like to see in the hall, including the Replacements. But even he doesn't have the final word on inductees; they are voted on by the hall's trustees and members. 
"Our hall of fame is about impact and influence, which is subjective," he says. "But we're charting the evolution of the music. At our best, we're connecting yesterday and today."
In that, Harris puts to use what he learned at Temple 30 years ago.
"I got a very solid grounding in history at Temple, including social history and the history of everyday people," he says. "I've tried to carry that through everything I've done in places that touch everyone."