How do you measure success? Temple's master of statistics tells all.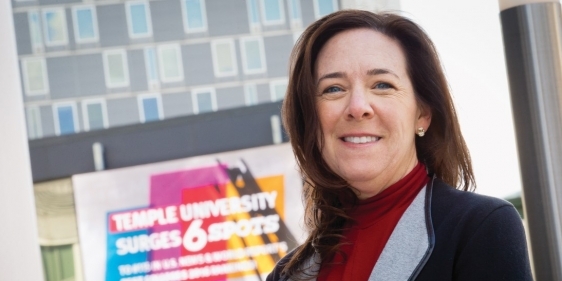 Some of Temple's momentum as an institution is visible to the naked eye. Visit campus, for example, and you'll see gleaming new buildings. But some of the most dramatic evidence of Temple's ascent is invisible to everyone except the people who work behind the scenes with numbers and statistics. To understand that world, we turned to the best person on campus for an insider's perspective: Jodi Levine Laufgraben, EDU '95, a doctor of education and 26-year member of the Office of the Provost— the nerve center of Temple's academic enterprise.
Your title is vice provost for academic affairs, assessment and institutional research. That's a mouthful. What do you do?
Jodi Levine Laufgraben (JLL): A lot of things, including managing the accreditation and program review processes. But for your purposes, the most interesting thing my unit does is serve as a clearinghouse for data. I see myself as a numbers "noodge." We provide numbers and analysis to support decision-making across the university.
Is there a recent number that stands out to you as a sign of Temple's momentum?
JLL: 30,037. That's the number of freshman applications that Temple received for what ended up being about 4,900 slots in the Class of 2019—and it was an all-time high for us, destroying last year's school record of 27,549 applications. It's a sign that people want to join our community.
Getting national recognition for Temple's quality has so many cascading positive effects.
-- Jodi Levine Laufgraben
Colleges make a big deal about admissions and enrollment numbers. Why are they important?
JLL: Bringing in great classes isn't just about feeling wanted. Temple is a tuition-driven institution. When we meet our enrollment goals—something a lot of other schools have struggled to do as the number of collegebound high school grads has declined—that impacts our budget and allows us to stay the course and hire the best faculty for our students.
Do you have a number that captures that influx of new faculty?
JLL: Sure. How about 683? That's the number of tenured and tenure-track faculty Temple has recruited since 2004—an average of about 57 per year at a time when faculty hiring has been stagnant nationally. We're welcoming another 53 this year. But it's not just about quantity. Our deans have been able to recruit real leaders in teaching and research. It's a positive feedback loop: great deans attracting great faculty attracting
great students. 
Getting students to come to Temple is one thing, but another factor to consider is whether or not students stick around and graduate.
JLL: That has been one of President Theobald's top priorities. If we don't get students to stay and earn their degrees, we're not living up to our mission. Temple's yearone to year-two retention rate—the percentage of students who stick around after their first year—is 90 percent, and our six-year graduation rate is 70 percent. Those are both all-time highs for us.
How has that happened?
JLL: We've changed the culture. You can't just admit stronger students and think, "They entered so smart—we'll just leavethem to their own and they'll be fine." You have to be committed to student success. We've invested in professional advising and introduced innovative advising initiatives. Our advisors can now identify at-risk students for special attention and provide students with eight-semester maps that identify critical milestones along the way, so they stay on track to graduate. 
"Innovative" seems to be a theme when people describe the current atmosphereat Temple.
JLL: What I'm seeing with Temple right now is that there's a willingness to innovate and question practices. People say that higher education is slow to change, but when you have this kind of momentum, you want to take advantage and keep things moving forward.
One number that's on a sharp upward trajectory is Temple's U.S. News & World Report ranking. Your office is charged with understanding and improving those rankings. What was it like when you got the news
in September that Temple jumped six spots among national universities?
JLL: I was driving on the Ben Franklin Bridge early that morning and talking on the phone to my colleague Dana Kerr, CLA '07, EDU '14, who tracks rankings for us. She was pulling up the notification email from U.S. News, and I could almost hear her hands shaking as she typed. It takes years of doing the right things, years of investing in advising, retention, recruiting great students—and then, boom, you find out in an instant. Dana was screaming: "We're up to No. 115!" Honestly, I was relieved. We knew we deserved to go up. You just hope that the improvement is going to be recognized.
Is moving up six spots in one year a big deal?
JLL: It's so hard to move up. We're not the only university trying to improve. And this is more than just a one-year blip. Temple has jumped 17 spots in the U.S. News rankings in only four years. That makes us one of the fastest-rising public institutions in the national universities category. And we're not done yet: Provost Dai has set a goal of getting into the top 100.
What's driving the surge?
JLL: We've improved in a number of key indicators that U.S. News uses to calculate the rankings: faculty resources, financial resources, graduation rate, student selectivity and more. One indicator that shows our improving academic reputation has been our high school counselor rank. That's a measure of how guidance counselors perceive us in U.S. News surveys—we're in the top 100 in that category. We're also a national leader in graduation rate performance. That's where they compare our expected graduation rate based on the characteristics of our student body with our actual graduation rates.
That's great, but why do rankings matter?
JLL: Getting national recognition for Temple's quality has so many cascading positive effects. It helps with admissions. It helps with recruiting the best faculty and deans. And when we go up in the rankings—when there's national buzz about Temple's academic reputation—the value of every single Temple degree increases. That association with quality opens doors. It helps when you interview for jobs or apply to grad school.
We're sold. Is there anything the Temple community can do to help?
JLL: Yes! One indicator that impacts rankings is the alumni giving rate. It's not about how much you give—it's about the percentage who donate to Temple. Even a dollar helps. And here's something else people can do: Tell the Temple story. Another rankings indicator is how our peers at other universities perceive us. Right now there are so many exciting things happening here, from the rise of a vibrant residential campus to groundbreaking research. We'll keep shouting the Temple story. And we need the Temple family to pass it on until every peer reviewer across the nation perceives the momentum we see in my office every day.