<div>Brenda Malinics</div><div><span style="font-size: 12.7272720336914px; line-height: 1.538em;">Occupation: Director of alumni relations and external affairs</span></div><div>Location: School of Pharmacy, Health Sciences Center</div>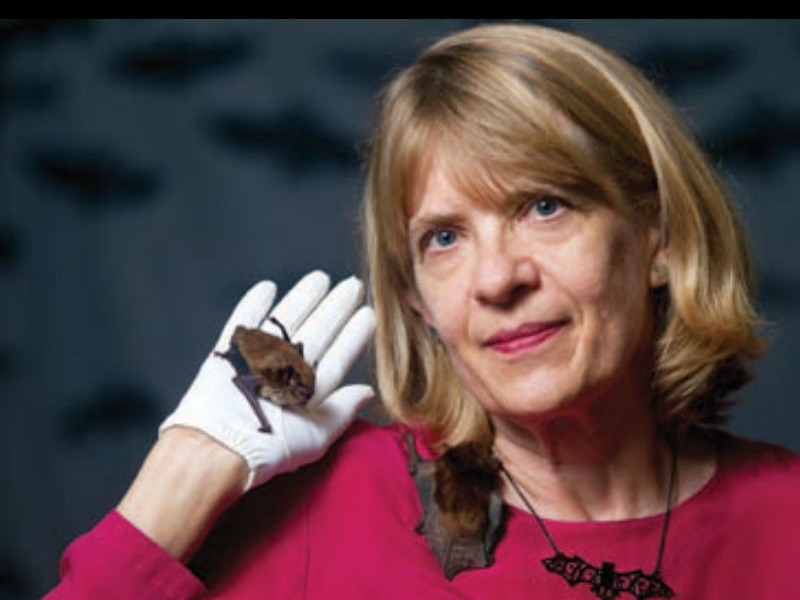 Photography by Ryan S. Brandenberg
Bats have a public-relations problem. They are often thought of as dangerous, disease-ridden and a nuisance for anyone who ventures out at dusk. But Brenda Malinics, director of alumni relations and external affairs in the School of Pharmacy, is eager to put those falsehoods to rest. For nearly 25 years, she has made it her mission to rescue bats and educate the public about their importance.
She lectures at state parks and educational institutions throughout Philadelphia, and lends her expertise to the local news. There are only 11 wildlife rehabilitation centers in Pennsylvania that admit bats. Malinics works with two Philadelphia-based locations.
WHEN DID YOU START WORKING WITH BATS?
About 24 years ago, while I was volunteering with the Schuylkill Center´s Wildlife Rehabilitation Clinic, someone brought in a bat. The other volunteers were scared of it, but I was intrigued. It seemed like that bat was listening and watching us discuss its care. It was so smart-it knew we were trying to help. Since then I´ve been smitten, and I´ve rescued thousands of bats.
WHAT DOES BAT REHABILITATION ENTAIL?
I weigh it, check its vital signs and fluid levels, and I see if it can fly on its own in a flight cage. I also need to reteach it how to eat. Bats usually eat flying bugs in midair, but when a bat is being rehabbed, it can´t. So it´s eating different bugs, such as mealworms or crickets, and it´s eating them out of a bowl rather than in the air.
WHAT TRAINING DO YOU HAVE TO WORK WITH THEM?
I received a certification in bat management from Bat Conservation International, one of the largest bat sanctuaries in the world. I spent a week in the field in an intensive course learning about bats. It´s the same course in which many members of the Pennsylvania Game Commission take part. I also twice attended a boot camp at Bat World Conservatory, another well-known bat sanctuary. You spend 12-hour days learning how to rehabilitate bats—everything from setting bones to giving medications.
WHAT IS ONE THING YOU´D LIKE PEOPLE TO KNOW ABOUT BATS?
They are essential. In Pennsylvania, there is an outbreak of white-nose syndrome (WNS), which is killing bats at an alarming rate. Officials predict that within 10 years, all the bats with WNS could be gone. That would lead to an uptick in infectious diseases and destroyed crops, because there would be no bats to kill the insects. They are the cornerstones of healthy environments.
BUT BATS AREN´T THE ONLY ANIMAL YOU FOCUS ON?
I´ve always been an animal lover, since I was a young girl. I´m a bit of the advocate for the down-trodden. I´ve always looked for stray animals, and I rescued my first cat at 7 years old.
DO YOU ENCOUNTER MANY STRAY CATS?
Yes, there´s a big stray problem in Philadelphia, and that largely stems from the fact that the cats aren´t spayed or neutered. There are statistics that suggest two unaltered cats can produce up to 2 million cats over a 10-year period.
HOW IS THAT POSSIBLE?
Light is a factor in how cats breed, and being in an urban environment means there is a lot of artificial light. So, whereas cats would normally only breed during the months with the longest daylight hours, they´re now breeding year-round.
WHAT CAN BE DONE TO HELP THE STRAY CAT PROBLEM?
There are a lot of things that need to happen. The city needs to make spaying and neutering more accessible, whether it´s having a mobile clinic travel to different neighborhoods, or making the procedure more affordable for families with cats. Many people think that spaying and neutering pets is cruel, but it´s even more so to have cats wandering the streets, starving and suffering from disease, with no place to go.
Malinics was featured on WHYY's Wider Horizons series. View the video profile.