The presidency of Ann Weaver Hart created a bright future, for both Temple and North Philadelphia.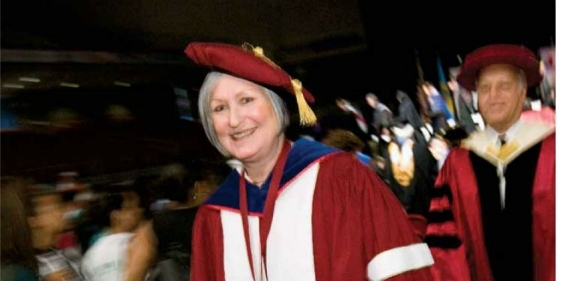 Photograpy by Ryan S. Brandenberg
When Ann Weaver Hart, Temple University's ninth president, stepped down June 30, 2012, after six years in Sullivan Hall, she left behind a gift greater than any building, endowed chair or scholarship. She left Temple with momentum.
Not the kind of momentum you get from a push on a swingset—we are talking Broad–Street–Line–express–train–hurtling–along–the–tracks momentum. The kind that builds. The kind that lasts.
The years since Hart took office in summer 2006 have been marked by campus construction; the steady ascent of Temple's academic reputation; fundraising milestones; a faculty–hiring surge; the implementation of a new GenEd program; new global initiatives; the expansion of its research enterprise; new leadership and new affiliations at Temple University Health System; community engagement; massive private investment in the area surrounding Main Campus; the hiring of nationally respected athletics coaches; and, only months ago, an exciting deal that will move all of Temple's intercollegiate athletic programs to the Big East Conference.
"The most remarkable and encouraging local higher–education story of the [p]ast 15 years has been the rebirth and reinvention of Temple," Patrick Kerkstra wrote in The Philadelphia Inquirer one week after Hart announced her intention to step down.
"Ann Weaver Hart has been responsible for tremendous accomplishments and progress at Temple during her time as president," says Temple Board of Trustees Chair Patrick J. O'Connor.
That progress began with careful planning and a collaborative spirit. Soon after she assumed the presidency, Hart asked the Office of the Provost to oversee a universitywide academic strategic–planning initiative. Beginning in 2007, hundreds of Temple faculty, staff and students came together over the course of 18 months to create the Academic Strategic Compass, a five–year plan for the institution's academic future.
Using the Compass as a guide, the university focused on opportunities for student success, research excellence, global commitment, community engagement and the revitalization of Temple as a destination campus. The plan laid out clear goals in each area and provided annual measures in order to gauge success.
The most remarkable and encouraging local higher-education story of the [p]ast 15 years has been the rebirth and reinvention of Temple.
-- Patrick Kerkstra, The Philadelphia Inquirer, Sept. 13, 2011
20/20 VISION
The Academic Compass soon spawned an economic planning initiative and, in 2009, the Temple 20/20 framework for campus development—a guide for a state–of–the–art living and learning environment that is currently taking shape on Main Campus. A new 50,000–square–foot home for the Tyler School of Art's Architecture Department opened in early 2012, completing a mini–arts quad in the northeast corner of Main Campus. A dramatic renovation of Pearson and McGonigle halls, a project that will revitalize the student–recreation experience and provide training spaces for Temple's intercollegiate sports, also is nearing completion. Construction is under way at the site of a new 660,000–square–foot, 26–story residential and retail complex at North Broad Street and Cecil B. Moore Avenue that will bring more than 1,200 beds, additional dining facilities and a major open landscape area to Main Campus. Plans are being completed for a new 250,000–square–foot science, education and research facility that will include new space for the colleges of Science and Technology and Engineering, a new parking garage and more.
Temple's growth—especially the increasing number of students who choose to live on or near campus—has sparked millions of dollars in private investment in the communities surrounding Temple, benefiting students and local residents alike. New retail stores, restaurants and service providers have opened by the dozen. During Hart's tenure, the neighborhood adjacent to Main Campus got its first supermarket in more than a decade. Critically acclaimed eateries ranging from the high end to food trucks have opened on or near Main Campus. "Because of Temple," Kerkstra wrote, "it is no longer difficult to imagine Center City's prosperity reaching well into North Philadelphia along the Broad Street corridor."
MORE THAN MORTAR
That momentum has manifested itself in more than bricks and mortar. The academic qualifications of new students at Temple also have improved. The average SAT score of freshmen increased sharply from 1088 in 2006 to 1114 (97 points above the national average) in 2011. Enrollment in the Honors Program has risen, and Temple students now routinely win the nation's most prestigious and competitive academic awards, including Truman, Udall and Marshall scholarships. In the past four years alone, 19 Owls have been Fulbright students—an unprecedented streak of success. All of that was accomplished while retaining the diversity of Temple's student body. In fact, today's student population includes a significantly higher percentage of students who self–identify as minorities—nearly a third—than it did 25 years ago.
Since 2006, many new, world–class interdisciplinary research centers and programs have made their debuts, including the Center for Obesity Research and Education; the Moulder Center for Drug Discovery Research; the Center for Preparedness, Research, Education and Practice; and the Public Health Law Research Program.
Under Hart, Temple has recruited more than 350 new tenured and tenure–track faculty members from the world´s leading institutions—an extraordinary achievement at a time when faculty hiring at many universities has been stagnant—including global leaders such as Magid Abou–Gharbia (drug discovery research); Jeffrey Draine, SSW '90 (social work); Gary Foster, CLA '95 (obesity research); Michael Klein (chemistry); Pepón Osorio (art and art education); Selwyn O. Rogers Jr. (surgery); and others. Hart concluded Access to Excellence, the university's first comprehensive fundraising campaign, in 2009. It raised more than $380 million, exceeding both its original goal ($300 million) and its extended goal ($350 million). During her tenure, several of Temple's schools and colleges received the largest gifts in their histories. The Fox School of Business received $15 million from Dennis, EDU '66, and Gisela Alter, to build Alter Hall, the school's new home. And Madlyn and Leonard Abramson gave $10 million to the School of Dentistry. In gratitude, Temple renamed the Dental School the Kornberg School of Dentistry after Mrs. Abramson's father, Maurice H. Kornberg, DEN '21.
THE OWL EFFECT
Temple's community engagement programs—including hiring and housing initiatives, educational support, health services, arts and cultural activities, and volunteer efforts—have grown. These efforts have earned the university the Community Engagement Classification from the Carnegie Foundation for the Advancement of Teaching.
Global initiatives also have grown during Hart's tenure. In 2010, for the first time in university history, more than 1,000 Temple students studied abroad during one academic year, capping a period of explosive growth in scholarship overseas. New international opportunities and exchange programs were launched in Europe and Asia, and articulation agreements with more than one dozen international universities were established. In addition, new related programs were created, such as the Ann and Randy Hart Passport Scholarship and the Diamond Ambassadors Program, which provides eligible students with $2,500 grants to help them fund studying at a Temple campus in Italy or Japan, or at any of Temple's other program locations around the world.
In 2011, Hart brought leadership, stability and energy to Temple's healthcare enterprise when she appointed Larry R. Kaiser senior executive vice president for health sciences, dean of the School of Medicine and chief executive officer of Temple University Health System. Kaiser quickly recruited high–profile physician–scholars and signed game–changing affiliation agreements, including one with the prestigious Fox Chase Cancer Center—a move that will enhance cancer research and patient care in the region for years to come.
Temple's flagship athletics programs are experiencing a national renaissance. After a long drought, Temple football has had two consecutive winning seasons and played in its first bowl game in three decades in 2009 before winning the Gildan New Mexico Bowl in 2011. Temple men's and women's basketball have won conference titles and become fixtures in the NCAA tournament. All three programs are led by coaches hired under Hart (Steve Addazio, Fran Dunphy and Tonya Cardoza, respectively). The ultimate endorsement of the success of Temple Athletics came when the widely televised Big East Conference extended an invitation to Temple football for 2012 and the rest of the university's athletics programs in 2013–2014, when all Owls teams will compete in the same conference for the first time in university history. Now, all Temple football and men's basketball games will be nationally televised, positively affecting university revenue, athletic recruitment, admissions and more.
For alumni and long–tenured employees, it is easy to see what has changed at Temple since Hart arrived in 2006. But can current students sense a difference?
"Absolutely, yes," says former Temple Student Government President Colin Saltry, SBM '12. "When students walk around campus, the sense of momentum is palpable. The academic reputation has grown. Temple research is on the rise. The place looks great."
"When we look back five or 10 years from now, we're going to find a boatload of Temple grads who'll say they were proud to be here at this time," he continues. "The future is going to be amazing."