Meet four Temple alumni working to make the city bolder, brighter and wiser.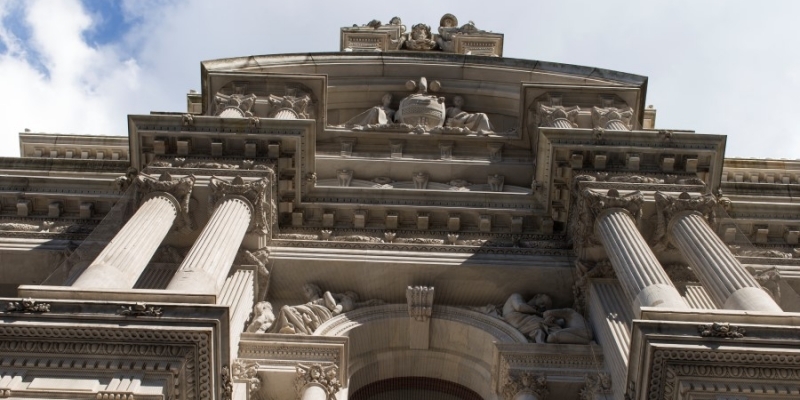 There is no question that the city of Philadelphia is having a long and deserved moment.
With last year's historic papal visit, this year's successful national political convention, and a steady spotlight on the city's thriving culture, arts and food scenes, some would say the birthplace of the U.S. is itself being reborn.
But making the city great doesn't just happen. Behind the scenes, scores of people in the city machinery work to ensure that upward trajectory continues—and that the city's people and government follow the same ascent.
And who better to lift a city than those with a record of flying?
JAMES ENGLER, LAW '13
Deputy Mayor for Policy and Legislation
Photo by Ryan S. Brandenberg, CLA'14/Location courtesy of One Liberty Observation Deck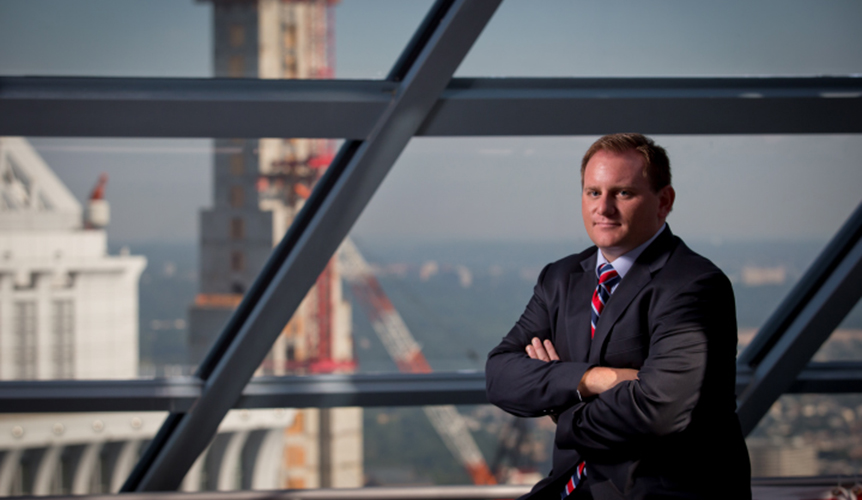 James Engler has helped shape and move some of the biggest initiatives undertaken in Philadelphia in recent memory.
In his first year as deputy mayor for policy and legislation, Engler has assisted in pushing forward the sweetened beverage tax, which made Philadelphia the first big city in the country to do so—a victory that followed a hefty challenge from the soda industry.
The so-called soda tax—applied to sweetened drinks beyond soda—is projected to raise millions for the city and help fund pre-K education for children across the city; expand the mayor's community schools initiative; and renovate libraries, parks and recreation centers.
"The mayor believed from the beginning that if we're going to change the narrative of the city—if we're going to attack the poverty rate, then we're going to have to do programs like this," Engler says.
Even before being appointed deputy mayor, Engler was working on major efforts as then-Councilman Jim Kenney's legislative director, a position he landed after graduating from Temple in 2013.
Among those: the successful decriminalization of marijuana, aimed at ending a racial disparity between those who used marijuana and those who were arrested for it. He also helped draft reform legislation following the fatal 2013 Center City building collapse—including the creation of required signage at demolition sites intended to inform the public of work at the site and how to report issues.
The South Philadelphia native notes that he grew up in the same neighborhood as Mayor Kenney, married a fellow South Philadelphian, Kristine, FOX '05, and lives near his mother, who raised him as a single mom.
"It's a dream job for a kid growing up in South Philly to be able to work and effect significant change to help the people of Philadelphia," he says. "I couldn't miss the opportunity."
ELLEN MATTLEMAN KAPLAN, LAW '79
Chief Integrity Officer
Photo by Joseph V. Labolito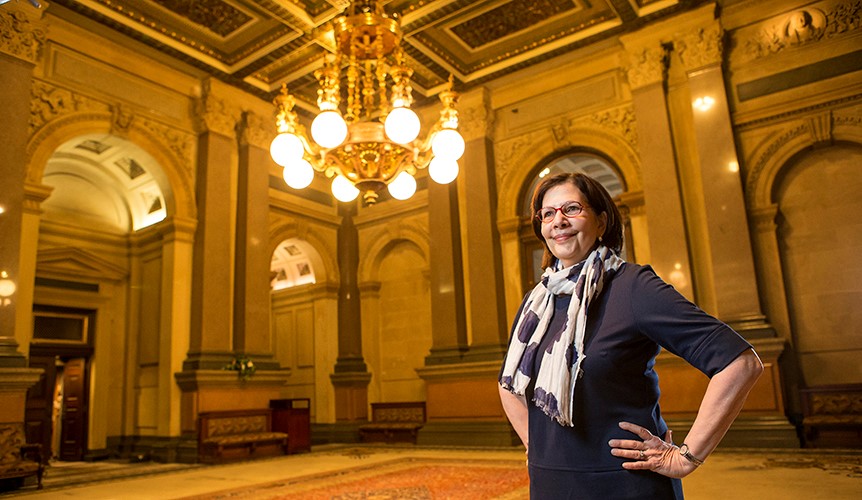 For years, Elen Mattleman Kaplan says her job was to be a city government watchdog, a sometimes pesky advocate for a more transparent and ethical Philadelphia.

It wasn't an uncommon occurrence for the then-vice president of the nonpartisan government reform Committee of Seventy group to question the policies and conduct of those in power in the city at public hearings.
Today, her position is a bit different: Her secondfloor office overlooks the courtyard of City Hall, and it's within arm's reach of Mayor Kenney's office.
"I'm still working for the things I worked for before," she says, "except now I'm pushing from the inside."
Say hello to Philadelphia's chief integrity officer.She says she aims to ensure "integrity and accountability in the executive and administrative branch of city government and that city employees know what the rules are." Like the fact that city operations must be conducted fairly and openly, and city employees are to abide by strict rules concerning gifts. Suspected cases of fraud and abuse of power are referred to the city's inspector general.
Kaplan acknowledges that her office's mission may not always jibe with public perception. Every time a politician is convicted of corruption, even if not in local government, it's another affront to the culture she works to maintain. But she believes the overwhelming majority of those working in city government truly
subscribe to the altruistic ideals of public service.

Among her stops after completing her Temple degree in 1979 was assistant district attorney. Kaplan also clerked for a superior court judge and worked on judicial reform. She went on to spend a decade with the Committee of Seventy, a group whose objectives in some ways mirrored those of her new position.
"I have a passion for this stuff," she says. "And there are many ways to get things accomplished in government."
OTIS HACKNEY, EDU '98
Chief Education Officer
Photo by Ryan S. Brandenber, CLA '14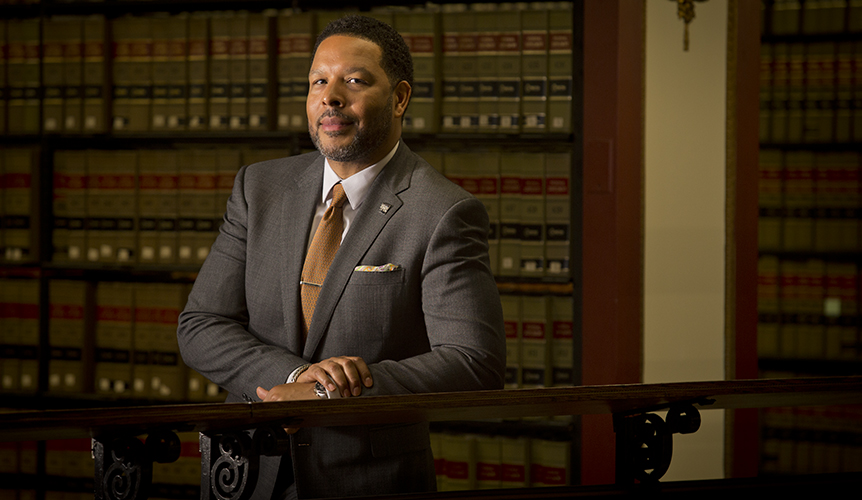 Otis Hackney knows firsthand how transformative education can be.
The Philadelphia native struggled in high school before eking out a diploma from West Philadelphia High School. He then began his college career at Hampton University in Virginia but quickly called it quits. He wasn't challenging himself academically, he now admits, and might have lost opportunities in the process.
After returning home from Hampton, Hackney worked in the heating and air conditioning field for several years before eventually recommitting to his education—first at community college and then at Temple. In the process, he worked for an afterschool program in South Philadelphia and saw the impact he could have on younger generations.
So it was with conviction and a personal tale that he approached the students he later taught and guided as a teacher and administrator in the Philadelphia area following his 1998 graduation. It's an experience that also helps inform his role as chief education officer.
"It's hard for folks who live in really rough conditions to focus on education sometimes, because the rewards are so far down the road," he says. "Given the right amount of mentoring, support and patience, you can turn some kids around."
Hackney knows that to be true: As the principal of South Philadelphia High, he helped unite a school rife with racial and cultural division and violence, and transformed it into a "community school" by offering programming and support services to the community. Now he's helping bring that strategy to another two
dozen schools in the city and expanding access to quality pre-K.
"If I can look back and say, 'OK, we put these initiatives in place and we can see results improving the lives of children and family around the city,'" Hackney says, "that would be something I would be very proud of."
SHEILA HESS, FOX '91
City Representative
Photo by Joseph V. Labolito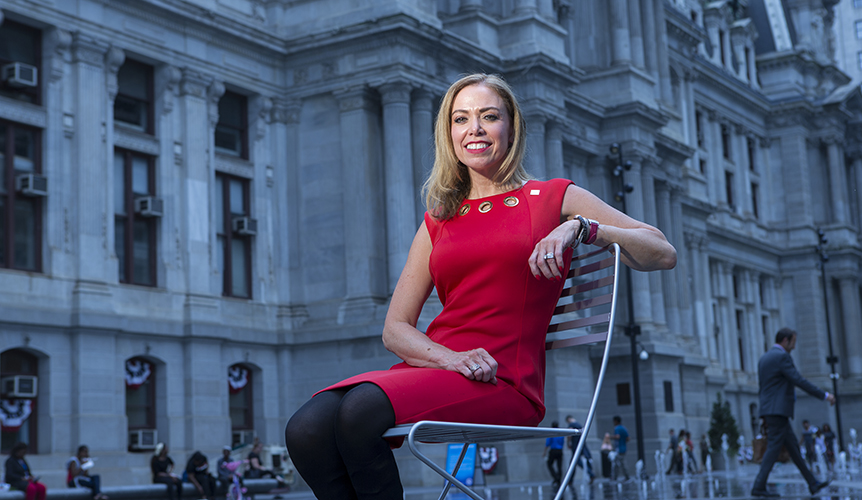 It seems a bit like fate that Sheila Hess was brought to Philadelphia when she was less than a year old to be treated for spina bifida at the Children's Hospital of Philadelphia.
Flash forward to the present day and the California-born, South Philadelphia-raised Hess not only possesses a serious loyalty to her city, but exudes it. Full time.
"I love this city and have always loved this city," she says. "To represent the mayor, the entire city of Philadelphia and all of its neighborhoods is really like a dream come true."
Acting as an ambassador of sorts, Hess' role includes stepping in for Mayor Kenney at events and overseeing an office that coordinates important city events in conjunction with private and public agencies. Those have included the parade for Villanova's victory in the 2016 NCAA basketball championship and a ceremony for victims' families recognizing the anniversary of the 2015 Amtrak train derailment.
Hess has remained passionate about Philadelphia throughout its struggles and successes, and she knows the city is now getting well-deserved recognition. "We're thriving," she says.
For 24 years after her 1991 graduation, Hess worked with Independence Blue Cross in human resources, managed its social mission and led the company's nonprofit foundation. During that time she also volunteered for then-Councilman Jim Kenney, and when he stepped down to run for mayor, she continued her support.
Hess says she was elated to be asked to serve as city representative and was enamored by the prospect of being part of bringing Kenney's vision for the city to fruition.
"What makes the city so unique is its people, the cool culture, and a spirit that is truly and unmistakably Philadelphia," she says. "I tell people to live a good story. Well, Philly is living a good story, and we want to tell it.■