President Wingard meets with former Philly police commissioner
Temple University President Jason Wingard discusses the importance of campus safety as former Philadelphia Police Commissioner Charles Ramsey and 21CP Solutions begin their review of Temple's services.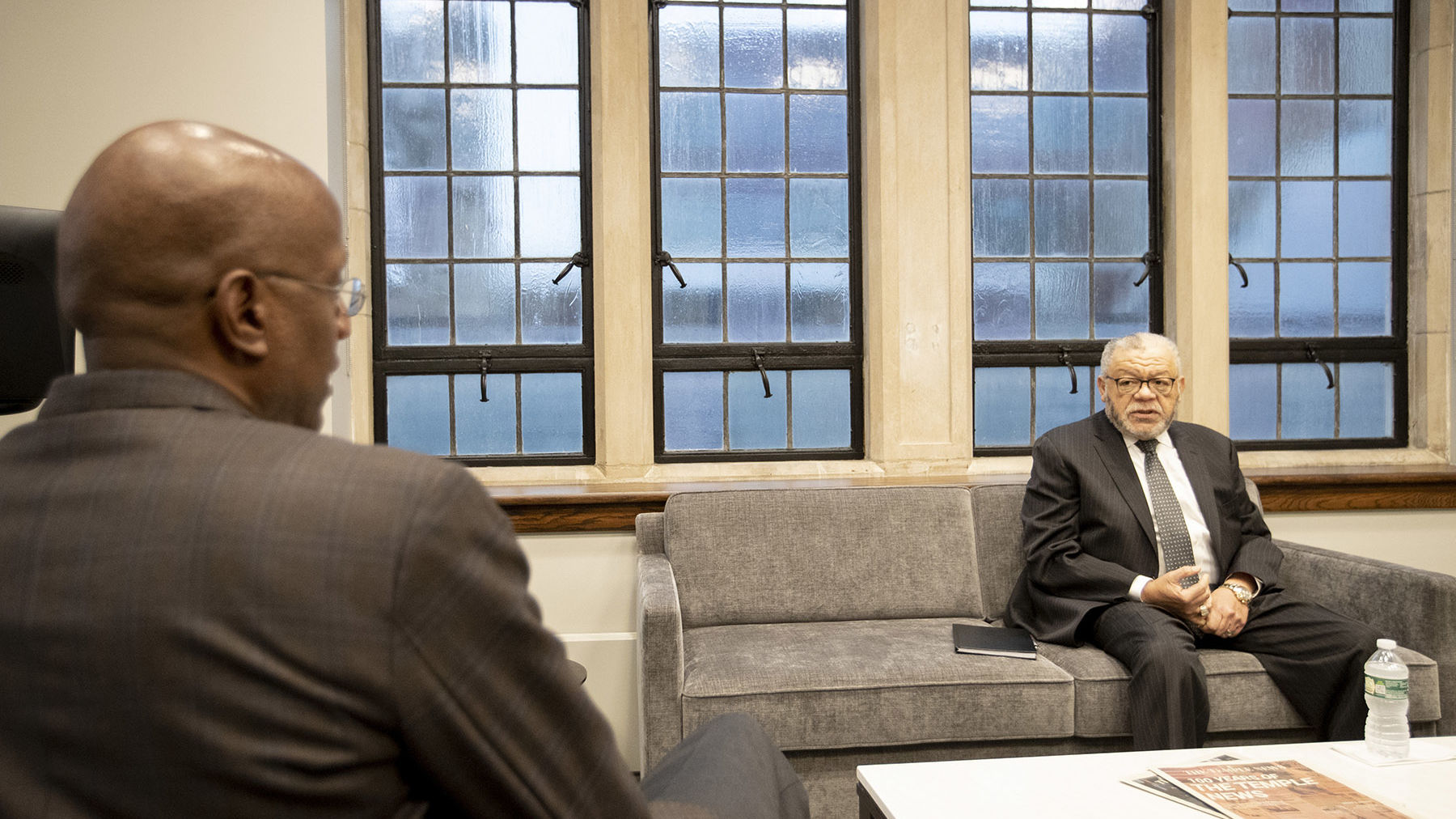 Just days after beginning his audit of Temple University's Campus Safety Services, former Philadelphia Police Commissioner Charles Ramsey met with Temple President Jason Wingard and Executive Director of Public Safety Charlie Leone on Thursday, April 7. Together, the trio discussed the scope of the audit and the importance of ensuring a safe environment for all members of the Temple and North Philadelphia communities.
"Temple is a major anchor for this city, and the way that it's going to remain that is by getting this situation under control," Ramsey said. "This is complicated, but in my opinion, it's fixable. It's going to take work and it's going to take working together, but this is a fixable issue."
During Ramsey's tenure as commissioner, from January 2008 to January 2016, Philadelphia's homicide rate dropped by 37% while violent crime declined by 31%. He previously co-chaired President Barack Obama's Task Force on 21st Century Policing and before that, he led police forces in both Chicago and Washington, D.C.
The meeting and start of the audit come after Temple recently announced several new campus safety enhancements, including the launch of a security upgrade grant program available to landlords of private residences near campus. The university also announced plans to launch a community watch program, but the audit is key to helping identify what next steps should be taken.
"Our institution will benefit greatly from an external analysis of our policies, services, and performance. It is imperative that we better understand areas where we exceed peer best practices and identify gaps that require investment and improvement," Wingard said to Ramsey during the discussion. "We're invested in this. We're committed to working with you to advance a more robust safety agenda for our community."
The scope of Ramsey's audit of Campus Safety Services will intentionally be broad. Together with his team at 21CP Solution, he will take a close look at all aspects of Temple's campus safety operation. Technology, policies, training procedures and community engagement will all be thoroughly reviewed throughout the process.
"One of the things I'll do is take a look at what's currently in place and see where we can tighten it," Ramsey said. "We're also going to be reaching out to faculty, students, alumni, community groups for discussions, and we're going to make sure that everyone who wants to has a chance to participate in a focus group."
21CP Solutions will be setting up a Voices of Temple website, which can be accessed throughout the audit. Members of the Temple community will be able to share concerns and feedback via the website.
"This way, even if someone cannot make a meeting or a focus group, they will have a way to contact us," Ramsey said.
21CP Solutions has performed similar campus safety reviews for several institutions of higher education, including nearby Drexel University, Carnegie Mellon University, Harvard University, Yale University and the University of Southern California. Temple's audit, which is scheduled to be completed by the end of September, will be used to inform all of the university's policies moving forward.
"We do a report with the intent of improving," Ramsey said. "This is going to be a collaborative effort, involving everyone within the Temple community. What we're facing right now is not easy, but I'm optimistic."