Engineers Without Borders offers opportunity for meaningful experiential learning
Temple's chapter of the organization partners closely with communities on various engineering and development projects.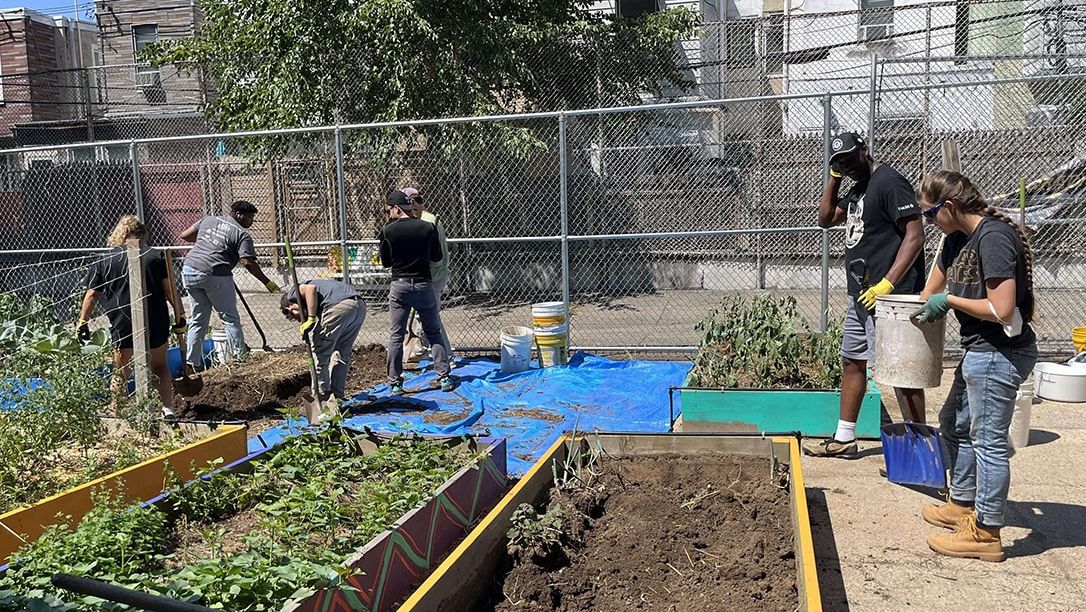 Temple's chapter of Engineers Without Borders is a student organization that provides an invaluable opportunity for students to work with underserved communities locally, nationally and internationally to design and implement sustainable engineering projects. 
"One thing I love about Engineers Without Borders is that you get to see the process of a real-life project," said Juliana Alderfer, Class of 2023, Temple's chapter president. "You're learning the techniques, math and physics in the classroom, but you don't get to see actual project progress there. This organization introduces students to the behind-the-scenes steps. It's beyond valuable because there are only a few student clubs that offer this experiential learning."
In collaboration with the Philadelphia chapter of Engineers Without Borders and grassroots community organization VietLead, Temple's chapter of Engineers Without Borders is currently working at Horace Furness High School in South Philadelphia to provide a community garden with a greenhouse, a compost system and an irrigation system. The group has designed these structures and is finishing implementation. 
Vice President Jacob Forbes, Class of 2023, was able to use his skills as lead designer to develop the greenhouse. "It was awesome to see something I drew up on the computer get built," said Forbes, an energy and power engineering major. "There should be more of an emphasis on community gardens, especially on getting good produce to these communities that's also grown by them."
After this phase of the project is complete, the organization will help the high school maintain the new infrastructure and potentially add to what's been built. The chapters are creating a maintenance and operations document for the teachers and students explaining how to properly care for these facilities to make sure they're safe and sustainable for years to come. Engineers Without Borders will periodically return to the site to ensure upkeep of the new structures.
Temple's Engineers Without Borders chapter has also conducted a waste audit of trash and recycling from Temple students to learn their waste patterns and determine how to mitigate single-use plastic overconsumption, made possible by a Student Green Grant from Temple's Office of Sustainability. The group is working on a case study and hopes to find a way to extrude single-use plastics from trash and recycling so they can be 3D printed into other items.
Engineers Without Borders also works on international projects. In 2019, they partnered with a small community in Saccha, Peru, to provide clean and accessible drinking water through a purification and distribution system. Now the chapter is applying for a new international water treatment and sanitation project, which would be its first global endeavor since COVID-19. If approved, the student organization would likely take its initial trip this summer to assess the project.
Students in this organization are passionate about assisting others in a way that best fulfills their requests. Alderfer recalls impactful advice from a professional engineer at a conference that changed her perspective about the meaning of Engineers Without Borders: never assume anything about the communities you're helping. 
"An engineer shouldn't walk into a community with the mindset that I know what you need and I'm going to solve your problem," said Alderfer. "Instead, they should ask a lot of questions about what the community wants and have an open mind. Keeping the community you're serving at the front of your mind and communicating with them is so important."
Although there's an emphasis on engineering, the chapter welcomes students of all majors. Those interested in joining can come to general body meetings to learn more and connect with the club on Owl Connect, Instagram and Discord. 
"Anything and everything can be applied to an engineering project," said Diana Tiburcio, treasurer and STARS coordinator. "Sometimes people are intimidated, but anyone can help."