Charles L. Blockson, Dec. 16, 1933 to June 14, 2023
Bibliophile, scholar, activist, athlete dies at 89.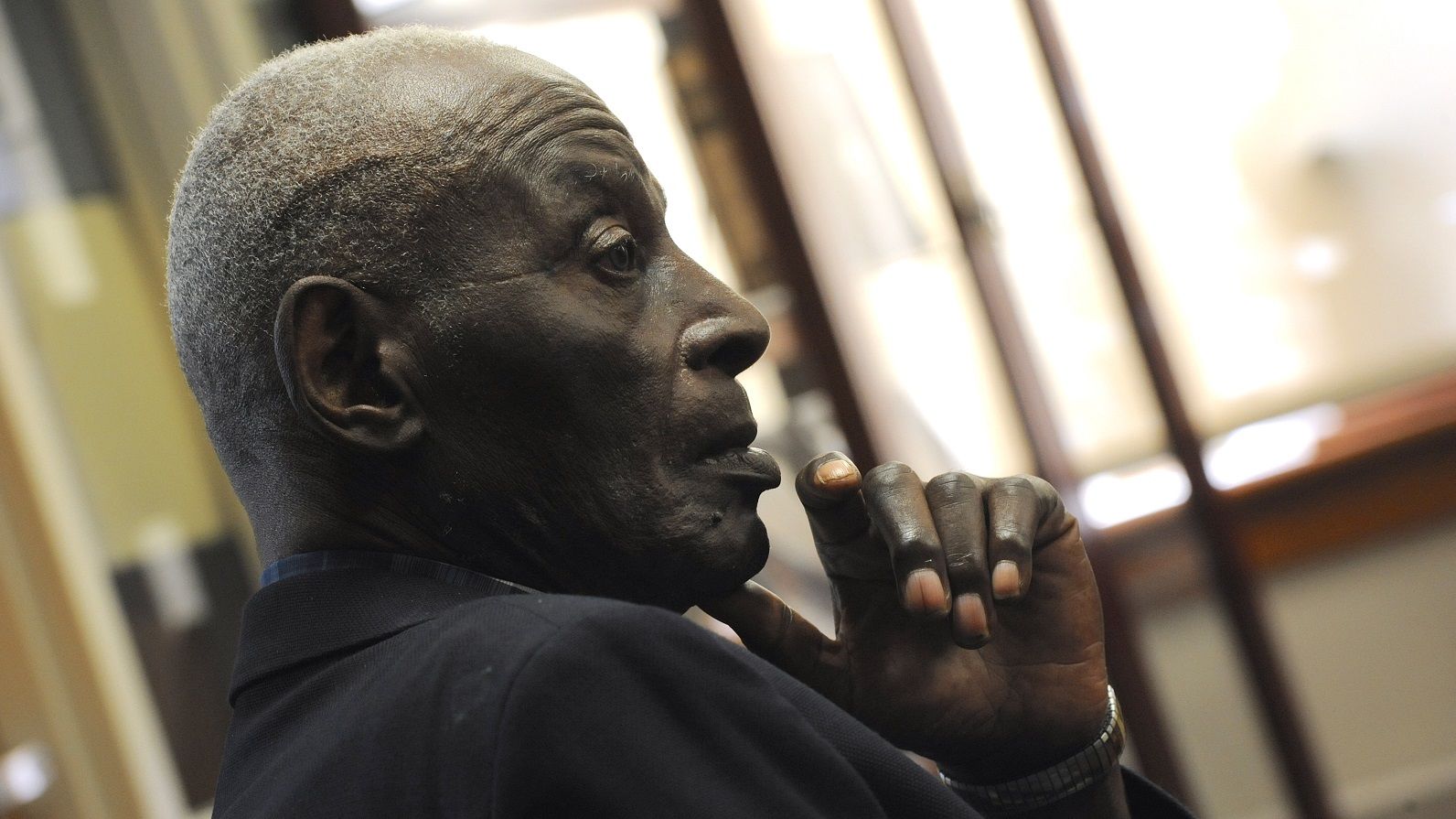 A memorial celebrating the life and legacy of Charles L. Blockson will be held on Tuesday, September 19, 2023 at 2 p.m. in the Temple Performing Arts Center at 1837 N. Broad St., Philadelphia, PA. The livestream will be available on September 19 and you can watch it here.
Charles L. Blockson, 89, of Gwynedd, Montgomery County, Pennsylvania, a bibliophile, scholar, activist, athlete and curator emeritus of the Charles L. Blockson Afro-American Collection at Temple University died Wednesday, June 14, 2023, at his home.
Born on Dec. 16, 1933, in Norristown, Pennsylvania, Charles L. Blockson was the oldest of eight children born to Charles Edward and Annie Parker Blockson. He married Elizabeth Parker in 1958, and from this union they had one daughter, Noelle P. Blockson.
Educated in the Norristown Area School District, Blockson excelled in athletics including football and track and field. A star athlete at the Norristown High School and Penn State University, he won state and national honors and participated in the Penn Relays. While in high school and college, Blockson would go to bookstores when traveling to participate in sports events. He especially liked to visit the bookstores in Harlem and Greenwich Village while in New York City.
During a history lesson his fourth-grade substitute teacher, a white woman, asserted that Negroes like himself had no history, and that they were born to serve white people. Blockson went home and told his parents. They assured him that Negroes do have a history and continued to expose him to Negro literature, The Philadelphia Tribune and other local Black newspapers, the Crisis and Negro Digest magazines, as well as the work of prominent African American men and women. That statement from his teacher launched Blockson's lifelong journey to unearth, collect and preserve the history, culture and contributions of African descendants. From the age of 9, he began collecting and set out to prove that teacher wrong.
Book collecting excursions led Blockson to the Salvation Army, antique shops, church bazaars and Philadelphia where he discovered many bookstores. His favorite bookstore was Leary's, located at 9 S. 9th St. below Market Street. There he would look for any titles that included the words such as "Negro," "Colored," "African," "African American" or "Black."
Blockson became well-known among book and artifact dealers, and his passion for collecting took him around the world, inspired him to write books, made him one of the foremost experts on the Underground Railroad and put him in the company of leading African American figures like Paul Robeson, Marian Anderson and Rosa Parks, among others.
Today Blockson has two significant collections related to the study of Africana American history and culture, at the Charles L. Blockson Collection of African-Americana and the African Diaspora at Penn State University, and the Charles L. Blockson Afro-American Collection at Temple University in Philadelphia. In 1984, the noted bibliophile and author donated his extraordinary collection to Temple University. The Charles L. Blockson Afro-American Collection now contains more than 700,000 items and is one of the nation's leading research facilities for the study of the history and culture of people of African descent, Africa and its diaspora. The collection holds materials with a special emphasis on the experiences of African Americans in Philadelphia and the Delaware Valley region. On June 15, 2022, Norristown's historic Centre Theater was proud to open up a third location to exhibit his renowned collection right in the heart of his hometown.
In 2016, Blockson donated Harriet Tubman's signed hymnal and other personal items to the National Museum of African American History and Culture (NAAMHC) at the Smithsonian Institution. Blockson said that when he inherited Harriet Tubman's 39 personal items from her great-niece Merlie Wilkens, including the shawl that Queen Victoria presented to Tubman, it was the crowning point of his life as a collector. This donation has become a popular attraction at the NAAMHC in Washington, D.C.
Blockson was the recipient of numerous awards and honors. In 2017, he was the 96th recipient of the Philadelphia Award. He also received the Distinguished Alumni Award from Penn State University, and three honorary doctorate degrees from Lincoln University, Holy Family University and Villanova University. He was a co-founder of the African American Museum in Philadelphia, founding member of the Pennsylvania Black History Committee of the Pennsylvania Historical and Museum Commission, past president of the Pennsylvania Abolition Society, chair of the National Park Service Underground Railroad Advisory Committee, and director of the Philadelphia African American Pennsylvania State Marker Project (the largest African American marker program in the United States). He was deeply touched by the commemoration of the Pennsylvania Slave Trade state historical marker at Penn's Landing near the Independence Seaport Museum, for which he personally paid the cost. In addition, he served as advisor to the Philadelphia Constitution Center, was a member of the Norristown Area School District's Hall of Fame and Hall of Champions, and was the new namesake of Norristown's former Stewart Middle School; he was instrumental in establishing, along with the Valley Forge Alumnae Chapter of Delta Sigma Theta Sorority, the memorial at Valley Forge that honors Revolutionary War soldiers of African descent; he was listed in the "Who's Who in Black America"; and is featured, along with his mentor Arthur Schomburg, in the book A Gentle Madness: Bibliophiles, Bibliomanes and Eternal Passion for Books by Nicholas A. Basbanes.
Blockson lectured around the globe including at the Sorbonne in Paris (one of his favorite cities) in 1991 at the African Americans in Europe Conference; in the African countries Egypt and Senegal; and in Sweden, Iceland and Denmark with the U.S. Department of the Interior about the Underground Railroad.
A prolific writer, Blockson wrote many magazine articles. In 1984, He was the first African American to write a cover story in National Geographic. The article, "Escape from Slavery: Underground Railroad," was the first cover story pertaining to African American people and is one the most popular stories in the history of the National Geographic magazine. As a result, the U.S. State Department commissioned him to lecture on the subject in the Caribbean Islands and South America.
Blockson was the author of 13 books including Black Genealogy, Damn Rare: The Memoirs of an African American Bibliophile, Pennsylvania's Black History, The Underground Railroad in Pennsylvania, The Underground Railroad: First-person Narratives of Escapes to Freedom in the North, A Commented Bibliography of One Hundred and One Influential Books by and about People of African Descent 1556–1982, Catalogue of the Charles L. Blockson Afro-American Collection, The Journey of John W. Mosley, Hippocrene Guide to the Underground Railroad, African Americans in Pennsylvania—A History and Guide, Philadelphia 1939–2000: African Americans of Philadelphia, African Americans in Pennsylvania: Above Ground and Underground—An Illustrated Guide, and The President's House Revisited Behind the Scenes: The Samuel Fraunces Story.
His daughter Noelle said, "I and countless others will carry my father's memory in our hearts and will find comfort and strength in the profound and impactful legacy he leaves behind."
Diane Turner, curator of the Charles L. Blockson Afro-American Collection at Temple University Libraries, described Mr. Blockson as, "A gentle giant, a warrior! He encouraged everyone to document their histories." She said, "More than anything else, Mr. Blockson has been dedicated and committed to the preservation, dissemination and documentation of African American history and culture. He's been consistent with that over the years, even when it wasn't in vogue."
Charles L. Blockson is survived by his daughter, Noelle P. Blockson; his siblings, Betty Thompson, Caroline Caulker, Gertrude Poage and James Blockson; and a host of nieces, nephews, cousins, godchildren, dear friends and associates.
In lieu of flowers, the family kindly request that you consider contributing to The Charles L. Blockson Afro-American Collection Endowment. The donation link is giving.temple.edu/givetolibraries.