announcement
Posted Nov 19, 2008 -- webcomm
Temple University, like its peer institutions, is in for rough economic times over the next several months, according to Chief Financial Officer Anthony Wagner, who presented to Temple's Faculty Senate on Wednesday afternoon at the group's request.

"The state and the nation are going through an unprecedented financial crisis. This is going to affect all universities, and how it will impact us is still not fully understood," said Wagner, who is also senior vice president and treasurer.


A sobering picture of Temple's financial health includes several key factors, according to Wagner.

The TUHS factor

According to Moody's Investor Service, Temple's balance sheet is solid but middle of the pack when compared to universities like the University of Pittsburgh, Penn State University and the University of Maryland. For instance, Moody's debt rating for Temple is A1, below the Aa2 rating for the three other schools. (See illustration below.)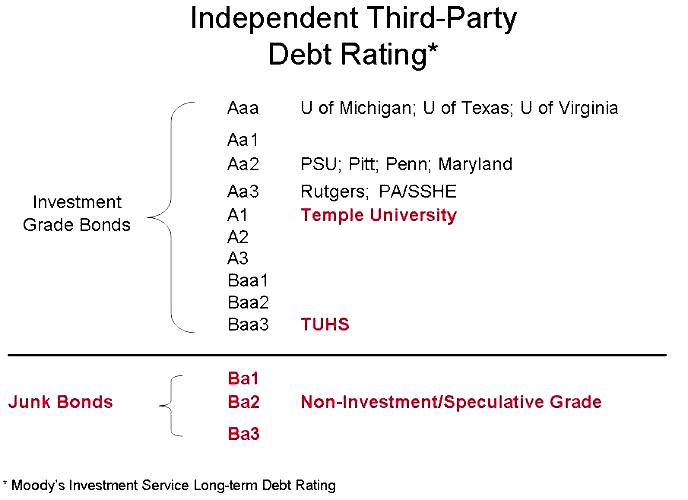 The debt rating for Temple University Health System (TUHS), however, is even lower, set at Baa3. Wagner noted that Baa3 is the lowest investor grade, just above junk bonds.
Moody's has said it will be keeping an eye on the health system's performance and the impact it could have on the university's bottom line.
One factor in Temple's favor is the recent hire of Edmond F. Notebaert, who started Nov. 1 as senior executive vice president of health sciences. Notebaert is responsible for overall strategic leadership and direction of Temple's health enterprise, including TUHS and operational aspects of the School of Medicine. That said, Wagner pointed to several other factors that will affect Temple in the next several months.
Declines in students, state support and endowment revenue
For example, with the end of the baby boom echo generation, there will be fewer 18-year-olds going to college in the United States in coming years. That means competition for these students will be higher than in recent years, said Wagner.
In addition, Temple's relatively small endowment has been affected by the declining stock market. The endowment was at $237 million on June 30. It had fallen to $220 million by Sept. 30 and experienced continued declines since. With an endowment per full-time equivalent (FTE) student of just $7,634, Temple has less financial flexibility than its state-related peers. By comparison, endowment per FTE at the University of Pittsburgh is $75,798, nearly ten times higher.
Added to this is a decline in state support for schools like Temple. The drop in state support has been going on for more than 30 years, but due to a recent slump in Pennsylvania tax revenues, the commonwealth can't make good on commitments it has already made.
Wagner said tax revenues were down almost $600 million at the end of October for the fiscal year that started July 1. Recognizing that Temple's state support will decline, the university has already cut $12 million this year and must plan for additional cuts in 2010, Wagner said.
The outlook for employees

Looking for ways to save money at institutions of higher education like Temple often means cutting personnel costs. Wagner said salary and benefits represent 66 percent of the university's budget and the single most important cost driver.
That's one reason Temple has instituted a hiring freeze. In addition to the university-wide freeze, some schools are taking greater action. For example, the School of Medicine announced last week that in addition to eliminating 31 vacant or unfilled positions, 16 employees were laid off.
In addition, all Temple employees are now under a restriction for out-of-state travel. Wagner said additional measures could be needed in the future.
What it means for students

Declining state support places a greater financial burden on students. As a result, debt load for students has increased, a serious concern for a school like Temple that prides itself on access. As the chart below indicates, debt per student at Temple has increased by nearly 40 percent, ranking Temple fifth among public universities in debt per student.
"The accelerating trend of falling state support will put significant strain on tuition," said Wagner. "The university is looking at a very delicate balancing act when it comes to planning what tuition will be for the school year that starts in the fall of 2009.
"Despite the growing financial pressure, tuition increases must be very conservative until the extent of the state's cuts and the economic fallout is better understood," Wagner explained.
For more information, visit www.temple.edu/budget.