'Divine Words' reveals writer's zeal for puppetry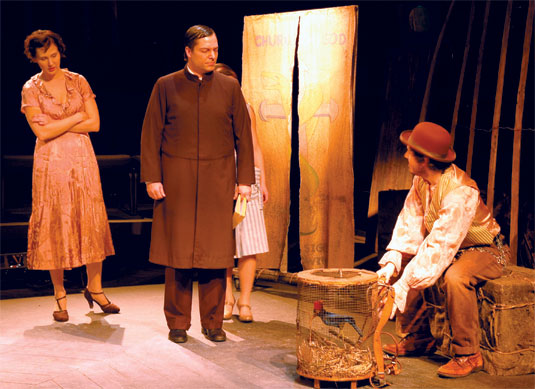 Photo Credit: Matthew Miller
Kate Czajkowski and Rob Kahn headline Temple Theaters' original "Divine Words."
More than 20 years ago, Robert Smythe set out to change how the world sees puppets.
It was a novel idea: establish a theater that concentrates exclusively on puppeteering. But using marionettes to act out parts designed for human actors didn't sit well with some in the theater community.
"When I started we couldn't even get reviewed," said Smythe. "People didn't really take puppetry seriously, everyone thought it was strange."
But as time went on and his Mum Puppettheatre grew, critics started to attend shows and give Smythe and his cast of puppets rave reviews. Slowly, perceptions changed and puppetry wasn't so strange, said Smythe.
"Now you can find puppets virtually everywhere, in every theater," he said. "Puppetry has becoming a part of the theatrical vocabulary."
Now a university fellow at Temple, Smythe is exposing students to his unique vision through Temple Theaters' production of "Divine Words." The play is a loose variation of Spanish playwright Ramon del Valle-Inclan's drama "Divinas Palabras," which tells the story of a young woman who becomes the reluctant guardian of a hideously deformed dwarf and finds herself forced to face a rural Southern town ruled by amoral superstitions and ignorance.
In Temple Theaters' production, director and MFA candidate Felipe Vergara decided that Smythe's rendition of "Divine Words" should incorporate the use of puppets to play interesting characters, such as a deformed dwarf, a fortune-telling bird and other roles that might be challenging for an actor. Smythe also transplants his characters from post Civil War-torn Spain to the rural Appalachian Mountains of North America.

"One of the things the original author does is play with language," said Smythe. "He uses a lot of modern English and archaic Spanish to create new terms. I found that a similar way of speaking exists in the Appalachian where they speak Elizabethan English."

While running Mum Pupperttheatre, Smythe wrote, directed and performed more than 20 original productions using puppets, masks and human actors. His work garnered numerous honors, including four Barrymore Awards and citations from festivals, including the prestigious Edinburgh Fringe.
He is a recipient of a Guggenheim Fellowship, a Pew Fellowship in the Arts for Performance Art and six Solo Performer fellowships from the Pennsylvania Council on the Arts. He is also one of the last solo performers ever to receive a Theater Fellowship from the National Endowment for the Arts.
His Temple puppetry class has attracted students from across disciplines. From Tyler to Theater, undergraduate and graduate students are interested in learning Smythe's interesting approach to puppetry. In the course, which he designed, students are taught a three-fold approach to puppet art.
"It's similar to the way a musician works, in that you have an instrument, score and a performance," said Smythe. "I try to get students to really take a skillful approach to their instrument —which is their puppet — and to translate that into their performance."
"Divine Words" runs through February 21.