In work, in life, Ambler grad walks the talk of sustainability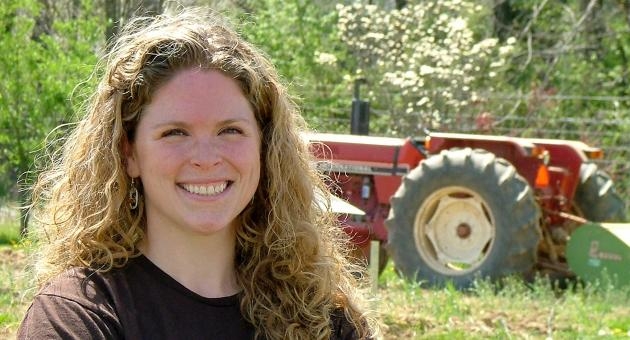 For Temple community and regional planning master's degree student Julia McCabe, sustainablity is part of everything she does in her life — from school to work to family. She can tell you how to create your own home composting bin. She can share with you what can and can't be recycled and practices the three R's of sustainability — reduce, reuse, recycle — every day. At Temple Ambler, McCabe, 36 from Upper Dublin, Pa., is president of the Temple Planning Student Organization, co-chair of the Ambler Campus Sustainability Council and a research assistant with the Center for Sustainable Communities. At home, she can regularly be found at the Pennypack Farm and Education Center, a community supported agriculture facility in Horsham, and is a member of the Upper Dublin Environmental Protection Advisory Board. In April, McCabe was received the Community and Regional Planning Award for Outstanding Service and now, she has her sights set firmly on a future of developing and promoting sustainable agriculture.
Temple Times: What made you choose Temple?
Julia McCabe: I worked in communications for seven years with Independence Blue Cross in Philadelphia. It was good for what it was, but I knew the next step for me was to pursue a master's degree to take my career to the next level. I really didn't have to look any further than Temple University and the Ambler Campus. I've always had a passion for sustainability, and the courses in Temple's Community and Regional Planning program focus a great deal on sustainable concepts. I felt that learning about planning would enable me to share sustainable concepts in a professional way.
TT: How has Temple prepared you for your planning career?
JM: From the first day, the professors treat you like professionals and expect you to approach your projects in that way. There are so many paths you could take in the field — transportation planning, emergency management, urban planning. They let you find your own way and plan your own future.
TT: What area of the community and regional planning field interests you most?
JM: I've found my niche in the past year: food systems planning, urban agriculture and sustainable agriculture. Food systems planning is about helping cities or towns have healthy food access and access to local food and doing this through ordinances and programs that encourage sustainable farming. In urban environments, you can create access to healthy produce, whether it's creating a community garden in a vacant lot, a rooftop garden or a window box. You can re-introduce nature to residents and children in a city environment. Gardening is excellent for physical and mental well-being.
TT: Have you been able to apply food systems planning to real-world applications?
JM: For our capstone studio this spring, we are working as a team on a project for the City of Chester, which was one of seven chosen for a White House initiative called Strong Cities, Strong Communities. While we examined a broad range of community concerns such as economic development and revitalization, my section is focused on food accessibility. We're recommending initiatives like community gardens and "healthy corner stores" — providing resources and incentives to existing stores to offer healthy options. These are realistic goals that could be implemented. We've approached the project just as a planning firm would. We consider ourselves consultants for the city, and on May 16 we'll present our findings to the Chester City Council. This is how the program readies you for the planning field — you're essentially already working in the profession before ever leaving the classroom.