New fitness options among many recent renovations to Pearson-McGonigle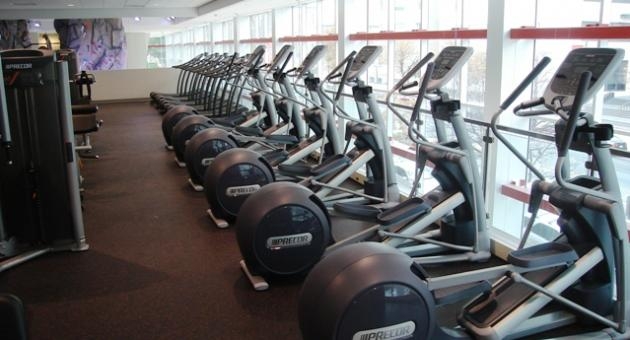 A new place to fight the winter blues — not to mention those winter pounds — opened up on Main Campus this week. 
The Fitness Mezzanine at Pearson-McGonigle Hall offers students and employees a few unique workout options along with panoramic views from large windows overlooking North Broad Street. 
Twelve cardio machines — both treadmills and elliptical trainers — are tied to a "Re-Rev" system, which recycles the kinetic energy the machines generate by sending the power back into the building grid. The recycled energy is used to light a neon Temple "T" sign. The state-of-the-industry Woodway treadmills are self-generating and contour to the running and jogging motion of the serious-minded fitness enthusiast. 
For those interested in conditioning through boxing, there are two speed bag and two heavy bag stations. And, along with a full line of selectorized strength equipment, there are two flat-screen gaming stations that provide interactive Wii, EASports and Xbox competitions and workout options.
"The Fitness Mezzanine provides students that frequent the building with a new fitness opportunity," said Steve Young, director of Campus Recreation. "With nearby shower and locker facilities on site, patrons interested in cross training can get cardio, strength and boxing workouts and finish it off with a swim in the pool — all under the same roof."
The new 2,200-square-foot fitness area will be open weekdays from 11 a.m. until 8 p.m. and is available to any student or employee who has paid the Campus Recreation access fee. It is located on the second floor of Pearson Hall and must be entered through room 200.
The Fitness Mezzanine and the newly opened Früt Bar are among several recent renovations to the building's atrium. Completed this summer, additional renovations to Pearson-McGonigle Hall include updated training and support spaces for Campus Recreation and NCAA sports, new practice and training facilities for men's and women's basketball, four full basketball courts for use by students, a rock climbing wall and new academic and advising space.