New director of Student Financial Services sets sights on service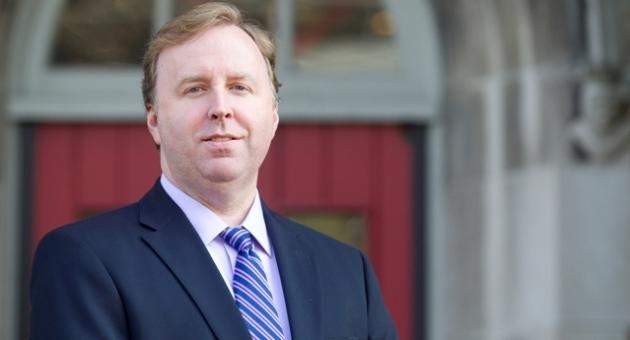 Although many are busy with the holidays at this time of the year, it's also the time when students and families should start preparing to apply for financial aid. The Free Application for Federal Student Aid (FAFSA) form becomes available on Jan. 1 and students are encouraged to complete their submissions as early as possible. 
Craig Fennell was appointed the new director of Student Financial Services (SFS) at Temple last April, replacing former director John Morris who retired but still assists part-time. Fennell and his team are working to make the financial aid process as easy as possible. Their goal is to offer smoother, faster and simpler service to students and families. 
Fennell spent the last decade directing student financial services at Arizona State University. He also has worked in student financial services at Duke University, Massachusetts Institute of Technology, Marist and Newbury Colleges. He is a graduate of Iona College in New York with a degree in history and economics. His first job was with Chemical Bank on Wall Street.  The Temple Times sat down with Fennell to talk about the improvements he's made already in the SFS office as well as those he's planning for the future, and his philosophy on working with families and helping students successfully manage paying for college.
Q: What brought you to Temple?
I was interested in coming back to the East Coast (after ten years in Arizona), to be closer to family and friends in New York and on the eastern seaboard and was happy to find out about this opportunity at Temple. 
Q: What do you like most about working in financial aid?
I was an aid recipient as a college student. Having been a student who benefitted from it, it's been easy for me to work with students on financial aid. I'm not wondering why students apply for aid. I understand why they need it. I know we're helping, and I know without financial aid a lot of students wouldn't be able to be here.
Q: What are your top priorities for SFS?
I'd like to shorten wait times and reduce students' overall need for contact with our office. We're kind of a necessary evil, but their focus should be elsewhere. I'd also like to enhance students' experience of working with SFS, which will include more training with staff. 
Q: What's the first step in the financial aid process for families and students?
Filling out the FAFSA form as early as possible. It becomes available online Jan. 1.  You want to be first in line for aid. If you have to estimate taxes or other items, please do. We encourage all students to submit their FAFSAs as early as possible or at least by March 1, which is the priority deadline. That allows us to get started on our part and get awards out as early as possible. 
Our goal is to provide students with an award early enough that they have a few months to think about financing well before the fall begins. 
Q: After students receive their awards, what are the next steps?
The entire dialogue begins then. We're in frequent contact with students during this time and we welcome that. The process continues through the spring and into the summer. 
By late spring, early summer, we start talking with students about what to do if they want to apply for student loans and get jobs through the work-study program. 
Bills go out in July, and we walk students through how their awards and loans apply to their bills. Then, within ten days before the first day of classes—which is the earliest we can do it by law—we disburse aid to students' accounts here at Temple. For those students whose financial aid provides support toward indirect expenses such as rent and books, we strongly encourage them to sign up for direct deposit so those aid funds can be credited to their personal bank account. Loans ready to disburse will also be distributed at that point.
Q: What is your service philosophy?
Students' experiences with SFS should be smooth, quick and as simple as possible. To make this a reality, I'm looking at all of our internal processes. For example, I want to maximize what can be done online and minimize manual processes for the benefit of the parent and student. When I look at loans, I want students to receive those loan funds ASAP. We don't want them to have to wait longer than is necessary. Financial aid is not always easy, but it should be as easy as we can make it. So operationally, that's my philosophy: Smoother, faster and simpler. And to get there, we need to work on all of our internal processes. 
Q: What changes have you made for next year?
This coming fall, I want to award our continuing students earlier than we have in the past. And that's part of my philosophy. I believe we owe students the earliest possible award notification so they can have the time they need to plan their financing for the upcoming year.
This means that at the end of February we're going to start awarding freshmen, as we always have. But for continuing students, I'm looking at April 1, about eight weeks earlier than we did last year. 
Our overall aim is to reduce calls, visits and wait times. 
Q: What else are you planning for the fall?
Next fall, I'd like to hold a job fair to simplify the process through which students get work-study jobs. I've done this at previous workplaces. Right now, students are on their own and often don't know where to start. A job fair would bring as many employers together as possible in a single place. Everyone can wrap things up that day or in a couple of days rather than having to spend more time and search all over the place for jobs. 
This past spring, Temple launched the Money Matters website to help students and families navigate the financial aid process, pay for college and reduce indebtedness. This project is a partnership with our Bursars Office. We will continue to expand the site by adding more information and resources, for instance, on borrowing and the use of credit cards. We also want to reach out directly to students to discuss money matters-for example, offering workshops in the residence halls, as well as offer more one-on-one counseling sessions for students.
Q: You've worked in the financial aid field for more than 20 years. How have things changed?
More than ever before, we're hearing from families who are suffering economically. Their house is in foreclosure or a parent has lost their job. It's approaching probably 50 percent of the conversations we're having. This has become the most challenging part of our job. 
So what do we do? We want to make sure that we're not another problem that students and families have to deal with. We listen and work with them on the issues they're facing as best we can. What happened? What are the obstacles? And then we see what we can do to help. We understand this process can be difficult at times for students and parents. We understand that sometimes we are asking hard questions, but we need the fullest picture we can get of their situation. Once we have that we will always do as much as we can to help. 
The good news is that there are thousands of students here who are making it happen. They are making the choices and sometimes the sacrifices that are needed to pay for college. 
Q: What goal drives you and your team?
Our main goal is to make the financial aid process as smooth and easy as possible while trying to reduce indebtedness for students. Everything we do supports this goal. We urge students to submit FAFSAs as early as possible; work quickly to process their awards and notify students and families; help them fill in any gaps in need to the extent we can; advise them on applying for loans and managing debt and ultimately pay for college in a way that makes the most sense within each families' circumstances.