Provost Hai-Lung Dai lays out priorities for Temple academics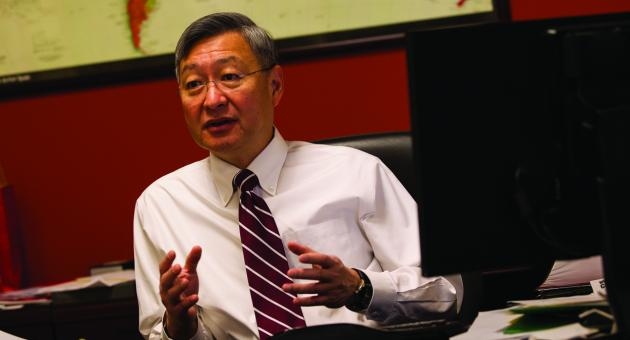 On Feb. 5, Hai-Lung Dai was appointed provost and senior vice president for academic affairs after serving as the university's interim provost for half a year. Most new senior administrators need at least a few months to survey the lay of the land before they're ready to talk about their agenda, but Dai has taken advantage of his running start in the Office of the Provost. The Temple Times sat down with him to discuss his vision for Temple's academic future.
Temple Times: You're relatively new to this position, but you're not new to Temple.
Dai: Yes, I came to Temple six years ago as dean of the College of Science and Technology and Laura H. Carnell Professor of Chemistry. Three years later, in 2010, I took on an added responsibility as senior vice provost for international affairs. Then, last July, I was appointed interim provost.
TT: Where were you before coming here?
Before Temple, I spent 22 years at the University of Pennsylvania rising through the ranks in the Department of Chemistry, where I served as department chair for two terms. I founded the Penn Science Teacher Institute for the training of middle-grade and secondary-level science teachers. When I left I was the Hirschmann-Makineni Professor of Chemistry.
TT: Are you still an active researcher?
Yes, I continued my research in chemistry from the first day I arrived at Temple. I have four active, grant-supported research projects, investigating issues ranging from how molecules go through cell membranes to exploring ionic liquids with unique electrical properties. I also still do service in the graduate program. Being active as a faculty member is important to me.
TT: What do you see as your primary agenda as provost in the coming years?
My mission as the university's chief academic officer is to serve the students and faculty of Temple University, to improve the academic experience and quality at Temple and to grow the university's academic reputation nationally and internationally. Our agenda at the Office of the Provost aligns with President Theobald's. His goals — academic excellence, reducing student debt, making Temple students real-world ready, increasing the number of Temple students who graduate in four years, growing Temple's research enterprise — are our goals.
TT: You often mention the importance of Temple's reputation. The university's academic reputation is universally acknowledged to be on the rise, but how does one accelerate the pace?
To be prosperous and continue our mission, you have to have a good reputation. Two important parts of our strategy are marketing and rankings. President Theobald recently hired Temple's first vice president for marketing and communications, Karen Clarke, from the University of Houston. She will help us tell the Temple story. On the academic side, my goal is to improve Temple's reputation by improving our rankings. You do that by working on fundamental measures of academic quality, from improving graduation rates to hiring world-class faculty and stimulating research activity. I am a Confucian scholar. One piece of Confucian wisdom: When the fundamentals are set right, the way will naturally appear.
TT: What has it been like working with President Theobald so far?
Temple is very fortunate to have President Theobald leading our university. In my dealings with him, it has been very clear that his core values are always the best interests of Temple students and faculty. It's very easy working with him. I am a scientist. We scientists make our assessments and decisions based on facts, based on evidence. That's his style as well — making decisions based on data. He's an experienced administrator at the highest level, but he's also a scholar with an empirical approach. That's a great combination.
TT: Why is timely graduation so important?
At Temple, we have always worked hard to keep tuition low, yet the average debt of Temple students upon graduation is still high compared to graduates of many public institutions. When President Theobald analyzed the numbers, he found that there is a direct correlation between the amount of student debt and the time a student takes to graduate. If you look at these data, you naturally reach a conclusion that if you graduate in four years, you will graduate with less debt and you will have more years in the job market to earn money. On the academic side, we have been charged with having our advisors provide every student in every major, regardless of their preparation, with a four-year path — or what we call a grid — to graduation.
TT: How do you interpret President Theobald's call to provide an education that makes students "real-world ready"?
In all we do, we should consider how the content of a Temple education benefits our students. After receiving a Temple education, can our students find good jobs and be effective citizens? We must be bold and innovative and think about what we can do at Temple to prepare our students for today's globalized world, because our graduates aren't just competing against grads of other American universities — they're going up against graduates from universities in Asia, Europe and elsewhere. We have to take a careful look at the kinds of practical knowledge our students need to succeed. For example, in our General Education program, should we be teaching ethics and law? Should we be teaching practical business and IT skills so that every Temple graduate knows how to read and prepare a spreadsheet? I would like to help our students acquire problem-solving and analytical skills by increasing opportunities for hands-on research experience. Employers want graduates who, when faced with a challenge, can analyze the situation and solve problems. To me, that's 'real-world ready.'
TT: With Temple actively searching for five deans, this spring has been a busy time for you. Are you getting any sleep?
Not much. The search for new deans for University Libraries, the College of Education, the School of Media and Communication, the College of Health Professions and Social Work and Temple University Rome requires an enormous investment of time — particularly the interviewing of all the finalists as they come to Temple to meet with the search committees. It's exhausting, but it's worth it. Finding energetic leaders for our academic units will be critical to our future success. And if Joe Lucia, our new dean of University Libraries, is an indicator of the type of dynamic leader who is attracted to Temple, our future is bright. We have excellent candidates at this point and plan to complete all of these searches by the end of the spring semester.
TT: Because of your time as interim provost, you were able to launch several initiatives before you even started at your new position. What stands out in your mind?
We launched a new merit scholarship program, offering more financial aid at more levels than ever before to reward accomplished students (as well as summer stipends for study abroad, internships and research activities). We have increased investment in hiring senior faculty. This is critical — great faculty make great universities. We increased our investment in growing Temple's research enterprise. And we realigned Institutional Research as part of our push to improve our ability to make informed decisions. By the way, all of these initiatives were supported and approved by President Theobald; we worked closely with him before he arrived at Temple.
TT: When you served as senior vice provost for international affairs, you championed Temple's push for more international students. Is that still a priority?
Yes. I'm pleased to say that we are now seeing the number of international students on Main Campus grow rapidly. More international students is a sign that Temple is more well-known in the world, and it will help our reputation continue to grow globally. The increasing number of international students at Temple also mitigates a decline in out-of-state U.S. students. The globalization of our student body has also made Temple a more diverse place. In today's world, learning about other cultures and the way other nations solve problems is no longer optional. You can't understand the world by listening to a lecture; you need to live among people from other cultures to get a deeper understanding. Ideally, every Temple student would study abroad. But if we can't bring all our students to the world, we should bring the world to our students.
TT: You were an international student yourself at one time. Where are you originally from? 
I was born in Taiwan to parents who emigrated from China during the Chinese civil war. My father was in the military and my mother was a school teacher. At the time, Taiwan was an underdeveloped country — in my elementary school in the early 1960s, barely half of the students wore shoes. I finished my undergraduate training at National Taiwan University, did military service and in 1976 came to the United States, to the University of California, Berkeley, for graduate school.
TT: Is it true that you weren't always interested in science?
As a child, I was never very interested in science. My grandmother always told me that I had an artistic inclination. But when I was a boy, there were four pictures hanging on the wall of every Taiwanese classroom: Sun Yat-sen, the national father; Chiang Kai-shek, the leader at that time; and the third and fourth pictures were C.N. Yang and T.D. Lee, the two ethnically Chinese American physicists who won the Nobel Prize. They were revered. If you sat in the classroom, you got the impression that science is important. My father wanted me to be an engineer, so I decided to pursue science and engineering. But I always dreamed of being a conductor and a composer. Choral music was my first love and the music I like the most. At National Taiwan University, I joined the university's chorus and was selected as student conductor. I had a chance to work with a lot of music professionals, learning music through apprenticeship. When I came to the United States, wherever I went — in Berkeley, in Boston and here in Philadelphia — I was invited to be the conductor of the local Chinese community choir. In Philadelphia, that choir was the Chinese Musical Voices in Cherry Hill (N.J.).
TT: Any musical performances coming up?
When my son was born nine years ago, I resigned the conductorship of the choir to spend more time with my family. But from time to time I'm invited to participate in music events. At Temple, I've done two orchestral concerts. I was invited by the conductor of the China Radio Symphony to conduct a concert in early July in the Beijing Concert Hall. My hope is to have a chance to conduct the Temple University Symphony Orchestra. So far they haven't let me. That's a hint [he laughs].