Entering unfamiliar territory, Poland native builds family at Temple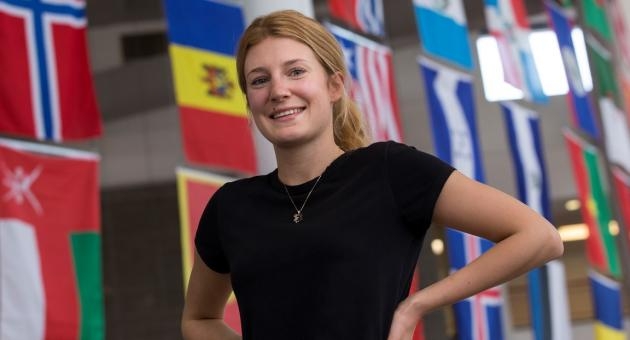 As a high school student at an English school for European immigrants in Spain, all of Katarzyna (Kasia) Tomasik's classmates wanted to go to England for university. But Tomasik, a native of Poland, wanted to come to America.
She chose Temple for its reputation for multiculturalism and because a cousin who had previously attended the university as a pre-med student gave her a positive report.
But when Tomasik arrived on Main Campus, she felt like she had been plopped headfirst into unfamiliar territory.
"It was very scary to come here alone, not knowing anything or anyone. I was even unsure of my major," said Tomasik, who started out in political science.
To connect with other international students, Tomasik joined Temple's International Student Association (ISA), which at the time only had a handful of members. The group's mission — to promote multiculturalism on campus, and in doing so, to help form bonds among multicultural students — was one Tomasik was happy to support.
That small group of international students became a close knit family. Now, three years later and with Tomasik at the helm, ISA is still a family — but a bigger one, boasting 130 official members, with many more than that attending the organization's popular events.
This year, ISA hosted an ice skating party and a flash mob-style performance of "Gangnam Style" in Alter Hall followed by a "Free Food Fun Friday" event held at the Student Center. A whopping 20 teams participated in ISA's soccer tournament held at Geasey field, and 240 students, representing a full 47 nationalities, attended the first-ever International Grand Ball held this spring in Mitten Hall.
For Tomasik, helping international students make connections and form bonds was the main point. "When I looked out across the dance floor at the ball, and everyone was having such a good time, it was very gratifying to see that my efforts had brought so many people together," she said.
As this year's president, one of Tomasik's priorities has been to ensure that the growth ISA witnessed under her leadership will continue under the organization's incoming executive board. To that end, she has spent many sunny spring afternoons in the ISA office making plans for a smooth transition.
For her demonstrated superior leadership, service to the university and impact on the Temple community, Tomasik has been recognized with the Diamond Award by Temple's Office of Student Affairs.
But, Tomasik — who finally settled on economics as a major — also found many academic opportunities at the university she chose for its cultural diversity. At the suggestion of Economics Professor William Stull, Tomasik applied for several departmental honors, and as a result she has been inducted into the Phi Beta Kappa Honor Society and was named the recipient of the Norman and Ruth Sun Memorial Award in Economics. Established in memory of Professor Norman Sun and his wife, Ruth, the Sun award is given to a College of Liberal Arts student majoring in economics in recognition of his or her outstanding scholastic record and strong leadership qualities.
Her time at Temple will culminate in the delivery of the commencement address for the College of Liberal Arts. She says that the significance of all she is has achieved at Temple probably won't hit her until she stands on that podium.  
"I came here not even knowing anything about America or college; I didn't even know what a credit hour was, and now I am speaking to my graduating class. I feel truly Temple Made."