Hands-on community service drives med school grad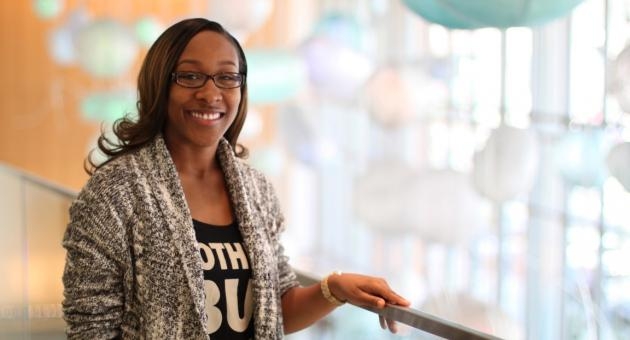 As a little girl, Crystal Brown thought that the community health fairs she went to with her mother in the Watts section of Los Angeles were just a big party. Nearly two decades later, on the cusp of graduating from medical school, she can see that they were the foundation on which she's built a personal commitment to community service.
Brown's mother was a faculty member in the physician's assistant program at Charles Drew University and gave a lot back to the poverty-stricken community surrounding the school through health fairs and other activities for the neighborhood.
"When she worked in the community, she'd always have me out there with her," said Brown. "At the time, I didn't realize I was volunteering — I thought it was just fun — but it always stuck with me and as I got older realized it was something I wanted to do as well."
As an undergraduate at Pepperdine and a medical student at Temple, Brown extended her community work to serve many different populations.
In her junior year, she traveled to Nicaragua to work with the citizens of an impoverished village that had no infrastructure, no roads, no sanitation and no source of medical care. In addition to building outhouses, the students helped run medical clinics out of people's houses.
Being one of the "less squeamish" students, Brown got to do a lot of hands-on work with the patients. At that point she knew that she wanted to pursue medicine. She chose Temple because of its location in an urban area and its mission to care for the underserved.
While at Temple, Brown made sure to stay in close touch with her adopted community in North Philadelphia. For two years, she worked with her fellow medical students to bring an annual health fair to the nearby Kenderton Elementary School, teaching the children about everything from nutrition to the dangers of alcohol. And as the community service chair of Temple's Student National Medical Association chapter, Brown launched a new program to address the high rate of hypertension in African-American men.
For this program, she'd need to partner with a barber shop, and she found one near Temple's Main campus: Mecca, on Cecil B. Moore Avenue. On Saturdays, Brown and her fellow medical students would visit the shop and offer free blood pressure screenings. It was a way to reach African-American men, some of whom hadn't been to see a doctor in decades, in an informal, relaxed setting. Brown found the work fulfilling because the students got to know the men over time and could help them get follow up treatment if they needed it.
For her residency, Brown chose to specialize in emergency medicine at the University of Southern California. She loves the variety and pace of the ER and the opportunity it affords her to work with her hands. She feels good about the fact that USC serves a population similar to Temple's. And although she'll miss the people in Philadelphia, she's glad to be returning home to watch to spend time with her grandparents and growing nephews.
"Initially, I was a little intimidated by the East Coast's reputation for rudeness, but I found that people here are so willing to interact. And I really appreciated that. People in L.A. can tend to keep to themselves," said Brown. "Everyone has been very friendly, from the patients to the employees at the medical school. That's what I'll miss most."