New scholarships, Temple Made campaign, drive strong class of 2017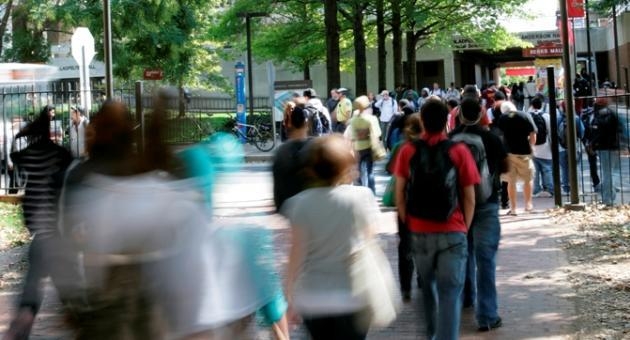 Now that many students have made their college commitments, the results of Temple's new student recruitment efforts point to an incoming class that will have the strongest academic profile in the history of Temple University.
Officials attribute the dramatic shift to a bold, multi-level strategy led by the university's new academic scholarship program and Temple Made branding campaign, both of which were designed to raise recognition of Temple's profile as a top academic institution among a broader audience of prospective students.
In a year when some public universities are reporting declines in applications and deposits, Temple received nearly 22,000 applications for the 4,300 spots in its freshman class. At this point, 9 percent more students have accepted Temple's offer of admission than had accepted at this time last year. For the class overall, SAT scores are ahead by 16 points, while in the Honors program, SAT scores are up by an unprecedented 31 points, and the number of students is up by 196.
"I'm telling everyone that Temple's on the move," said Senior Vice Provost for Enrollment Management William Black. "Now, though, we're moving into another gear. We have been improving our academic profile and the size of our applicant pool incrementally for several years now, but the scholarships and other strategies have taken us to a whole new level."
The growth in applications should result in Temple reaching its aspirational goal of 4,300 freshman and 2,700 transfer students for fall 2013. Black is also pleased to report that the diversity of the incoming class is holding steady. Those who self-identify as African American is up 13 percent; Latino or Hispanic, 13 percent; and Asian, 15 percent.
Other signs of strength for the Temple class of 2017 include higher GPAs, at 3.45 (compared to 3.42 last year) and a 74th percentile class rank (73rd percentile last year). And Temple's selectivity, a measure of an institution's competitiveness, has risen as well.
"Students and parents are responding enthusiastically to the new scholarship opportunities, especially the stipends that support summer research, internships and study abroad," said Black. He reports that prospective students and their families have also embraced the Temple Made campaign, sprinkling the phrase throughout their applications and correspondence.
Through a new academic scholarship program launched last fall, all freshmen students with a minimum high school GPA of 3.0 and SAT score of 1150 will receive an award. Students who meet the requirements for the top category, President's Scholars, will also receive three $4,000 summer stipends for use on research, an internship, study abroad, or another approved educational enhancement experience. All scholarships are valid for four years when students maintain a 3.0 GPA with continuous enrollment.
The new Temple summer stipends are unusual at this level, $4,000, and for a public institution, reports Black. "As a leading research university, Temple found that this type of assistance should encourage particularly accomplished students to be real-world-ready leaders who graduate in four years and keep debt to a minimum," he said.
The impact of the new scholarship program has extended to several Temple schools and colleges. James Short, director of admissions at Boyer College of Music and Dance, says the scholarships helped to attract more students who are both musically and academically talented within a very competitive field. Short also attributes Boyer's success — incoming freshman are up nearly 30 percent — to positive press coverage and word-of-mouth related to high-profile performances and Grammy nominations over the past several years.
At the College of Science and Technology, Matt Campbell, director of student services, reports that honors enrollment is up over 100 percent, a jump almost entirely attributable to the new scholarship program. Another deal sealer for prospective students is the campus visit, says Campbell.
"Our prospective students do a lot of shadowing," he said. "They'll come to campus for a day and attend class with one of our current students. We hear story after story from students saying that they got an offer from another university, but after experiencing our classes and campus and seeing firsthand what 'Temple Made' is all about, they've chosen Temple."
Going forward, Temple's Admissions and Student Financial Services offices are working together to continue to build on the new scholarship program to not only assist students in coming to Temple but also make sure the university does everything it can to keep their indebtedness as low as possible. For fall 2014, the offices are also instituting the Common Application for Undergraduate College Admission and an early action decision plan for prospective Temple students.
"It's all designed to enable people to see Temple for the high quality institution that it is and to push that understanding out to a broader audience," said Black.
Officials won't know the new program's total number of students or scholarships until the beginning of the fall semester, but have estimated that approximately 40 percent of the freshman class would be eligible. Last year, Temple's financial aid budget was increased by $8 million to bring the total amount to $90 million.