Student dining options abound with opening of new restaurants at Temple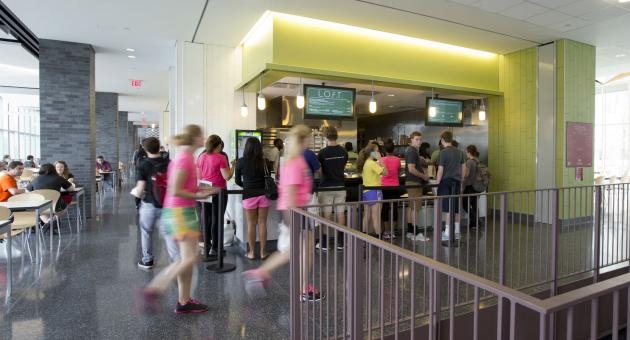 The start of the semester has brought an explosion in food options to Main Campus.
Diners can now find a wide variety — from organic farm-to-table or global Asian cuisine to authentic South Philly cheesesteaks — at the Mitchell and Hilarie Morgan Residential and Dining Complex. Seating is available inside, surrounded by windows in the food court, or outside in the landscaped courtyard.
Patrons can also enjoy salads, sandwiches and coffee one block north at Cosi, the first in North Philadelphia, opening Sept. 3 in Pearson-McGonigle Hall.
The university is also working on a signature restaurant to be located on the ground floor of Morgan Hall on Cecil B. Moore Avenue.
In the planning for Morgan Hall and the growing numbers of students living on and near campus, officials began to look for a way to build a more diverse mix of food options several years ago.
"We've gotten a lot of feedback from students," said Richard Rumer, associate vice president of business services at Temple. "They all basically want variety, while some are looking for healthy, and others for fast, so we really put together a combination of concepts and experiences."
Main Campus's flush new dining scene is not just open to students. Faculty and staff are welcome, as are families, friends, visitors and neighbors. All restaurants take Diamond Dollars, cash and credit. The Morgan Hall food court, which has combo meals for $7.80 (entrée, side and drink), is open from 7:30 a.m. to 10 p.m. Monday to Thursday, 7:30 a.m. to 8 p.m. Friday and 11 a.m. to 7:30 p.m. on the weekend.
Cosi is open 8 a.m. to 6 p.m. Monday to Thursday, 8 a.m. to 4 p.m. Friday, and 11 a.m. to 6 p.m. on Sunday. It's closed on Saturdays.
Students and others can still opt to fuel up at the Johnson & Hardwick dining hall, which offers all-you-can eat for one price, the Student Center food court, the Diamond Club and the privately run food trucks.
Even at 2:30 p.m. on a recent weekday, the Morgan Hall food court was bustling. The two-story, window-walled area looks out on North Broad Street and south toward City Hall and the Philadelphia skyline. Diners can choose from one of 12 options, including Tony Luke's, Pleasant News (a classic fish fry), Starbucks and L.O.F.T (Local Organic Farm Table). And, if you'd like a traditional sit-down diner experience, you can get that at The Southside Diner.
So what's next for the dining scene at Temple?
"Visualize Temple will help us figure out where we go next," said Rumer. The online community project, which has Temple students, staff and alumni weighing in with their thoughts about the future of the university, has been active all summer and ends Sept. 30. Food on campus has consistently ranked as one of the most discussed topics.
"Our new spaces at Morgan Hall and Pearson-McGonigle, including those for dining, were designed with students in mind," said Jim Creedon, Temple's senior vice president for construction, facilities and operations. "We're committed to enhancing student life and the on-campus experience."
For more information on dining services at Temple, visit the Temple Dining Services website.