Solar panels to be installed on roof of Edberg-Olson Hall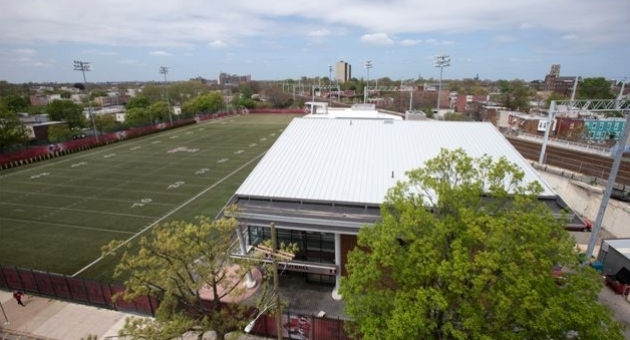 Demonstrating the university's ongoing commitment to sustainability and renewable energy, Temple has entered into a solar project partnership with Community Energy Inc. (CEI), a clean energy company located in Wayne, Pa.
Over the next three months, CEI will build, own and operate a 63-kilowatt photovoltaic (solar) system on the south-facing roof of Temple's Edberg-Olson Hall, located at 10th and Diamond Sts., on Temple's Main Campus. When completed in December, it will be the first solar project of its kind at a college or university within the city of Philadelphia, supplying solar power to the Temple community.
James P. Creedon, Temple's senior vice president for construction, facilities and operations, said that the university has received numerous requests from students in recent years to explore alternative energies, but the challenge has been to balance the desire to support alternatives such as solar, wind and bio-fuels with the fact that the alternative energy market is more expensive than more traditional energies.
"When Community Energy approached Temple about installing solar panels atop Edberg-Olson Hall, it seemed like a feasible idea; the location worked well, their proposal to provide the up-front capital was very good, and we felt comfortable purchasing the energy that was being generated because it was at a very competitive rate with our regular suppliers," said Creedon.
"This is the best utility power you can buy because it actually adds new solar to the grid, and building new generation is the only way to get to a sustainable green utility," said Brent Alderfer, chief executive office of Community Energy, a nationally recognized company for supplying solar powered electricity to utility customers. "We can build and finance this solar project because Temple and thousands of local residential customers chose to buy energy from Community Energy.  That is what makes this project unique."
Placing the approximately 4,500-square-foot solar array on the roof of Edberg-Olson Hall, the main facility of Temple's football program, lends itself to the national trend of greening sports facilities.
"If you go down to Lincoln Financial Field, where Temple plays its football games, you will see both solar and wind power generation aiding in the stadium's power usage," said Creedon. "With this solar project in partnership with Community Energy, we are doing something similar at the on-campus facility where our team practices for those games."
"The installation of solar on Edberg-Olsen Hall is an exciting addition to the facility," said Temple Football head coach Matt Rhule.  "We are proud to be able to do our part to help the environment."
Like many of the construction projects taking place across the university, a webcam is being installed which will allow people to watch the solar array installation live online.
Kathleen Grady, Temple's director of sustainability, said that Edberg-Olson Hall was also an obvious choice because of its unique location and the visibility it provides to the SEPTA regional rail lines which run behind the facility.
"Tens of thousands of commuters will be able to see this Community Energy Solar project at Temple University from the trains as they pass Edberg-Olson Hall on their way into and out of Center City Philadelphia every day," she said.
Grady emphasized that the solar project would also provide an important educational component for students.
"This solar installation reinforces the role of Temple's facilities as a living learning laboratory," she said. "Our buildings are more than just space. They serve as teaching tools and provide students with opportunities to engage with new technology and see it in action."
Grady said that included in the partnership with Community Energy will be access for Temple students to CEI's educational PRAXIS materials, which are online modules that cover a wide range of solar topics, from where solar installations should be located, to the nuts-and-bolts of how solar power is generated, to the financing of on-site and utility scale solar projects.