Temple Trustee Lewis Katz makes surprise $25 million pledge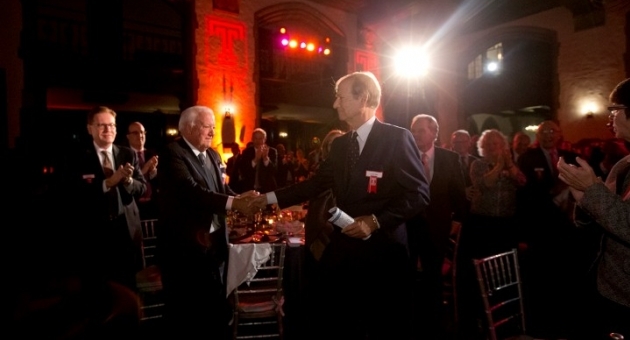 In a surprise announcement made at an awards dinner Wednesday night, Temple University Trustee Lewis Katz, CST '63, announced a $25 million pledge—the largest single gift in university history. A native of Camden, N.J., Katz has a long legacy of generosity to Temple, which he credits for opening doors of opportunity.
"The evening was intended to honor Lewis for his exceptional leadership and entrepreneurial success," said Temple President Neil D. Theobald. "Not surprisingly, he reflected that honor back on Temple with this historic gift. We are immensely grateful for his most generous pledge."
Former Pa. Gov. Ed Rendell was among those present to honor Katz. Rendell ended his remarks by telling the hundreds gathered for the Fox School of Business' Musser Excellence in Leadership Award dinner that "Lewis loves, loves, loves Temple University."
While accepting the award, Katz said it was at Temple that "the path of [his] life changed," and the opportunity and success that followed were the result of his "extraordinary experience at Temple University." He then stunned the crowd by announcing a pledge of $25 million "to the university I love." Katz did not specify how the gift would be used.
Katz has served on the Temple Board of Trustees since 1998, and he also serves on the board of the Temple Health System and Fox Chase Cancer Center.
Katz and a group of local investors purchased Philadelphia Media Network in 2012, which owns The Philadelphia Inquirer, the Philadelphia Daily News and Philly.com. He is a former principal owner of the New Jersey Nets and Devils, and helped build two Boys & Girls Clubs that serve nearly 3,000 young people annually.
Katz received a bachelor's degree in biology from Temple in 1963 and went on to get a law degree from The Dickinson School of Law at Pennsylvania State University.