Library Prize influences winners' futures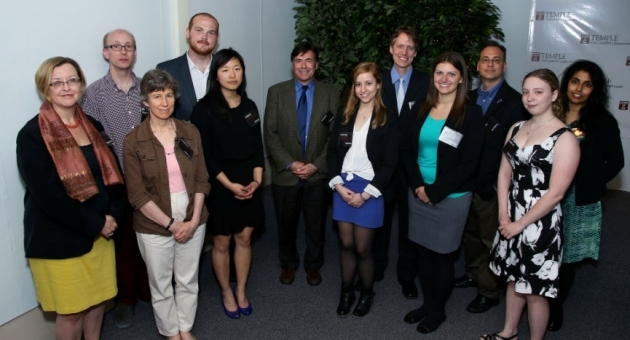 For 10 years, Temple University Libraries has been celebrating the use of library resources for exceptional undergraduate research projects with the Library Prize for Undergraduate Research. The Prize is generously sponsored by John H. Livingstone, FOX '49.
Up to three projects are selected each year to win the $1,000 prize. Submissions are judged for high achievement and scholarship by a seven-member selection committee comprising four librarians and three faculty members.
And four years ago, Temple Libraries and Gale, Cengage Learning—a leading organization in e-research and educational publishing—joined together and created a second competition, the Library Prize for Undergraduate Research on Sustainability and the Environment.
"Winning entries have made excellent use of the library's facilities and resources, and have demonstrated personal growth through the process of conducting research," Joe Lucia, dean of University Libraries, said at the 10th anniversary ceremony, held in the lecture hall in Paley Library.
During a brunch, eight past winners discussed how the Library Prize affected their choices of professions and how information literacy continues to influence their endeavors.
Jenna Fink, ENG '13, winner of the 2012 sustainability prize, wrote a research paper about water treatment and is now employed at PGW (Philadelphia Gas Works) as an environmental engineer. Her co-writer, Hasan Sadiq Malik, ENG '12, now works for the Philadelphia Water Department, where he removes pharmaceutical chemicals from the water supply. Other past winners have gone on to teach and engage in professional research. A few have even become librarians themselves.
"I never imagined my career trajectory would lead me to medical publishing while I was a student at Temple, but my past academic pursuits, including the research I did for the Library Prize, continue to assist me each day," said 2006 Library Prize honorable mention Victoria White.
Ryan Drummond, TYL '06, a 2006 prize winner, focused his research on the American frontier myth. He now works at an architectural firm in New York City. He said that, of all his professional accomplishments, winning the library prize is the one of which he is most proud.
For a more information, visit Temple University Libraries.
-Anna Goldfarb