More than 88 percent of freshmen sign up for Fly in 4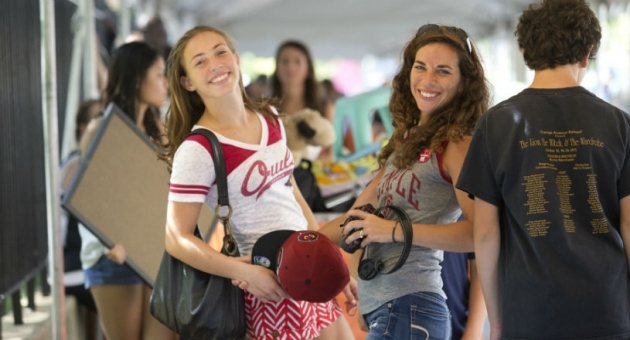 Erick Fiorelli, Class of 2018, is determined to graduate college with as little debt as possible. So when the accounting major from Doylestown, Pennsylvania, learned about Fly in 4—Temple's innovative plan to fast-track students' futures and limit their debt—he was on board.
"When I heard about Fly in 4 and how it's all about helping students stay out of debt, it definitely sounded appealing," Fiorelli said. "That's why I decided to go ahead and sign up."
He is one of the more than 88 percent of Temple freshmen who have already signed up for Fly in 4 in the program's inaugural year. The large sign-up far surpassed President Neil D. Theobald's goal of 75 percent of the incoming class.
"I am thrilled that so many Temple students have committed to graduating on time and limiting their debt," Theobald said. "Our goal with Fly in 4 is to make sure students get a great education, prepare themselves for a career or graduate school and do it all in four years."
The deadline to sign up for Fly in 4 is Sept. 8, the last day to add or drop a class. Freshmen who want to sign up for Fly in 4 can do so on TUportal via the link on the "Next Steps" channel. Incoming transfer students who want to join Fly in 4 should consult their advisors.
Theobald noted that students who take longer than four years to graduate often run out of government grants and have to take out riskier loans or even use their credit cards to pay for their education. They also delay their entry into the higher-paid, college-educated segment of the workforce. 
"Through academic advising and the checkpoints participants must meet each year, Fly in 4 helps ensure students stay on track and get the courses they need," said Jodi Levine Laufgraben, vice provost for academic affairs, assessment and institutional research.
Laufgraben added that even students who are not a part of Fly in 4 will benefit from the university's ongoing commitment to academic advising and tools, such as degree audit reports, that help students track their academic progress.  
Fiorelli said he was inspired to sign up for Fly in 4 in part because his parents and older siblings talked to him about the impact of student debt.
"Obviously, the less time you spend in school, the more money you'll save," he said. "I'm not planning on going to school any longer than four years. I think Fly in 4 is a really good idea—I expect other schools will start doing the same thing."
Before Willa Meyer, Class of 2018, learned about Fly in 4, the idea of graduating in four years was only a "background thought."
"I thought I probably will, and should, graduate in four years, but I wasn't sure how important it was," said Meyer, a psychology major from South Philadelphia. "Hearing about Fly in 4 really helped me understand it. It definitely keeps kids way more goal-oriented than they would be if Temple hadn't talked about it as much."
- Ashwin Verghese