Posted
September 23, 2014
Temple celebrates the record release of legendary Coltrane concert at Mitten Hall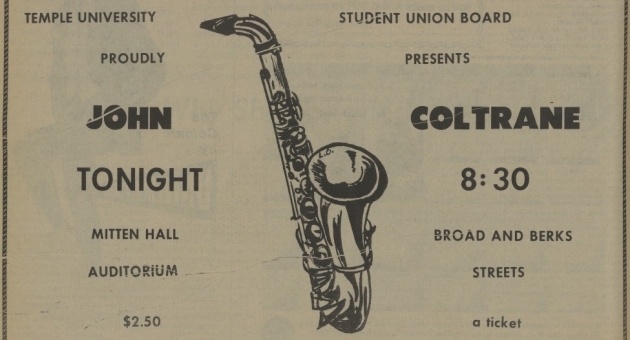 Special Collections Research Center, Temple University Libraries
On Nov. 11, 1966, nine months before his untimely death, John Coltrane performed in a legendary concert at Temple University's Mitten Hall. Direct transfers of the original master reels from a location recording by Temple's then student-run WRTI-FM, remastered at 96kHz/24 bit, were tracked down in the station's archives by Coltrane scholar Yasuhiro Fujioka and form the basis for today's debut of Offering: Live at Temple University.
The concert recording features three members of his working quintet at the time: his wife, Alice Coltrane, on piano; Pharoah Sanders on saxophones and flute; and Rashied Ali on drums. Also on the recording are local bassist Sonny Johnson on bass (subbing for Jimmy Garrison) and an assortment of Philadelphia musicians who sat in on the concert—Steve Knoblauch and Arnold Joyner on alto saxophones and Umar Ali, Algie DeWitt and Robert Kenyatta on percussion.
Today, Sept. 23, 2014, at 5:30p.m., Temple University Libraries, Ars Nova Workshop and Resonance Records will host a panel discussion on this historic concert.