Boyer professor showcases dance technique before international audience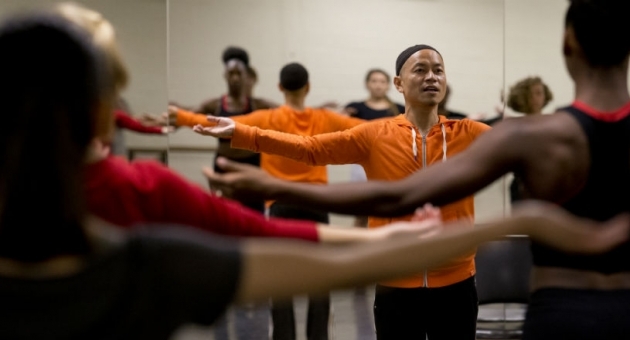 Last August, Temple University Professor Kun-Yang Lin's contemporary dance company performed in Düsseldorf, Germany, at the prestigious Internationale Tanzmesse international dance festival.
The group was among only three companies from the United States, out of 72 total, invited to perform at the venue.
"It was a special honor," said Lin, an associate professor of dance in the Boyer College of Music and Dance. "We were very happy and honored to bring The Mandala Project to Germany."
In Eastern religious traditions, the mandala is a symbol that depicts the total self as well as the path to an awakened state of being.
"In The Mandala Project," Lin explains, "the dancers enter into conversation with the sacred form of the mandala...experiencing and sharing the potential of dance as inspiration for communication across artistic, generational, cultural and religious boundaries."
Lin, who has taught at Temple since 2003, says the project speaks to his deep sense of spirituality, which is the center of his work as both an artist and instructor. He is also the creative director of Kun-Yang Lin/Dancers and founder of CHI Movement Arts Center located in South Philadelphia.
For 20 years, Lin has worked to develop and refine his own training methodology and practice—called CHI Awareness Technique— based on harnessing and modulating chi, which is Mandarin for "energy" or "vital life source." The Mandala Project was his opportunity to incorporate the methodology into a performance that would be showcased on an international stage.
"I am interested in creating technically demanding dances with dynamic transitions among explosive bursts of rapid and expansive phrase work, subtle gestures and absolute stillness," Lin said.
"The impulses of my artistry derive from my understanding of Buddhist and Taoist worldviews and the many traditional Eastern arts I have practiced over the years, including tai chi, calligraphy, martial arts and meditation," he said.
The CHI Awareness Technique is popular among dancers at Boyer.
"It makes you think differently about movement, even beyond the studio," said Brian Cordova, Class of 2016, a dance major at Temple and member of Kun-Yang Lin/Dancers. "[Lin's] classes inspire a different level of creativity and focus and freedom."
Lin's next performance will be at the Egg, a performing arts center in Albany, New York, this Friday, Oct. 24. His company is also developing a new project titled HOME: 9th St., inspired by stories from the residents of southeast Philadelphia.