Temple medical student earns prestigious scholarship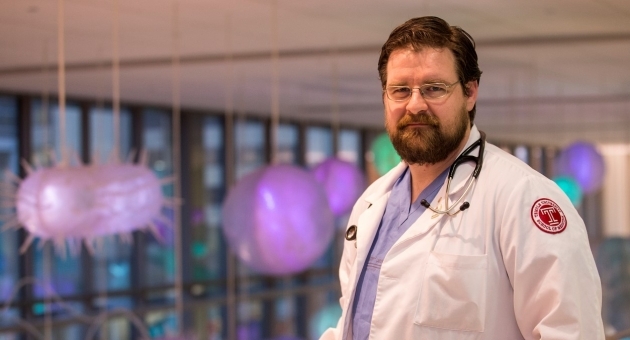 Seneca Harberger, a fourth-year medical student at Temple University School of Medicine, is one of seven medical students nationally to be selected as a 2014 Pisacano Scholar by the Board of Directors of the Pisacano Leadership Foundation, the philanthropic foundation of the American Board of Family Medicine. The award includes leadership training and a scholarship of up to $28,000.
The honor goes to fourth-year students identified as future leaders in the field of family medicine. In addition to demonstrating a commitment to family medicine, recipients also exhibit integrity, strong leadership and communications skills, superior academic achievement, and noteworthy track records in community service.
But medicine wasn't Harberger's original career choice.
After graduating from Claremont College with a degree in physics, he earned a master's degree in Education. He decided to become a teacher and was named an Oakland Teaching Fellow in the Oakland, California, School District, where he taught at EXCEL High School in West Oakland.
"This experience helped galvanize my interest in medicine and underserved populations," he said. "I really enjoy helping people address the problems they face in their lives, whether or not there is a clear solution, and medicine offers an opportunity to do that."
Because he wanted to help underserved populations, Harberger knew Temple would be the logical choice when applying to medical school.
"Not only has Temple always been committed to the underserved in Philadelphia, it has also maintained a reputation for solid, practical training for its students," he said. "I knew if I could go to Temple, I would not only get to work with a community I hoped to serve, but I would be trained, right from the start, to be useful to my community."
Concurrent with a medical degree, Harberger is also pursuing a master's degree in urban bioethics at Temple, with a thesis focused on the health needs of North Philadelphia's homeless population.
Harberger has also been involved in service-oriented activities at Temple, including serving as a research coordinator for a study of MRSA skin infections and working with patients seeking care in Temple University Hospital's Emergency Department. He also has been a coordinator of the Temple Emergency Action Corps' Homeless (TEACH) Initiative helping to organize health literacy sessions, screening clinics in local shelters, and a course in homeless health for medical students.
"I want to be a doctor who is there for my patients when they need me, who is adept at addressing complex and serious problems when they arise but who has no trouble focusing on the day to day concerns my patients will most often have," he said.
The Pisacano Scholarship is named in honor of the late Nicholas J. Pisacano, the founder and first executive director of the American Board of Family Medicine. Pisacano was internationally acknowledged for his leadership in establishing recognition for family medicine as a major specialty. Since 1993, approximately 2,300 applicants representing more than 140 medical schools have competed for the scholarship, and 123 scholars have been selected.