Temple hosts city's inaugural Roadmap for Growth forum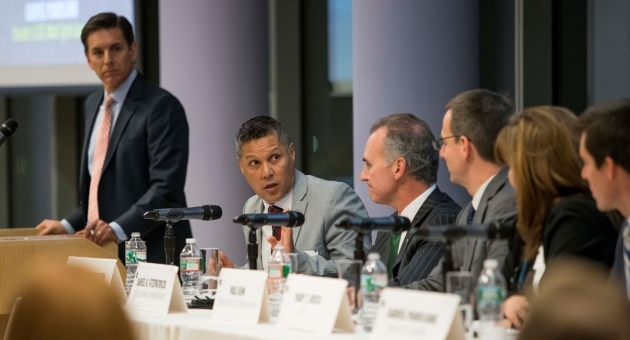 Temple University's Mitchell and Hilarie Morgan Hall was the venue for the first major event of the Greater Philadelphia Chamber of Commerce's Roadmap for Growth campaign. Leaders from the business, political and education worlds gathered at the top of Morgan Hall on Wednesday, Nov. 19, for a dynamic discussion of ideas designed to promote economic growth and an educated workforce. 
The Roadmap events are meant to create a dialogue about pressing issues that affect citizens and businesses in the city. Ideas shared in these sessions will be used to develop recommendations for the mayor and the City Council on the best ways to promote job creation and economic vitality in Philadelphia.
The chamber's effort will build on current successes and "capture new ideas from public- and private-sector thought leaders that can inform the candidates in the 2015 elections for mayor of Philadelphia and City Council," said the chamber's president and CEO, Rob Wonderling, in introducing the event. "The campaign will seek to develop a growth agenda for the city that promotes job creation and economic prosperity through 2020."
In his opening remarks, Temple President Neil D. Theobald referenced the dramatic view of the city from Morgan Hall.
"As you entered today, I hope you had an opportunity to look out at the vistas from right here at the top of Morgan Hall. We have a tremendous view of North Philadelphia, and if we look to the south, a great look at Center City," the president told the crowd.
"For us, that view is more than just a spectacular sight. It demonstrates Temple's central role and connection with the city. It lends a perspective of the great strengths and the challenges that face Philadelphia today and will be part of the agenda for our next mayor."
The president said a workforce that is drawn to the city and stays here helps strengthen Philadelphia overall. Temple, with an enrollment of nearly 40,000 students, brings young people to Philadelphia, creating a brain gain for the region.
That was a theme taken up by Temple's Dean of Education Gregory Anderson, who led a panel discussion on workforce development.
Anderson offered several suggestions, including
·       asking business owners in the area to build a comprehensive, coordinated strategy for helping to create training and internship opportunities.
·       making sure that a plan for workforce development is updated as the economy changes and job markets shift.
·       recognizing that while two-year and vocational schools offer great training, they don't have the resources to ensure their students are ready to compete in a global economy.
Anderson also recommended creating a competition among businesses to see who could come up with the most number of workforce experiences, such as internships and co-ops.
"The business that offers the most opportunities could win a prize," he said. "But the best prize would go to the students, who would get a job after graduating."
-Ray Betzner