Temple's Osher Lifelong Learning Institute receives $1 million gift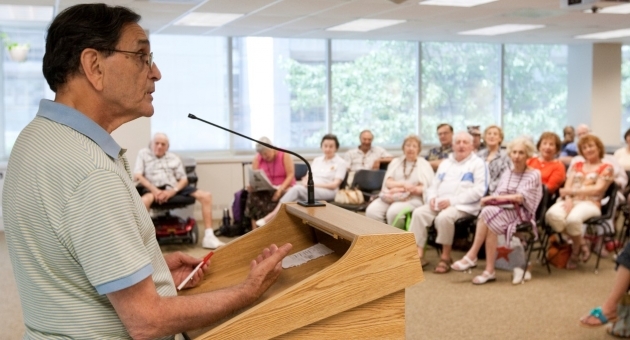 Temple's Osher Lifelong Learning Institute (OLLI) has been providing innovative programs for adult learners for more than 30 years.
With dedicated support from the Bernard Osher Foundation, OLLI, offered at Temple University Center City, will continue to provide a vibrant education community for people over age 50 for years to come.
Temple University President Neil D. Theobald was on hand in December to announce a new $1 million gift from the Bernard Osher Foundation, the second $1 million endowment OLLI has received from the foundation in four years.
The Osher Foundation's ongoing support and encouragement ensure the long-term sustainability of the program. "I can't say enough how valuable the support is to a nonprofit program," said Adam Brunner, director of OLLI at Temple. "It allows us to focus on program content and provide quality service to our members."
OLLI boasts a lively, no-pressure learning environment in which students take courses—150 are offered each year—in fields that range from art and architecture to computers and finance.
"It's unique among adult educational programs in that students are not required to attend a course for the entire semester. Their attendance depends only on their interests," Brunner said.
OLLI at Temple has enjoyed rapid growth in recent years, expanding to more than 1,200 members; scholarships are available to those who might need financial assistance. The program also has a very active group of volunteers, who teach courses, provide a lending library, find quality instructors and speakers, and fundraise.
One of the criteria for the most recent gift was to establish the infrastructure for fundraising—the Osher Foundation provided a $50,000 operating grant to develop a core of volunteers dedicated to raising money. Donna Satir, fundraising chair, raised an additional $50,000 for the program with the help of volunteers, mostly through member donations.   
The Bernard Osher Foundation supports more than 100 lifelong learning programs on university and college campuses across the country. The most recent gift to Temple comprises a $950,000 endowment and a $50,000 bridge grant, which will be used in part to fund a new full-time OLLI staff member.
"The Osher Foundation is one of the most generous and supportive organizations I have ever worked with," Brunner said. "They have clear and high expectations for the programs that they support throughout the country, but they are completely committed to seeing those programs succeed and to providing the resources necessary for successful programs to become sustainable.
"I'm told every day by members how much the program means to them," he added. "One member said OLLI saved him from the 'retirement blues.' For some of our volunteers, OLLI has given them a new mission in life."
Visit the OLLI website, call 215-204-1505 or email olli@temple.edu for more information.