School of Pharmacy's Moulder Center endowed with $5 million pledge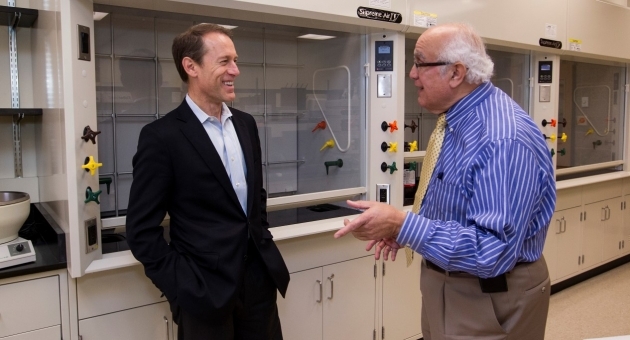 Temple University School of Pharmacy (TUSP) alumni Lonnie, PHR '80, and Sharon, PHR '80, Moulder are continuing their commitment to the Moulder Center for Drug Discovery Research at TUSP by pledging $5 million to endow the center.
The Moulders originally donated $500,000 during the 2007–2008 academic year to establish the Moulder Center. The center is directed by Magid Abou-Gharbia, Laura H. Carnell Professor of Medicinal Chemistry and associate dean of research at TUSP, an internationally recognized leader in medicinal chemistry and drug discovery who joined Temple after a highly successful, 26-year career at Wyeth Pharmaceuticals.
"We are very pleased with the impressive progress made by the center under the leadership of Dean Peter Doukas and Dr. Abou-Gharbia," said the Moulders. "Similar to many Temple alumni, our education provided us with the opportunities that otherwise would not have been possible, and we are honored to expand our support in order to further advance the Moulder Center's research and education mission."
The center, Greater Philadelphia's only fully integrated academic drug discovery center, encompasses 11 labs and approximately 20 researchers, many of whom have pharmaceutical industry experience with a broad array of companies.
"The Moulder Center has grown both in physical space and number of researchers, but most important has been the expansion of the center's capabilities—including high-throughput screening, molecular pharmacology, proteomics, bio-therapeutics, solid-phase peptide synthesis and pharmacokinetics—much of which has been made possible by the acquisition of state-of-the-art enabling technologies," said Abou-Gharbia.
The Moulder Center has also established fruitful research collaborations with Temple faculty researchers across the university, premier academic institutions such as Johns Hopkins University, the University of Rochester Medical Center, and the Wistar Institute, and several corporate partners.
Through these collaborations, researchers have been able to secure internal and external research funding from a variety of sources to explore potential therapeutics for cerebral palsy, ALS, chronic obstructive pulmonary disease, heart failure, cocaine addiction and withdrawal, irritable bowel syndrome, metabolic syndrome, and other medical conditions. Many of these research collaborations have also led to numerous publications and the filing of over a dozen patent applications to date.
"Lonnie and Sharon Moulder's initial seed funding, coincident with the appointment of Magid Abou-Gharbia, was a catalytic moment for TUSP that helped to stimulate a major Temple investment in a universitywide drug discovery initiative, which helped promote the impressive growth of the center's outreach, outside funding and collaborative initiatives," said Doukas, PHR '70.
Since the inauguration of the drug discovery initiative in 2010, said Doukas, TUSP has received over $11.5 million in grants and contracts, 70 percent of which is directly associated with the Moulder Center.
"The success to date is an outstanding example of the synergistic combination of alumni-based philanthropy and university investment," he said. "The School of Pharmacy is deeply honored to be the recipient of this extraordinary endowment pledge. It is indeed a transformational and defining moment for the School of Pharmacy, for which we have the deepest gratitude."