Campus Safety K9 receives ballistic vest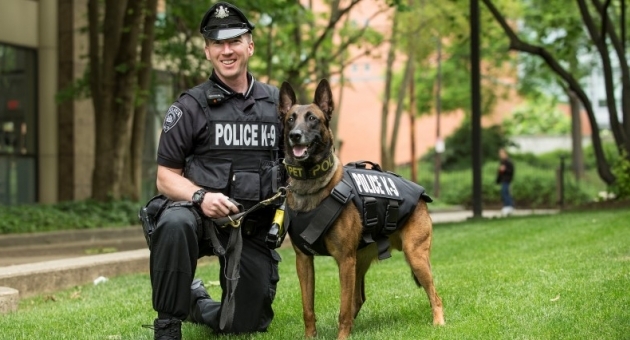 Temple University Department of Campus Safety Service's K9 Baron has received a ballistic vest thanks to the nonprofit organization Vested Interest in K9s Inc. and a $950 donation from Candice Kochenour of Philadelphia-based Labs with a Heart.
Established in 2009, Vested Interest in K9s Inc. provides bullet- and stab-protective vests and other assistance to dogs of law enforcement and related agencies throughout the United States. Through private and corporate sponsorships, the organization has provided protective vests to more than 1,350 law enforcement dogs in 49 states at a cost of over $1.2 million. The program is open to law enforcement dogs who are employed in the U.S., certified and at least 19 months old. New K9 graduates as well as K9s with expired vests are eligible to participate.
Baron, a 3-year-old Belgian malinois, joined Temple's Department of Campus Safety Services in 2013 and is certified in patrol and explosive detection. Temple Campus Safety K9 Officer Doug Hotchkiss has completed more than 960 hours of training with Baron through the Philadelphia Police Department's K9 Academy. The team also participates in monthly in-service training.
"The vest keeps the dog safe in any situation," said Hotchkiss, a member of the department since 2011. "Baron is usually the first one in the door. He's in front of everybody, so having that added level of protection is great."
Hotchkiss said the vest can also be used as a tracking harness. This was particularly helpful when the Temple Campus Safety K9 Unit—which also includes Officer Larry Besa and K9 Jarvis—assisted federal and state agencies in their 48-day search for fugitive Eric Frein last fall.
Temple K9 Jarvis, a yellow Labrador retriever, is also slated to receive a ballistic vest thanks to a nationwide Groupon event that raised more than $335,000 in online donations. Vested Interest in K9s Inc. was the nationwide nonprofit organization and charity partner selected by Groupon Grassroots to participate in the campaign.
Through the fundraiser, the charity will be providing more than 350 law enforcement dogs nationwide with protective body armor in memory of K9 Rocco of Pittsburgh's police department. Rocco died in the line of duty in January 2014. All vests will be embroidered with "In Memory of K9 Rocco, Pittsburgh Bureau of Police."